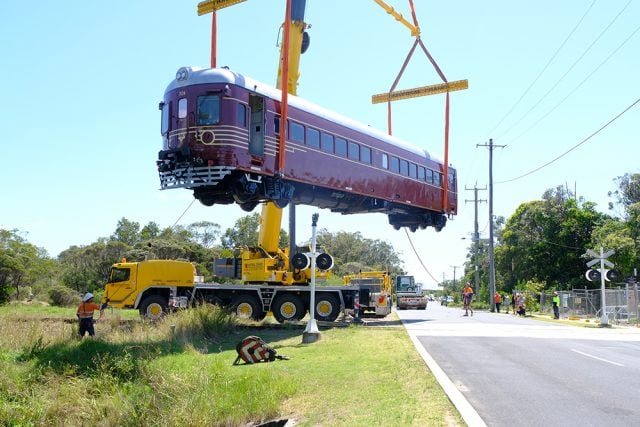 Raphael Lee Cass
Opinion
My jaw dropped in amazement when Byron Bay Train asked for volunteer train drivers and attendants. The requirements for these jobs were incredibly stringent. Train driver applicants needed availability for flexible work arrangements, to train others, to know all OH&S matters, do office work, maintenance work and many others. Volunteer Passenger Attendants needed just as much. An exceptional ask for volunteers.
The owner of Byron Bay Railroad Company Ltd is ultimately Brian Flannery, who declared the train open on December 16, 2017.
BRW Rich List
Flannery, according to the Financial Review, is a Brisbane-based engineer, has investments in uranium mining in Energy Resources of Australia, is a member of the BRW Rich List – after making $530 million from the sale of Felix Resources to Chinese firm Yanzhou Coal in 2009 – has shares in listed retirement village company Aveo, owns private property group KTQ Developments with wife Peggy and has projects including Brisbane apartments, $100–120million Elements of Byron Bay and childcare investments.
The train is a not-for-profit company. It means the train is financially isolated from Elements, doesn't pay income tax, and any profit made must go back into the train business. It could be employing locals and enriching Byron. In my opinion asking for volunteers means only one thing that the business is not financially viable.
The train is a delightful ride through beautiful Byron. Like other trains, Puffing Billy and Zig Zag in Lithgow, it is there for tourism. It isn't serious public transport.
Serious transport would have seen it travel from at least Byron Hospital to Byron Bay with a station at Cavanbah Centre .
Blanch's bus service from Sunrise to Byron has low patronage. One morning the bus had one passenger but would no doubt pick up more on its way. The train had five passengers, with no stops before Byron town.
The Byron Train's claim that the train would reduce the traffic on Ewingsdale road, made without any surveys whatsoever, can safely be disputed. At a generous estimate, there is an average of three cars parked near the station during train operations. Even if there were 20 cars parked there per hourly train trip [160 cars], this would have little effect on Ewingsdale Road's 20,000 cars per day [RMS 2004].
In its second week of January 2018, Byron Train announced it had taken 10,000 passengers in 19 days. Assuming they didn't include those riding free on the December 16, 2017 launch day, this works out to 32 passengers every trip. Go and watch the train's. Thirty-two passengers is a rare occurrence.
I have travelled on the train many times. I observe passenger movements at the stations. I have never seen the train full (100 passengers). I have heard staff voice concerns about low patronage. If I reasonably estimate 20 passengers per trip for the seven-day service, 2,640 per week, at $3 per passenger, I get $411,840 income for the year. A train driver, with enormous passenger responsibility, earns around $95,000 per year. Byron Train has at least two professional drivers – that's half the income used.
Maybe it'll increase with the writers festival and other events. Or change the tickets to tourist prices, say $10 per trip, and then it's $1.4M.
With its call for volunteers, low patronage, non-reduction of traffic on Ewingsdale Road, its claims to be a solar train, will the train be running in 2019? Or will it seek a government handout to keep its 'public transport' operating?
♦ Raphael Lee Cass is president of Sunrise Progress Association, who objected to the train.