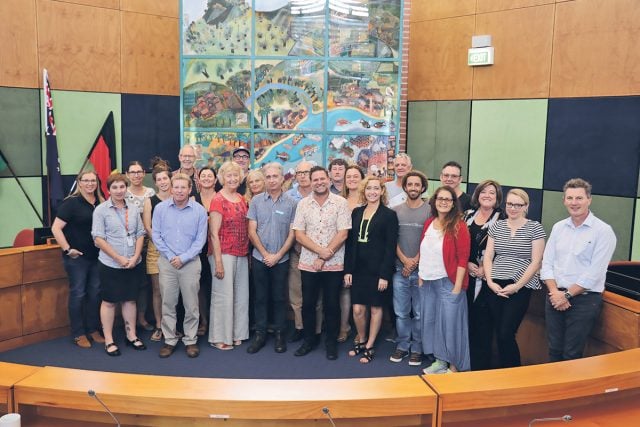 With the completion of Byron Shire Council's trust-building exercise via the Community Solution Panel, a few councillors, staff and panellists met last Thursday in the chambers to discuss the process, its outcomes and how the model can be improved upon.
With around 400 people registering to take part, the panel comprised 28 randomly selected anonymous residents and ratepayers who were brought together by the NewDemocracy foundation.
As reported last week, the panel have divided rate-rise money into infrastructure sectors such as roads, drainage, parks and pools.
Byron Shire's relatively low ratepayer base, high rainfall, high water tables, beaches, and high biodiversity values are a major challenge for Council, who struggle to keep up with infrastrcuture.
Safety was the first and highest priority, said one panellist, adding that there was difficulty in making a decision such as improving a bridge for example, yet potholes either side of that bridge were not repaired.
Cr Paul Spooner told the chamber 'We have a massive tension to maintain community [in the face of tourism pressures]. We are at a cusp. Other places have gone through popularity and tourism impacts. We see residents move out on a daily basis.'
A panellist said that 'Tourism should be an issue for state government; Council can't do this alone. That partnership needs to be stronger.'
Another panellist said they were surprised how difficult it was to explain STEM subjects when discussing the project.
STEM subjects are science, technology, engineering, and mathematics.
When asked if getting paid influenced any panellist to apply, many panellists replied that they had no idea there was a modest payment until they were accepted. A panellist said, 'The motivation wasn't money – it was that this was outcome focused.'
'The reading was phenomenal', said a panellist when referring to the Community Solution Panel Briefing Book.
Briefing book
'It was a great read, and we appreciate the difficulty in what Council does. We had no idea what we were up against. This process made me pro-Council. We did a lot more hours than what was recommended.'
Mayor Simon Richardson also praised the briefing book, and said the progress associations were also impressed with the booklet.
'It would be great to put a [similar] booklet together and send it out to ratepayers with the rates,' he said.
NewDemocracy's Georgina Inwood told the chamber it was an opportunity to set the example for other councils, and was very happy with the outcome. She believes Council staff are undervalued.
'But they responded [to this process] because they are part of the community,' Inwood said.
To download the briefing book go here.