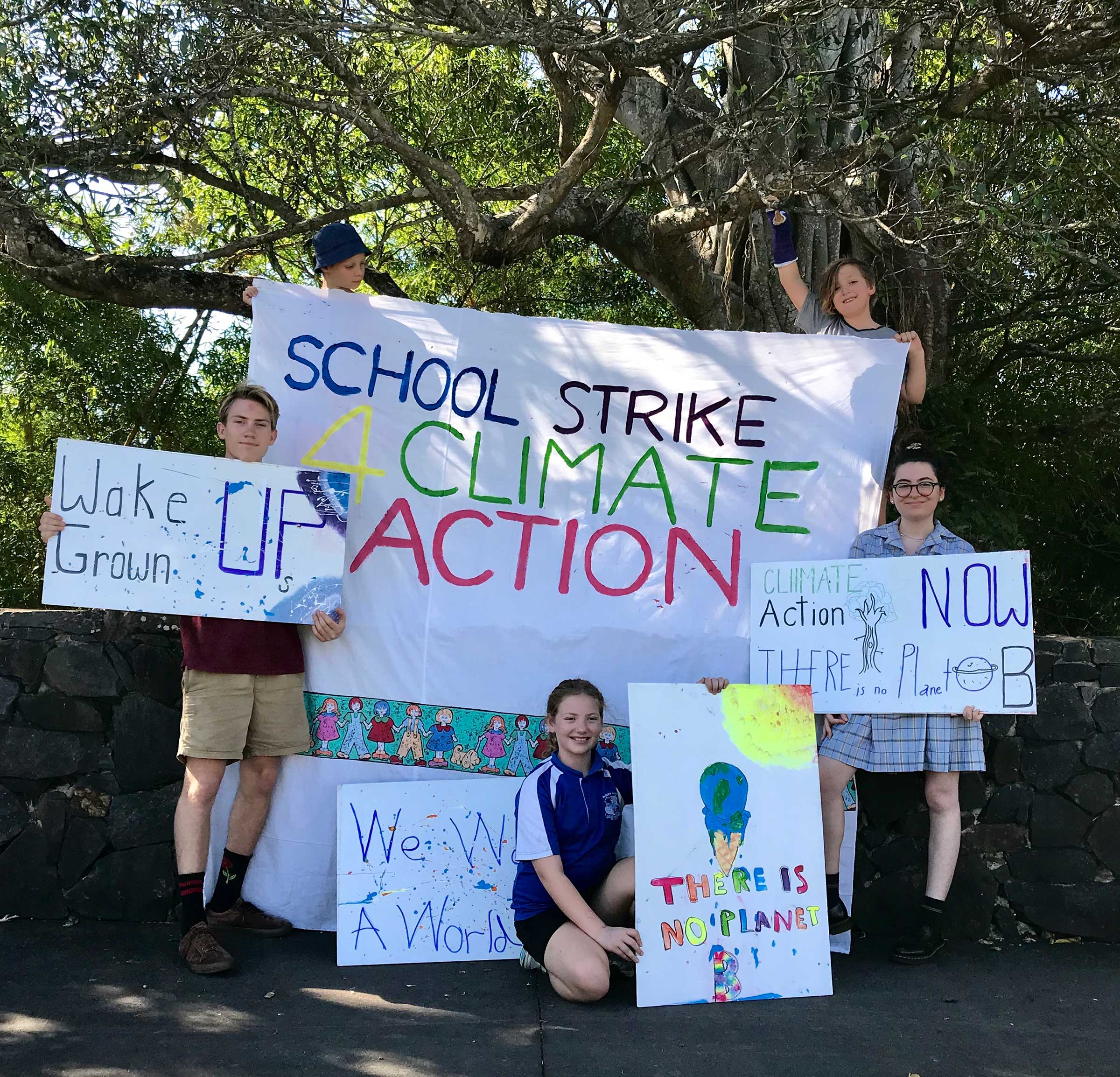 Young people are sick to the back teeth of the lack of action on climate change and that government inaction, at all levels, is leaving them with a ruined planet for their future.
Hundreds of students across the region are taking action this Friday 30 of November demanding political action on climate change, a halt to Adani's proposed QLD coal mine and to put Australia on a path to 100 per cent renewable energy by 2030 to secure a safe future for young people. Student strikes are happening in Lismore and Byron Bay at 10am.
'We're facing an environmental crisis. Every day we're seeing increasingly worse droughts, floods, wildfires, glacial melting and coral bleaching. The evidence is irrefutable and yet, the government is still in denial. On Friday, November 30th, thousands of environmentally conscientious students will gather to demand that our government take immediate climate action. Change starts with us, so stand up, join is, and make your voice heard,' said Jess Dunn, Year 12 student from Trinity Catholic College who will MC the Lismore strike event.
Strikes have been organised at 20 regional centres and all capital cities around Australia.
Year ten Byron Bay High School student Mia Thom said, 'The state of our world has reached a critical point – a climate emergency. We stand on the precipice of change yet the continual inaction of our governments restricts us from moving forward as a nation.
'As a young adult whose very future is being affected, it is frustrating and overwhelming to hear about the continual senseless destruction of our planet. Movements like this provide us with the opportunity to fight collaboratively and implore our politicians to listen to the very leaders of the future and implement change for generations to come.'
Conviction on climate action has unified local Public, Catholic, Independent, TAFE and homeschool students from the area who are sacrificing their regular lessons in order to demand climate action from their leaders. 
Albert Park Public School Captain, Ivy Bertram, said, 'We may be too young to vote but that doesn't mean our future doesn't matter.'
The month of strike action was started on November 1st by year 8 students in Central Victoria who were inspired by 15 year old Swedish student Greta Thunberg who started striking this year and strikes with other kids every Friday. 
Year ten Cape Byron Steiner student Jahla Ferguson added, 'I am 16, so I cannot vote, I do not have a say in our parliament's action on climate change. But it is my future being brushed aside by our politicians.'
Department of Education and ScoMo against action
While  prime minister Scott Morrison has has condemned the action on Monday the Senate voted to support the strike.
'The failure of the Australian government to counteract or even probably recognise the worsening condition of our climate is extremely frightening to me as a young person,' said Vindi Ferguson  from Cape Byron Steiner.
'My generation will be the ones left with the consequences created by past and present governments and it is becoming increasingly apparent that leaders of our country do not care enough about our future to take proper action on climate change.'
Byron High School has sent a letter to parents saying, 'The Department of Education does not support students leaving school on Friday 30 November to attend the School Strike 4 Climate. Friday 30 November is a normal school day. The students who do not attend school on Friday will be marked as absent and an SMS will be sent home as usual. Please do not send notes for students to leave the school grounds early on this day. Our Work Health and Safety, Duty of Care procedures will apply like every normal school day.'
Lismore strike
Students aged 5 to 18 years from Lismore and surrounds will gather at Spinks Park at 10am for the nationwide School Strike for Climate Action. A morning of powerful speeches, musical performances and poetry has been organised by students.
Byron Bay strike
Byron Shire students will be gathering at Jonson Street's Railway Park at 10am. From there they will walk to Main Beach to construct a human sign and hear speeches from other students as well as non-amplified live music.
Adults wishing to support the student strike and help with marshalling in Byron Bay have been requested to email Jan Barham on [email protected].
For more information on the strikes look up  National School strike 4 climate.