With a tag line: 'Dear United Kingdom, Your besties across the ocean are calling. Love, Your mates in Australia…' a new tourism campaign to entice tourists to the entire country, features a hefty swatch of Byron Bay and the Byron Shire.
Locals on a Byron centric Facebook page have a varied opinion on the clip – everything from: 'It's about promoting Australia to Brexit refugees', to 'Pot hole paradise, over-priced shops and a mad man dancing with a plastic pineapple and banana!'
The clips shows 'Aussie' Kylie Minogue performing a Matesong with lyrics and music by Eddie Perfect.
The clip also has cameos by Australian locals, chefs, sportsfolk and celebs including Adam Hills, Andy Saunders, Ash Barty, Darren Robertson, Ian Thorpe, Jeff Bennett, Zac Stenmark, Kevin Kropinyeri, Magdalena Roze, Indigenous Elders from the Mutitjulu Community, Reggie and Cassidy at Uluru, Sean Choolburra and Shane Warne.
The song begins with a reference to Brexit, 'This year's been tough and confusing. But progress is moving… At glacial pace, and is basically telling the British that everyone in Australia is their mate, we're the same, but different, so come over for a holiday, 'all of Australia loves you… So throw in the towel. You can use one of ours. We speak your language (Except for the vowels)… Calling all Poms. Keep Calm Carry On…
Though many of the viewers thought the clip was everything from 'awful' to 'embarrassing', one thing everyone seemed to agree on was the cuteness of the quokka – you'll have to watch it to see him.
But one Facebooker had a positive take on the clip: 'You lot sound like a bunch of whinging Pom's!! Jesus cheer up and stop taking yourselves so seriously… it's obviously tongue in cheek… get over yourselves… it's not yours to share anyway… it's everyone's..…'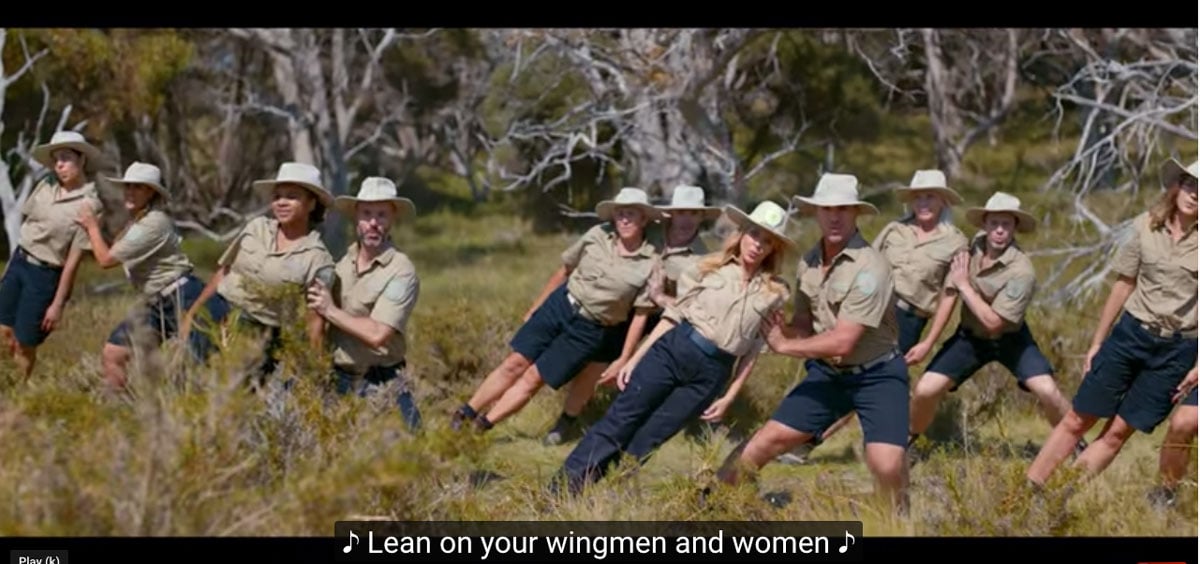 Song Lyrics
This year's been tough and confusing
But progress is moving…
At glacial pace
But all of Australia loves you
And we'll never judge you
You just need some space
When you need an end to what ails ya
Call on your friends in Australia
A pal to rely on
A shoulder to cry on
In Australia
We can turn off the news
You can kick off your shoes
We'll play backyard cricket
Get ready to lose
So throw in the towel
You can use one of ours
We speak your language
Except for the vowels
Yes we know you love your fish n' chips and your curries
But hey, that's no worries
Good grub's guaranteed
Negotiating tricky trade deals is a shocker
But look there's a quokka!
And that's what you need
A quokka is literally what you need!
Glorious United Kingdom
Lean on your wingmen and women
We'll clear your head
Have a sausage in bread
We'll go to the beach
Then we'll tuck you in bed
Don't bite your nails to the cuticles
Hang with impressive marsupials
Helping a mate
Is a national trait
In Australia!
Yes, when everything's a test
Call your besties across the ocean
Sisters and Brothers
We know you think you're above us
But deep down you love us
You just repress emotion
But we'll put you right
Have another flat white!
Go grab your cosies
You're Aussies tonight!
Calling all Poms
Keep Calm Carry On
In Austra—-li—-a!
Austra—li—a!
See ya soon then, yeah?