Eve Jeffery
Sectors of the north coast community who have really hit a financial wall owing to the COVID-19 pandemic are the food and entertainment industries and in particular restaurants and musicians.
Two local Ashes are making the best of the talents they have by morphing their business.
Singer/songwriter Ash Bell, most recently working with Sara Tindley, had his work come to a complete stop.
While Sara has her small family business, Singing Farmer Organics, to see her through, Bell's 'day job' at a nursery stopped, owing to a lack of business.
What to do? When a friend prompted him to teach his skills online, Ash wasn't sure.
'It's something I'd only half-thought about but never really took the leap, because I'm almost totally self-taught and I figured out most of the theory just from playing and listening – but it turns out to be a great model for teaching!'
Ash says he loves getting people into playing and songwriting.
'I can get them going with all the stuff I wish I'd learned early on,' he said. 'Plus, I'm playing heaps of music, probably more than when I was doing gigs!'
The virus in Spain fell partially on Ash's tour
Another local muso, Ash Grunwald, was just on the first leg of a tour of Spain when he had to cut the trip short and come home.
This meant a big chunk of his yearly income was lost, and he couldn't recoup a lot of the expenses he had already laid out for the tour. With his work, Ash usually doesn't have much time for anything more than touring and recording, but he has also turned to teaching and performing online.
'The way that I have morphed my business is that I have done everything I can to digitise it, and do things remotely,' says Ash.
'I've been offering private online live gigs and online live mentoring for musicians and those wanting to get into a certain headspace, and guitar lessons and vocal coaching.'
Ash says it's a new experience for him 'The learning curve has been really steep. It's kind of a really weird enforced relaxed vibe, and it almost feels like "olden" times in some ways, but then I'm having to learn a whole new set of skills in the digital realm, so it's everything at once.
Grunwald has also been giving a lot of free mini-concerts in recent weeks and will perform a full-length concert by donation on Saturday May 16.
'It's a lot to adjust to, but that's the challenge at hand, so I am just doing what I can.'
Tough times for restaurant industry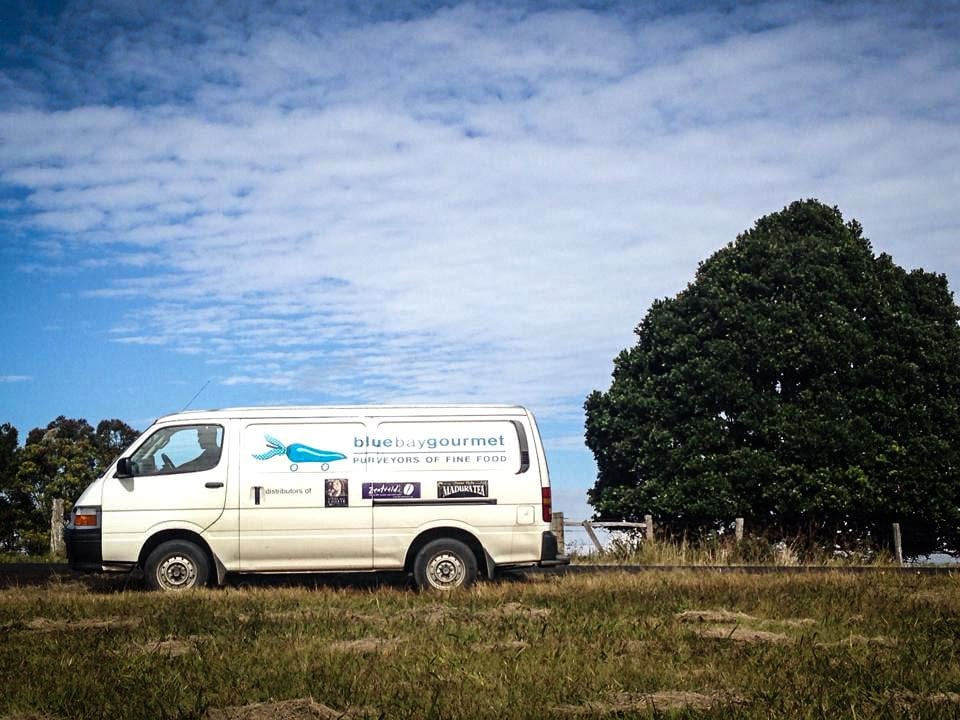 People whose business it is to cook and serve and supply food to eat in diners are really doing it tough.
Cressida and Pete Campbell food wholesalers at Blue Bay Gourmet say that with restaurants and cafes closing they have lost about 80% of their business. 'It was dramatic,' said Cressida. 'Literally from one day to the next. Within a day we had to let go of most of our staff.'
Ms Campbell said their only choice was to rapidly put together a plan for an online delivery store appealing to retail customers. 'Our warehouse was well stocked with about $500,000 worth of stock, a lot of it perishable. It took two weeks to get the online store ready.
Ms Campbell says so the response has been slow but it is building which is encouraging. 'We are appealing to our customer base and our chefs inviting them to email and phone in orders, we will deliver and they can still pick up if they prefer.
'When this is all over we can convert the online store to a wholesale site for our chefs and implement an app for ordering. If the retail actually takes off over the next month then we will have the choice to keep it going along side our main business – which will be quite exciting.
Weddings and events too risky
Leela Brett says it has been a whirlwind three weeks for her business Your Gourmet. She said right at the beginning of lockdown it was obvious that weddings and events would be too risky for quite some time. 'Big events, which I specialise in, were the first to stop,' she said. 'I suspect that they will be the last to come back. So all the chefs, waiters, dishwashers and bartenders who come together over the weekend suddenly had no work.'
Ms Brett said she called my crew to get an idea of who was working, or had been fired, or if they had a partner still working. All of my staff are casual and have at least one other job, but many have been working for me for over 10 years and we have a strong bond.
'It became clear that about five of my crew would be fine and could weather this pandemic storm for 5-6 months. The other five were going to be in dire straights with no income for food or rent. So I decided to turn the business around and offer something very different from gourmet luxury catering: home delivery meals.
'I am making home cooked meals like lasagna, malai kofta and fish pie, but with the quality ingredients. I only cook what is on order, so all meals are cooked fresh, chilled then delivered the next day. Right now we are delivering twice a week but as more people order I hope to expand to four or five days a week.
A waiting list of staff
Ms Brett says she currently has two chefs working two to four days per week and has a waiting list of four staff as soon as they get enough orders.
'We have also started delivering meals to families in need around the shire, from a list of nominees sent in from the community. We are delivering bags of around 10 meals to around four nominees per week so far and this week hope to deliver more.
'Our new "baby" means we have had to spend a few thousand in investment in packaging, advertising and things like shopify – the last of our savings. its means long hours in the kitchen and at our computers (while homeschooling two kids).
'It's been hard. Hard physically and hard emotionally. But the fact that we are making something beautiful and healthy that the community wants, getting our crew back to work and bringing help to the families that are hurting the most makes it worthwhile. Time will tell if this is something we will do longterm but we are really proud of what we are doing now.'
---
Recent stories, information and updates regarding COVID-19