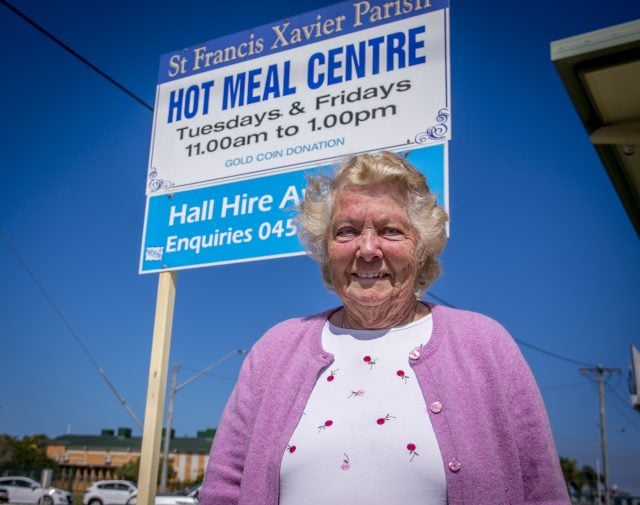 For over twenty years, Ballina Hot Meal Centre has been preparing up to 300 meals for homeless, disadvantaged, and lonely people at the Ballina Masonic Centre, twice a week.
The lunches provided on Tuesdays and Fridays have been a life-saver for a growing number of people who rely on the Hot Meal Centre throughout the week, with hot and frozen takeaways also supplied. Now the collapse of ongoing funding has put the future of this vital Ballina facility into a crisis situation.
Until March this year, the Ballina Hot Meal Centre was operated by Centacare, a part of St Francis Xavier Catholic Parish. Since COVID-19 however, the income to the church has been greatly reduced.
Limited numbers allowed at church services has seen a dramatic decline in collections, which has left St Francis Xavier unable to continue to support the Meal Centre.
Catholics and Masons helping each other help others
In order to offer the hot lunches, Centacare rents the Ballina Masonic Centre at heavily subsidised rates. Despite the assistance of local supermarkets donating some of the produce and bread items, together with some cash donations, there are still unavoidable costs to run the facility.
With the Catholic Parish no longer able to provide ongoing funding, many people who relied on the Hot Meal Centre have been left in very difficult circumstances.
Col Lee is on the board of the Masonic Centre, and also an active Rotary member. He's worried about the future of the service. 'For the Meal Centre to operate it needs a sponsor, simple as that,' he said.
'The other major issue is the age of the volunteers. The majority of them are very elderly.'
Friendships and community
Apart from providing essential meals, the Ballina Hot Meal Centre also offers the volunteers opportunities to build special friendships, through respectful social interaction as they work together to help others.
Coordinator Beatrice Gray says her cook Sarah Gent and volunteers also look forward to interacting with their clients each day, forming special relationships and ensuring a happy and friendly environment for all to enjoy.
'When I come to Ballina I see one or two customers, and they ask, "When are you opening again?" I feel bad! I really do. Most of our helpers feel the same way too, they want to get back there,' said Mrs Gray.
'I just want it to get up and going again because I know how much so many people depend on it. It's for their benefit, but it also helps a lot of older people who live on their own, and they come basically for the social interaction, which is a need also.'
Like family
Mrs Gray said that the Ballina Hot Meal Centre has been a vital part of her life since the loss of her husband in 2000. 'It's the love of my life now. It filled a gap. I've got a big family, and they've been wonderful to me, but I don't want to impose on them.
'All the workers become like part of your family here. Even quite a few of the customers, you get to know them like part of the family as well.'
Sarah Gent says she's cooked 400 meals a week at the Ballina Hot Meal Centre since she started there ten years ago. 'It is a huge commitment. A lot of what we cook is given to us, and I have to say we couldn't do it without all the volunteers. It's a huge amount of work.'
Col Lee said the Ballina Masonic Centre is a wonderful facility with the advantage of having a large well-equipped commercial kitchen, ducted air-conditioning and the ability to cope with the ever-increasing demand of new clients each week.
'There's nothing like the Ballina Meal Centre, to churn out big quantities of food for a lot of people,' said Mr Lee.
Help needed
Beatrice Gray and her team of volunteers are very anxious to get the Meal Centre operating again as soon as possible.
They are very grateful for the support from Member for Ballina Tamara Smith but more assistance is urgently needed.
'We can't do it without the money,' said cook Sarah Gent.
She said the service is able to manage on $25,000 a year. 'We've always thought we were pretty amazing, and modest with it!
'I've worked in a lot of places and this is the best job I've ever had, to be quite honest. I've enjoyed it more than anything. These are the best mob of people I've ever worked with.'
'We're hoping that someone will sponsor us and get it up and going again,' said Mrs Gray.
'We do have a donation box, and we ask for a gold coin donation. Some people put five cents in, and some of the older ones who come for the social interaction might put five dollars in. But if anyone comes into that hall and they want a meal, they get one regardless. It doesn't matter whether they've got any money or not.'
Please call Col Lee on 0417 862 602 or Beatrice Gray on 0439 371 210 for further information regarding sponsorship opportunities and volunteering.
---
Recent stories, information and updates regarding COVID-19