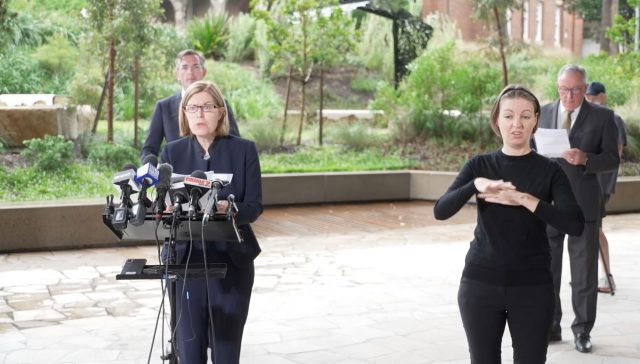 There have been 1,099 new cases of COVID-19 confirmed in Northern NSW Local Health District (NNSWHD) to 8pm 18 January. These numbers include 663 positive PCR tests and 436 positive rapid antigen tests (RATs).
There are now 55 COVID-19 positive patients in hospital in the NNSWHD, with seven of these in ICU. Thirty-two people died in the 24 hours to 8pm 18 January in NSW and there are currently 2,863 in hospital including 217 in intensive care and 66 of whom require ventilation across the state.
'Twenty-three people have at least two doses one received one dose and eight not vaccinated,' said Dr Kerry Chant, NSW Chief Health Officer.
Booster shots
'It is incredibly important for people to come forward for the booster doses… We know that booster will increase that level of protection.
NSW Premier, Dominic Perrottet told the press conference today that eligibility for booster shots have been brought down from four months to three months.
'They are available in our 40 vaccination hubs across NSW,' he said.
They will be available from pharmacies from January 31.
Local COVID-19 cases
Tweed local government area (LGA) had 344 cases of COVID-19 confirmed in that 24 hour period and according to COVID-Live Tweed has 3,695 active cases of COVID-19.
Byron LGA has 91 new cases with 1,856 active cases of COVID-19; Ballina LGA has 66 new cases with 1,242 active cases of COVID-19; Clarence Valley LGA comes in next with 64 new cases and 631 active cases of COVID-19 followed by Lismore LGA at 37 new cases and 866 active cases, Richmond Valley LGA at 52 new cases and 440 active cases and finally Kyogle LGA has nine new cases and 115 active cases of COVID-19.
Northern NSW Local Health District is urging people to get tested for COVID-19 at the first sign of symptoms and isolate until a negative result is received.
Anyone who tests positive using a Rapid Antigen Test (RAT) are now required to register their result with Service NSW. Registering your RAT result enables NSW Health to provide advice on self-isolation and managing COVID-19 symptoms at home and connect high risk people to clinical care services.
Everyone who is eligible is encouraged to book into a NSW Health vaccination clinic or another provider without delay through the COVID-19 vaccine clinic finder.
---
Recent stories, information and updates regarding COVID-19