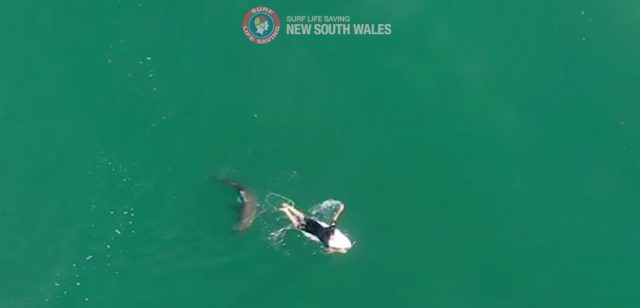 Aslan Shand
The footage of a 1.5m white shark that approaches and then veers away from pro surfer Matt Wilkinson at a Ballina beach yesterday as he paddled back to shore is a reminder that humans are not usually a target for sharks.
Wilkinson was warned via a speaker on a UAV (Unmanned Aerial Vehicle otherwise known as a drone), operated by Surf Life Saving NSW on behalf of the NSW Department of Primary Industries (DPI) that he had a shark in his vicinity.
'I was surfing out the back at Sharpes Beach and just cruising on my own and I heard a splash and a noise and looked around and couldn't see anything,' Wilkinson told Surf Life Saving NSW.
'Then the drone came down and told me that there was a dangerous shark in the area, return to the beach. I got to the shore feeling a bit weird and the lifeguards showed me the footage and I realised how close it came without knowing it was there. It looks like it's going for my leg and it's changed its mind.'
Sharks discerning hunters
A recent report by Wendy Zukerman on the podcast Science Vs took a look at sharks and their interactions with humans.
'Scientists in Australia and South Africa have observed great white sharks and bull sharks swimming near hundreds of people and they just don't go after them,' says Ms Zukerman.
This is supported by shark scientist Taylor Chapple who talked about his experience of tagging great whites near an island called Año Nuevo in California.
'About half a mile from where I work is a surf spot. So I'll have a day where there will be 6, 7, 8 up to 15 sharks swimming around my boat at one time and I can see a half mile away the guys in the line up surfing,' said Mr Chapple.
'And no one has ever been attacked at that spot. So, if those sharks wanted to eat us there would be very few surfers left in the water.
Zukerman and Chapple go on to highlight new research that is demonstrating that sharks aren't the mindless killing machines they have been made out to be, but are quite discerning about what they eat.
Referring to footage that Chapple caught when he strapped a camera to the back of a great white he recounts that, 'You see a silhouette at [the] surface…  you see the shark go from a couple of miles an hour, burst speed up to 20 some odd miles an hour [32km/h]… at the last second right before it gets to that unassuming silhouette at the surface, it bails. And it turns out that the silhouette at the surface was a bird, and not a seal.'
'So it looks like when the shark got close, it realised this dinky bird wasn't worth it,' says Zuckerman. 'And newer research in tiger sharks is showing basically the same thing.
'Most of the time… sharks don't go around chomping everything they see at every opportunity. They're making some sort of calculation about what's worth the effort… and it seems that in the vast, vast, vast majority of cases… humans – you and me – aren't worth it for them.'
Grateful shark didn't have a go
Nonetheless Wilkinson said that he felt 'grateful and pretty weird at the same time but happy it decided not to go me.
'It's nice to know the drones go up and down the beach and can see what we can't and it makes you feel more comfortable. It makes other people aware that there are sharks out there but usually with no intention. It's nice to know if there's a big one around you can just come in and let them go by,' he said.
'I've been surfing with sharks my whole life and I understand they're there and know enough about them to know they have not too much interest in humans. I'm just glad today the shark reconsidered at the last second,' said Wilkinson.
The drone operator, Beau Monks from the Australian UAV Service, said he'd just launched his seventh flight for the day when he spotted the shark near the surfer.
'It sort of came out of nowhere, then went right up to Matt. It moved pretty fast. I was tracking it and notified the lifeguards and used the speaker on the drone to get everyone out of the water. Within 10 seconds it was at the surfer and five seconds later it was gone,' said Beau Monks.