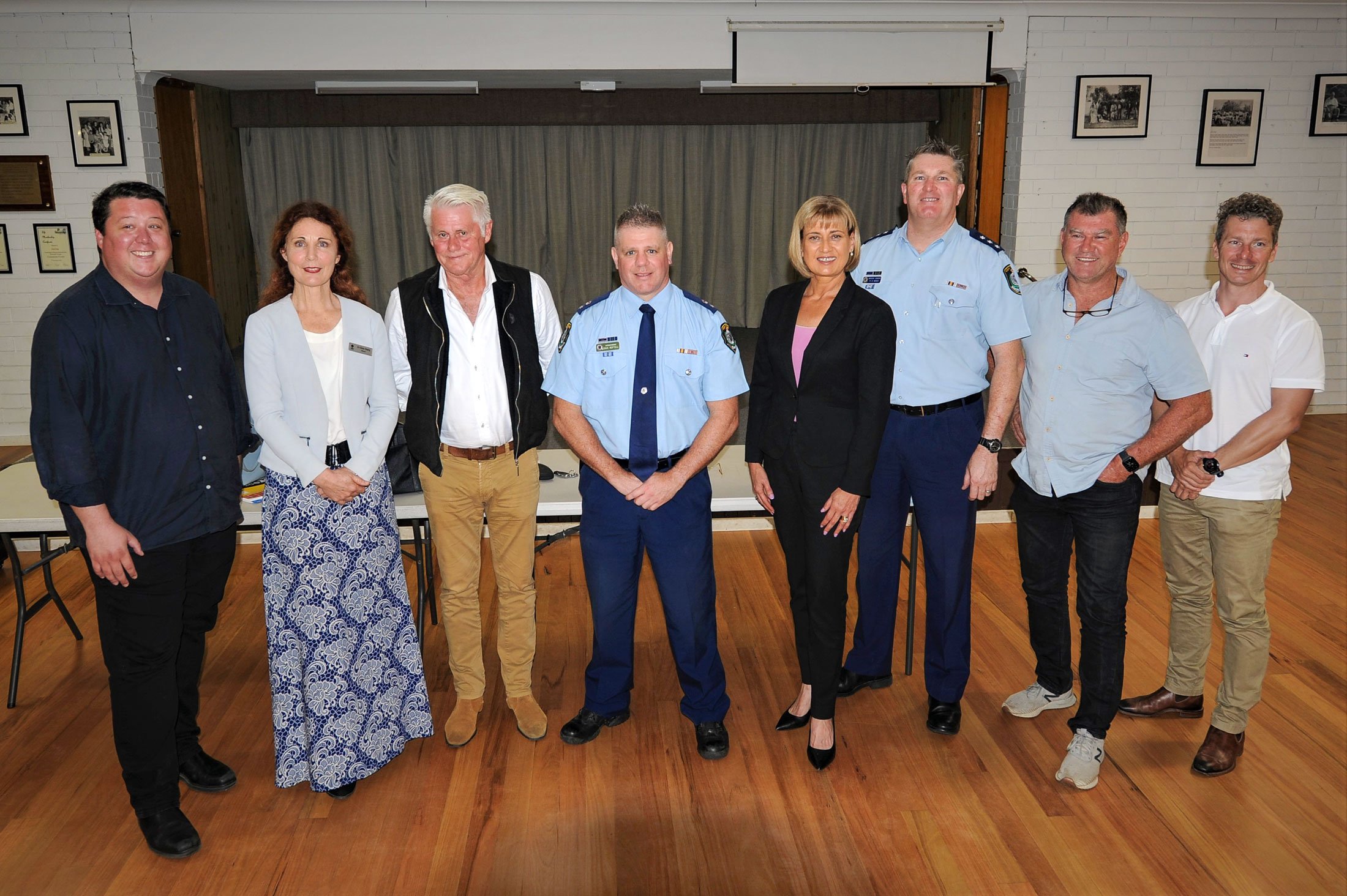 Eve Jeffery
Members of the Pottsville and Tweed Coast community say that in response to an increase in criminal activity in the area and their request for increased police presence, they were hosting a police presentation last Wednesday at the Pottsville Beach Community Hall.
The forum was organised by the Pottsville Community Association is what they say is the response to many community concerns regarding how the coastal community was being policed
Over one hundred guests were at the event which was a forum including Federal MP Justine Elliott, State MP Geoff Provest, Tweed Shire Mayor Chris Cherry and Councillors Reece Byrnes, James Owen and Pryce Alsop. The New South Wales police were represented by Commander Dave Roptell and Acting Inspector Matt Wood, both of the Tweed command.
Invitations were extended to other community Association's and the Kingcliff, Causurina, Tumbulgum, Cabarita, Burringbah, Chillingham and Hasting Point Associations also had representatives at the event.
Justine Elliot said that her experience as a frontline police officer before becoming a local federal MP gave her a greater respect for the job that police officers do. 'I know why they need more resources to keep our community safe.'
'One of main issues locals contact me about, again and again, is the lack of police and police resources in our area.
An entertaining view of how the command operates
President of Pottsville Community Association Bruce Brown said that Commander Dave Roptell and Acting Inspector Matt Wood gave a very entertaining view of how the command operates in the Tweed and they demonstrated they have a very old fashioned approach to wayward youth.
'They run youth programmes for wayward kids to try and get them back on track. They have changed the policing in places like Murwillumbah to be 24 hours a day, and they are doing their best with the resources they have at their disposal.'
Mr Brown said the forum was told that the time it takes to get to jobs in the Tweed is a problem. 'The police realise this but they have to prioritise jobs based on importance.
'They discussed the youth crime in the region and asked everyone to report any incident they become aware of because it is the very small piece of information provided by the public that can lead to an arrest or a strong caution to the younger ones who are acting out bad behaviour.
'The actual statistics for the southern end of the shire do not show a critical rise in crime and this is because generally, the community don't report the incident, reporting the incident is critical.'
The police perspective
From the police perspective in terms of policing in the Shire, the messages were clearly about prevention and reporting – engaging with the community at every opportunity, community policing, consistent and ongoing engagement with youth, particularly the Police Commissioners 'Rise-Up' program, the effectiveness of the PCYC, police youth and school liaison officers. Part of the forum focussed on how the pandemic had stifled plans to move forward last year in youth issues, but police said they felt they were again making progress.
Commander Dave Roptell and Acting Inspector Matt Wood said there had been an impact on crime through community engagement both in relation to prevention and also catching perpetrators. DV incidents have been reduced by 14 per cent in last 12 months through active policing – one of only two NSW police districts to record a reduction in the 'COVID' year.
Kingscliff Ratepayers and Progress Association
President of the Kingscliff Ratepayers and Progress Association, Peter Newton, said he wanted to congratulate the Pottsville Community Association for an excellent event, which highlighted that policing issues are very common across our coastal communities. 'I look forward to continuing and strengthening this relationship for the betterment of all members of our community.'
Mr Newton said that the Association's members do understand the political climate around the issues of police resourcing and strongly believe that politicians have a critical role to play. 'We would urge all parties to put aside their political differences and work together to achieve the best possible resource outcomes for our district. These matters are much more important than party politics. If our State member believes that he has no power or influence to ensure additional police resources are assigned to our area, who do we turn to?
'It was disappointing to hear our State MP suggest that Kingscliff residents had rejected the building of a new police station at Kingscliff. As Mr Provest well knows, this project had nothing to do with increasing actual general duties numbers for Kingscliff and the other coastal villages. The community angst was against a proposed plan to build the new Tweed Byron Regional Police Headquarters – a major police administration complex servicing the whole of the Tweed/Byron region – in completely the wrong place.'
Desperate need for more police on the ground
Justine Elliot MP said the forum highlighted how we desperately need more police on the ground in our region. 'Today, we have less police here than we had a decade ago: this is Geoff Provest's shameful legacy.
'As a former police officer, I have great respect for the outstanding job that our local police do, and I know why they need more resources and support to keep our community safe.
'Our police officers work extremely hard, often under very difficult circumstances, but they are not getting the extra police officers or resources they need on ground here from Tweed MP Geoff Provest and his Liberal-National Government.
At the forum I highlighted that in 2012, NSW Police numbers were at 198 for the Tweed-Byron District, but under Geoff Provest and his Government's cuts, the last publicly released records of police numbers show that the numbers had dropped to 165 in 2017. (see attached).
'There are 33 fewer police officers locally than there were in 2012. It's also shameful that the Liberal-National Government stopped the public monthly reporting of police numbers in 2017. They stopped releasing these figures because they are so embarrassed by their cuts to our police numbers.
A cut police to numbers over the past decade
At the forum Ms Elliot specifically asked Geoff Provest why he and his government have so severely cut these police numbers over the past decade and why they refuse to provide more police. 'Mr Provest refused to answer the question and refused to commit to providing more police to our region.
'I also highlighted that the issue of police numbers is a political decision. The NSW Government can fund more police with the stroke of pen, they could do it today and they can allocate them anywhere in the state. Crime is one of the major issues that locals contact me about. They constantly tell me that crime is out of control. We need both more police on the beat and more resources urgently.
Ms Elliot said we have a situation today where we have increasing crime in our area and at the same time less police than a decade ago. 'This is just not good enough and it demonstrates that Geoff Provest isn't up to the job.'
Geoff Provest MP was unavailable for comment this morning.