♦ Budgeram means story in Bundjalung language.
WARNING: Aboriginal and Torres Strait Islander viewers are warned that the following story contains images of deceased persons.
---
The world needs gentle men. A gentle man is someone who puts more into the world than he takes out. For me this is an adequate description of First Nations men. In fact, this is my experience with First Nations men. Men who forever put the needs of their family and others before their own. Men who work tirelessly to provide for an entire tribe, in partnership with our women, our queens. Men who protect and teach the young ones so that the tribe can continue to thrive for generations.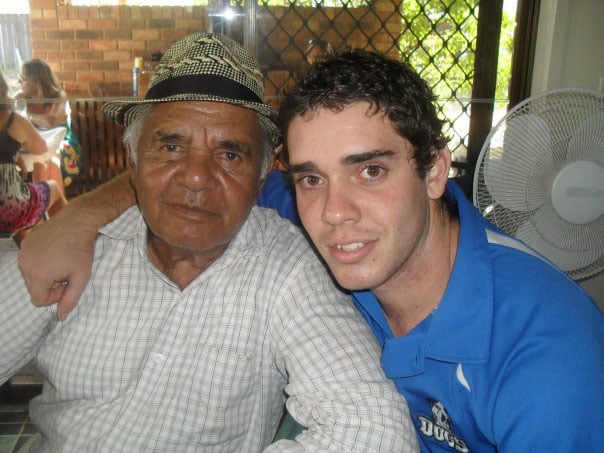 I grew up with gentle men. From my grandfather and uncles to my own father, these men encapsulated everything that is good and just about males in our society.
Unfortunately, not all Australians view First Nations men in this way. In fact, certain research has found that up to three-quarters of Australian society are biased, either consciously or subconsciously, against First Nations men. But why is this so? Why do other people's perceptions of First Nations men differ so sharply against my own?
In Australia there has been a long and deep-rooted stigmatisation of black males. From the very start of colonisation, First Nations men were targeted in order to actively reduce their influence over the rest of their community. Under the theme of terra nullius, our people were stripped of any rights they held over their land. Through violent means our people were forced from their homelands with much bloodshed ensuing.
This left the men of our communities ravaged. The patriarchy of white male society guaranteed that we were demonised to shore up support for their blood thirsty, land grabbing causes. We lost a generation of warriors, teachers, and lore men who had for generations, maintained a balance in our society. Yin and yang, male and female, on equal terms maintaining fairness and continuity. We were left with a generation of men without guidance, support, and leadership. This led to addiction and violence within our communities, an insidious but purposeful symptom of colonisation.
Often the most violent and reprehensible men in our communities would rise from this chaos and be given status by the colonisers. They were brandished with kingplates and told that they held dominion over all else. Such action provided these men with power and influence leading to further generations who viewed selfishness and ownership as important. We became what we had once resisted.
Our gentle men still existed though. Whilst stripped of influence and forced to the sidelines, these men remained and continued to care for their communities and land. They continued to teach, share knowledge and maintain strength. In fact, these men were still the majority, despite the best efforts of the colony to destroy them.
Today, First Nations people make up 29 per cent of Australia's prison population, despite representing only three per cent of our total population. Those who are incarcerated are overwhelmingly male. First Nations male suicide rates are the highest in the world as we continue to be demonised and victimised in a country we are supposed to call home.
In 2019 I sat in dismay as Kerryanne Kennerly was shown on national television portraying First Nations men as violent rapists. I had heard racist comments on television before, but these words struck a chord. How can the behaviour of the so very few serve as the accepted image of First Nations men in Australia? I watched as she was applauded, by some, for her comments. Condemned by others. But I was left heartbroken and lost as to how we got here.
There is a perception in this country that First Nations men hold some type of ingrained depravity that makes us unapproachable and dangerous. But this is not the case. Whilst there are elements within our communities who cause harm, they are in the minority, like in any other community.
Our men have been pushed to the sidelines for a long time. We have allowed others to speak for us and determine who we are. It is now time for gentle men to stand up. To set aside negative stereotypes and become agents of change within our society. The symptoms of colonisation remain and continue to cause sustained damage to our people. But there is no reason for us to accept this. It is time, once again, to strike balance within our communities and create a more positive outlook for our future. A future of gentle men.
---
Author
Eli Cook is from the Nyangbal clan of the Bundjalung nation.
His family are descendants of the South Ballina tribe.
As a local school teacher from the Ballina area he has worked closely with the Aboriginal community for the past eight years.
'I hold a great interest in Aboriginal and Torres Strait Islander advancement and seek to create stronger communities through truth sharing and shared cultural experiences,' says Eli.
Bugalbee.
---
More Storylines articles