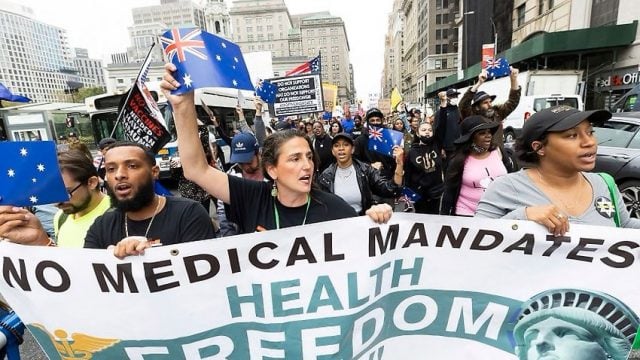 As the COVID lockdowns draw to a close, there are still people who profess themselves unwilling to vaccinate under any circumstances, and who object to bearing any consequences that may arise.
But, the vaccinated majority argues, if your profession mandates vaccination and you refuse, you have ceased to be eligible for that profession. Only in some libertarian dystopia would there be an absolute right to remain unvaccinated if your job involves treating the sick, caring for the old or teaching the young.
Citizenship limbo
Therefore, when we open up, the refuseniks will find themselves in a citizenship limbo, as without vaccination certificates the law may exclude them from travel, certain occupations and some public places. However, as governments do not have, and should not have, the machinery to enact this level of surveillance, it is easy to foresee serious conflict if enforcement is left to small business retailers and employers.
Already anti-vaxxers see themselves as oppressed men and women of principle, like the political prisoners of dictatorships. Some are framing themselves as crusading Davids against the corrupt and corporate Goliath state. They imply that if you do not stand up for their rights you are complicit in the depravities of the government.
Their numbers may be small but they are not insignificant, and therefore they will come to be represented politically in one way or the other. And what kind of politics best accommodates a movement based on distrust?
In the USA anti-vaccination has been adopted by the Republican Party as an implicit policy. The further towards Trump and the far right you go, the more anti-science the political rhetoric becomes.
America has apparently split into two camps, those who support public health measures, including mandated vaccination, and those who do not, because well, freedom. Both sides are represented in their political and media systems.
Moreover, in the USA there is a correlation between Republican states and high COVID death rates. So far we have not had a political party here committed to the anti-vaxxer cause, but if the Nationals or Liberals see electoral advantage in adopting Republican memes, as some of their crazier members already do, then we could see a sudden upsurge in cases, hospitalisations and deaths.
Move to the right
More likely, with better COVID antibody treatments becoming available, we will be spared catastrophe, but there will be a general movement to the right in politics.
WTF? A pandemic has caused us temporarily to restrict personal freedom, and from that circumstance derives a trend towards anti-science and right-wing politics?
Well, there is a clash between the right not to be vaccinated and the right of others not to be infected. Such conflicts of rights are common, and we traditionally accept constraints on personal liberty for the principle of the greater good. But if one is heavily invested in the right not to be vaccinated, and yet this right can be overridden by the public safety principle, the only explanation is that there must be something wrong with the principle.
This cognitive dissonance is one of the reasons for the concerted attack on medical science. If the pandemic demands of you an unacceptable course of action, then it is necessary to believe that the vaccines don't work, or the virus is not real, or the dangers are exaggerated for the profit of corporations and politicians. No evidence to the contrary can be entertained, for that would lead to an admission that public health trumps private liberty, instead of the other way round.
Restoring freedoms
The danger is that people who believe this fantasy might form a radicalised group of outsiders who feel they have no place in society. Such a group would be natural recruits for the far right.
Therefore, when the health emergency subsides, it is imperative to restore, without delay, the freedoms we have curtailed. Otherwise it is possible that 2022 might see even more irrational politics than we've seen so far.