Hopes for new State Emergency Services [SES] headquarters in a flood-free part of Ballina are on hold while the local council proceeds with plans to upgrade existing facilities.
Ballina Shire councillors voted last Thursday to go ahead with the staff recommendation, which was one of four options concerning the immediate future of the SES.
Independent Councillor Philip Meehan was the only voter against, having tried but failed to get support for an amendment in favour of one of the other three options.
Cr Meehan's amendment to consider options for a new SES site in a flood-free area lapsed.
Preferred plan prior to floods abandoned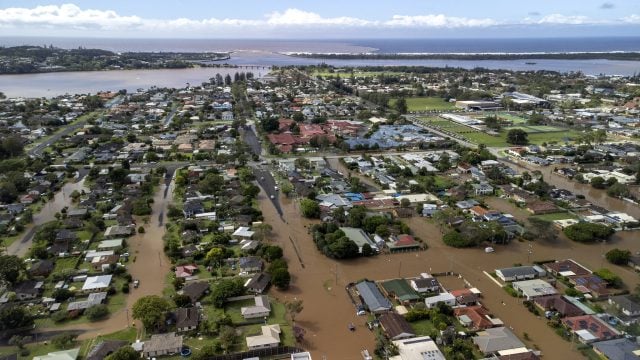 Council notes for the motion at last week's finance and facilities committee meeting showed staff had consulted local SES personnel about the four options presented.
They included:
Building new SES facilities at the current site on Ballina island's Clark Street Reserve;
Relocating the SES to a new site on the northern side of North Creek in Ballina at 26 Endeavour Close;
Upgrading the SES garage at the existing site but building new headquarters at 26 Endeavour Close;
Looking for a new SES site in a flood-free part of the shire.
Background notes showed the Ballina Shire Council had been trying since November 2020 to work out whether to build new SES headquarters at the current site in the Clark Street Reserve or at 26 Endeavour Close.
Staff said there were concerns over the impact on public open space in the Clark Street Reserve and there were no council plans for other long-term uses of 26 Endeavour Close.
The second site was subject to a community lease with TS Lismore Cadets and the Rainbow Region Dragon Boat Club, due to expire on 31 May 2022, staff said.
Feasibility options and concept designs for both sites were presented to the council in May last year with councillors voting for staff to discuss the ideas with the SES.
Those discussions happened, staff said, with the SES interested in option three: using both sites.
But then the devastating floods of early 2022 happened and new factors came into play.
New SES site could be 'superior solution', staff say before backing SES vote to stay put
'There are concerns about access to both sites during a major flood event,' council staff noted after analysis of recent floods.
'Had the predicted plausible worst case scenario occurred in the recent event, access to the current site would have been, at least, very difficult and at worst, not available,' staff noted.
Modeling had shown a 'plausible' worst case flood scenario of 3.1 metres above mean sea level at the Burns Point Gauge, staff noted, while the actual reading was 2.3 metres.
'The source dominance for this flood was the Richmond River,' staff noted, adding that predicted highest flood levels were expected to come from an ocean storm tide dominated flood.
Staff noted that if the SES still wanted to stay at the Clark Street Reserve, the agency would have to 'manage the risk that road access may not be available during a major flood event'.
'Sufficient operational contingency planning' would be required, staff noted.
'This being the case, and noting the concerns about the impacts on the Clark Street reserve, an alternate site located away from the floodplain may provide a superior solution'.
But staff said ultimately they backed the SES preferred option.
No room at the inn: council-owned flood-free land available for SES non-existent
The SES was uninterested in exploring options for other council-owned sites in flood-free areas of the shire, staff said, and there were none available.
The SES had advised they no longer supported the Endeavour Close proposal, 'due to concerns about flooding', staff said.
'There is a low point in the Endeavour Close site, at the intersection, which would need to be addressed by raising the road,' staff noted.
Furthermore, staff reported parts of Bangalow Road were 'as low as 1.88 metres and 1.91 metres' above mean sea level while recent flooding there reached heights of 1.84 metres.
Upgrading the roads would come at extra costs to plans that, according to staff notes, were yet to be properly funded anyway.
Ballina SES Unit Commander Gerry Burnage told last week's council meeting the current site had been unaffected in recent floods.
Mr Burnage said fourteen agencies had managed to operate out of the Clark Street Reserve during the emergency, even without power and internet.
The SES leader said he wanted upgrades to include backup systems.
Mayor vows to 'hammer' state gov't for SES funds while community consultation delayed
Staff said the Long Term Financial Plan for the SES project had a budget of $2.5 million, nearly a million dollars short of recent costs calculated at around $3.35 million.
The increase reflected current market demands for building supplies and resources, staff said.
Mayor Sharon Cadwallader said during discussion at the meeting she would 'hammer' the state government for more funding.
Impacts on vegetation in the reserve were yet to be formally assessed, staff said, and were a potential risk in terms of development consent.
They were also the main concerns of Cr Meehan, who described the reserve as one of the 'few tree reserves' the Ballina Shire had.
Cr Meehan questioned whether the decision to stay and upgrade facilities on the current site would be considered the best one in forty years' time.
But both Greens councilors supported the motion, with Cr Kiri Dicker saying Clark Street Reservewasn't popular as a picnic spot and she didn't personally use it.
Staff said there were risks development in the Clark Street Reserve 'may not be supported by the wider community', but that while community consultation hadn't yet happened around the proposals, it could be invited during a planning assessment phase.