Tweed Council is asking that you put your best bird listening ears on this June and capture the sounds of a rare bird. Citizen scientists are being called upon to help record the call of the rare Albert's Lyrebird to map and protect this vulnerable bird.
The Lowland Lyrebird Links project has been running since 2019 and aims to map and secure populations of Albert's Lyrebird (Medura alberti) on both Council and private land.
Data from the 2019, 2020 and 2021 winter calling seasons has been collected from sites at Mount Nullum and Numinbah near the NSW/Qld border.
Surveys at Mount Nullum since 2019 have detected at least 11 male Albert's Lyrebirds, while surveys at Dungay Creek since 2020 have identified ten to 11 calling males. Surveys at Settlement Road, Numinbah since 2020 have identified up to six separate calling male Albert's Lyrebirds.
Pleased with findings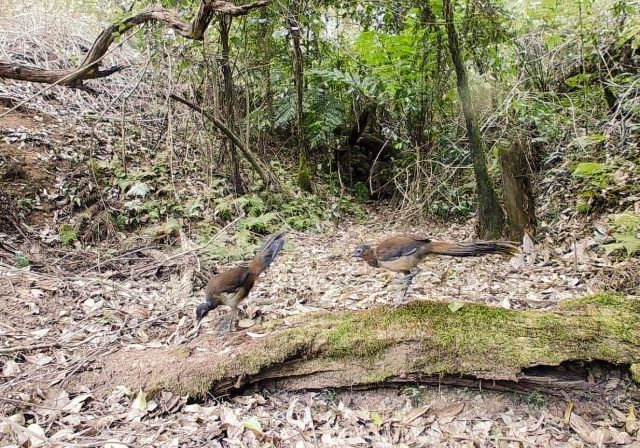 Tweed Council's Project Officer Wildlife Protection, Emily Clarke, is pleased with the findings so far and hopes more people will get involved this season. 'We've been grateful for the community support to date. Formal surveys and community observations show we have an active and healthy population of Albert's Lyrebirds in our region. However, records are incomplete and we need more data to work to improve its habitat.
Ms Clarke said the project is hoping people will record where Lyrebirds are occurring by undertaking call surveys on their properties during June. 'It's an active breeding time for the birds when they are known to call vigorously.'
The Tweed community stepped up to the challenge last year, with 74 people attending the citizen science project Listening for Lyrebirds launch in May 2021.
Since then, nine confirmed observations were recorded by citizen scientists via the iNaturalist app during the 2021 winter season.
Formal surveys and monitoring
Formal surveys and monitoring aims to determine changes over time in the distribution and activity of Albert's Lyrebirds at both project sites, in response to threat management.
The Albert's Lyrebird has one of the smallest distributional ranges of any bird in Australia, occurring only in suitable forest habitat within a restricted range in north-eastern NSW and the far south-eastern Queensland Border Ranges.
The birds breed over winter and at dawn the famous call of the male bird can be clearly heard. Their loud, intricate song includes spectacular mimicry of other animal species and is accompanied by a dance to attract a mate.
The project was co-developed by the NSW Government and Tweed Shire Council, together with project partners Birdlife Northern Rivers and Tweed Landcare and with support from Land for Wildlife members and private landholders.
Call observations are being collected online via the iNaturalist website or app at inaturalist.org/projects/listening-for-lyrebirds-project-page.
More information on the project, how to listen for Lyrebirds and examples of their calls can be found at tweed.nsw.gov.au/alberts-lyrebird.