Two Syrian refugee families have been welcomed on the Northern Rivers in recet months as part of a national resettlement pilot program featuring just ten families.
Volunteer-run Ballina Region For Refugees (BR4R) played a key role in the local part of the project, supporting the families financially and logistically.
One is a family with young children settled in Brunswick Heads while the other is a mother with adult children living in Ballina.
Both families spent years waiting in the complex international refugee system after fleeing war-torn Syria, including time spent in refugee facilities in Iraq.
BR4R President Marilyn Leeks says the families are embracing life in the rainbow region, despite the environmental and cultural differences.
Refugee support group seeks cars
Ms Leeks told The Echo on Monday the adult children in Ballina already spoke English well and were preparing to look for work, including getting a drivers' license.
The younger children in Brunswick Heads were living a typical Australian child's life, going to local educational and care centres while their parents studied English and also prepared for their driving tests.
Getting a drivers' license and a vehicle was essential for life on the Northern Rivers, Ms Leeks said.
BR4R was aiming to raise enough money to buy vehicles for the families and was hosting a fundraiser concert on Sunday 4 December from 6-8pm at the Brunswick Heads Memorial Hall.
Voices to soar in support of refugees on Sunday
The day was to be a celebration of choral music, featuring The Big Voice Community Choir, The Songbirds, the Pocket Kids' Choir from Billinudgel and drummer and singer Cindia Luz in an event organised by BR4R and Janet Swain, well known for her work in community choirs across the region.
All ticket proceeds would go towards the goal of buying vehicles for the two refugee families, with more information available from BR4R.
Support for refugees expands on the Northern Rivers
Ms Leeks was recently voted in as president of the group, taking over from the hardworking Ruth Henderson.
Ms Leeks said she'd been the group's volunteers coordinator for 15 months.
'That's been fantastic,' she said, 'like there's such a good spirit in the organisation, spirit of goodwill'.
'I'm looking forward to having a different role, working with the committee,' Ms Leeks said.
The group had increased in numbers to more than sixty members, Ms Leeks said, and about 140 volunteers.
Another refugee support group was working in Uki in the Tweed Shire.
From Medevac to detention, transition and resettlement: the costs of repressive asylum-seeker regimes
Most BR4R activities and events revolved around fundraising, Ms Leeks said, with the purposes of how the funds were spent changing over the years.
'Up until probably a year ago, we were sending money regularly to the settlement support group in Brisbane that helped a lot of the people who had been medevacked to Australia from offshore detention,' Ms Leeks said.
'We were sending money to a group of nuns who are working with the men in Port Moresby, who were shifted off Manus [Island],' she said, 'and were sending money to refugee advocates who worked with men in hotel detention in Australia'.
'The last twelve months we've moved into the refugee settlement support program under the national organisation of the community refugee sponsorship program or pilot, and that means that a lot of the money we're raising now and the grants we're applying for is being used to settle refugee individuals and families,' Ms Leeks said.
The group's president said BR4R volunteers were budgeting $18,000 per year in support for each resettled family after having raised a starting fund of around $80,000.
'Obviously, it tapers off when people get work,' Ms Leeks said, 'and we would negotiate that with the family individually, depending on their individual circumstances'.
Thinking globally, acting locally: refugee support group aids NR disaster survivors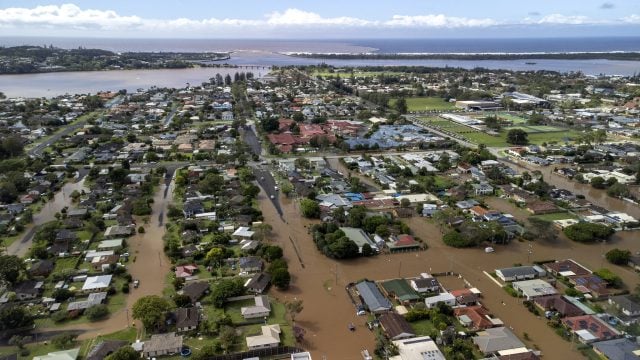 The volunteer said the group had also raised money recently for local flood and landslide survivors.
'Our approach is that there's no competition,' Ms Leeks said, 'really a caring community with the capacity of the far North Coast, we're able to include a lot of people in caring for them'.
Ms Leeks said BR4R hoped to help settle another three refugee families on the Northern Rivers next year.
'Which isn't very much, you know,' the human rights advocate said, 'we think that that's probably a reasonable capacity, the numbers aren't great'.
Anyone wanting to make a donation to the BR4R outside of the fundraiser event on Sunday could do so via the group's website.
Anyone wanting to become a member or volunteer could email br4r.org.au.