Some people would need counselling after a year in minority on Ballina Shire Council, but Greens councillors Kiri Dicker and Simon Chate are still optimistic and looking forward to the next chapter. They spoke to The Echo about the big issues of 2022 and what they're hoping to achieve in 2023.
Cr Dicker says 'it's a bit of a love/hate thing' but she doesn't regret her decision to stand. 'It's definitely the right decision for me, I feel very at home there,' she said. 'I pull my weight as a councillor. But yeah, it can be a bit of an uphill battle.'
She gave the example of the recent (unsuccessful) debate to re-open South Ballina Beach to 4WDs as an example of old battles that shouldn't need to be fought again, with the issue distracting from the current debate about 4WD access to Seven Mile Beach.
Cr Chate also lamented the one step forward, two steps back approach of the current council when it came to environmental issues, giving the example of fossil fuel aligned investments going from 17% at the start of 2022 to 60% at the end of the year, in spite of the region being battered by the ongoing climate emergency.
He says he remains hopeful though, seeing an openness on the broader council to environmental issues, with little wins (such as with microplastics in 2022) having the potential to amount to something bigger.
Cr Dicker said she struggles with the fact that the environment is always sidelined when it comes into conflict with human convenience or development.
'We submitted a planning proposal to rezone a big swathe of land at Burns Point Ferry Road, for conservation,' she said. 'But we had the CEO of GemLife, come into council and say on the record, that they will continue to litigate until we approve their development, so that gives you an idea of what we're up against.'
'And despite that we still got it through,' noted Cr Chate, 'largely because of the clear evidence presented to the Land and Environment Court that there were significant endangered ecological communities that were going to be damaged.'
Cr Dicker said that in spite of broad opposition to the plan, including from neighbouring residents, 'I don't think we've seen the last of that,' with the developers still believing they have grounds for litigation. 'I believe the public would be outraged at the prospect of development on that site,' she said.
Short term stay vs long term rentals
This big issue of 2022 remains contentious in Ballina shire, although the situation is not yet as serious as in Byron Bay. Cr Chate says the central problem is that NSW planning laws don't allow councils to regulate short term rentals in any way.
The question is complicated locally by the fact that most Ballina councillors (though not the Greens) have a stake in the short term rental market themselves.
Cr Kiri Dicker doesn't see a 90 day cap as the answer – 'the reform needs to be much more widespread than that. In terms of local action, she said, 'All we could do was write a letter, and even then we had to struggle.'
The initial proposal to write a letter to all ratepayers to explain the severity of the rental situation, and urge them to reconsider short term letting (along the lines of what had been successfully tried in Victoria) was watered down by other councillors until it amounted to 'basically nothing'.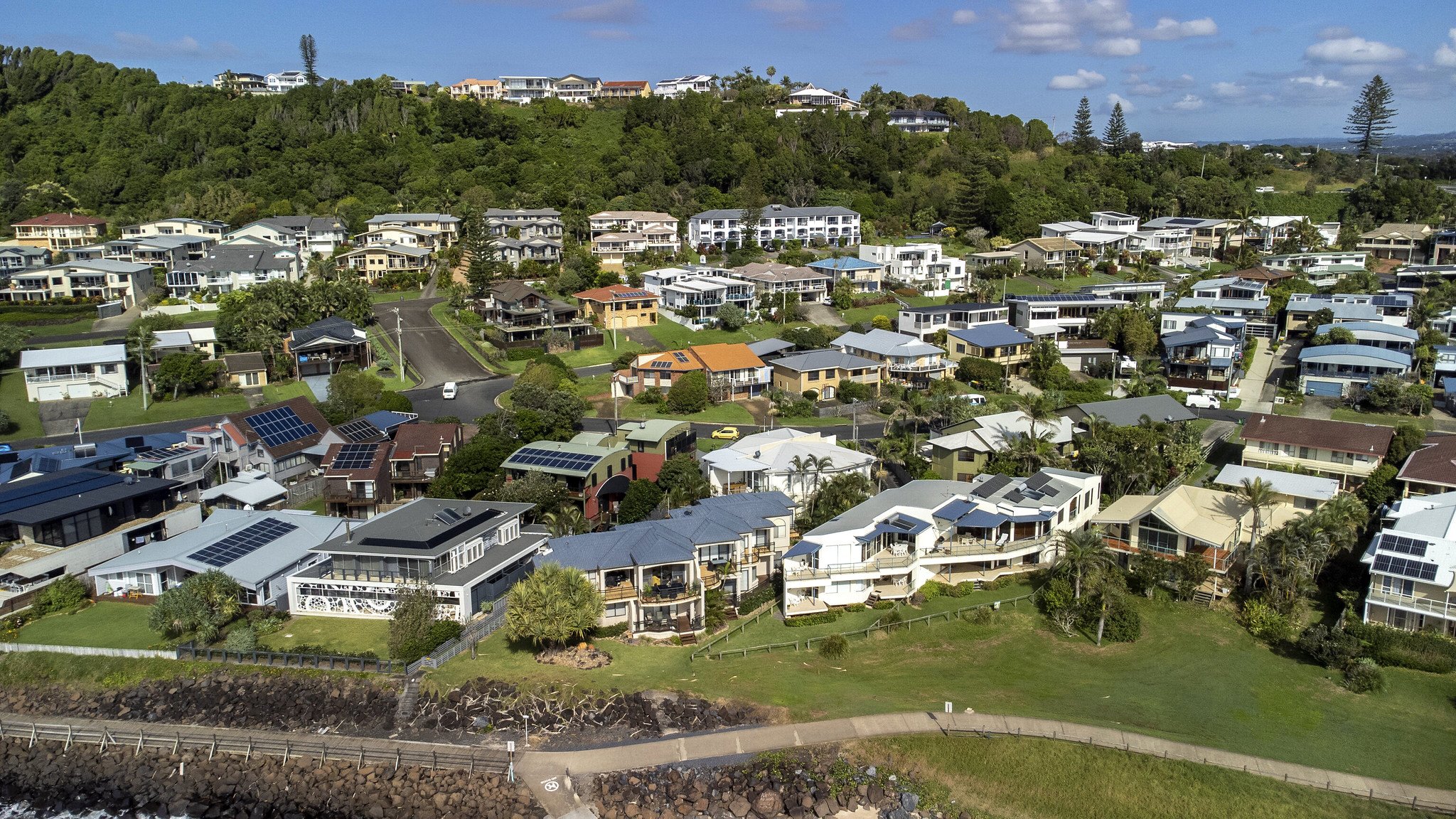 Cr Chate said the latest figures showed that there were only 48 long term rentals in the shire out of over 700, with the situation worsening. 'That's 8% rate of long term versus short term, which is just dreadful.'
Cr Dicker said the real crisis is in coastal areas. 'It's hard for everyone, but it's amplified in coastal areas, because that's where most of the short term holiday letting is.' At the same time she said, 'none of us think that one policy lever is going to fix the housing crisis.'
Cr Chate said, 'If we had the ability to regulate, I think it would make a real difference.'
Still on the housing crisis issue, Cr Dicker said she was disappointed that Ballina has failed to learn from other under-pressure jurisdictions, such as Whistler in Canada, where housing is being developed and retained to lease for lower income and essential workers, in conjunction with new developments.
She said there were multiple potential lots which could be used for this purpose at Wollongbar and Lennox Rise. 'Whistler is a great model, and very similar in the sense that it's a high tourist area. They have a need for essential workers, but the affordability crisis is really bad. And so they have that council owned housing and then they have a waiting list of essential workers.'
Cr Dicker said she'd asked Ballina Council staff for a report on how that model works, and whether it could work in Ballina.
Cr Chate said that when the issue of holding blocks for social housing was last discussed at Council, there were barely enough people present for quorum, and conservative councillors said 'let's just sell it'.
Affordable housing is likely to remain a pressing issue in 2023 but as Cr Dicker puts it, the 'appetite for innovation among Council… is very low' with the results of expensive feasibility studies often being ignored.
4WDs on beaches
The Greens councillors say they have had no public pressure to re-open South Ballina Beach to 4WD traffic, and the focus was now on Seven Mile Beach, with a draft policy going on exhibition soon.
Cr Dicker said it was frustrating that the beach was still facing cumulative damage after decades of evidence of negative 4WD impacts, and some councillors saying, 'This looks fine to me, I can't see any damage…
'I believe we need to get rid of short term passes. And I will accept that we can maintain six month and 12 month passes.'
Both councillors share the concern that Lennox gets more attention than other parts of the shire. They are pleased that there will finally be some community housing at Cumbalum, along with a new shopping centre, although it's been 'too long'.
Alstonville (Cr Chate's ward) has also sometimes been something of a poor relation, but he's pleased that grants he's argued for will deliver new footpaths and other upgrades.
Water remains a live issue for the whole shire in 2023, with Mayor Sharon Cadwallader recently reversing her earlier public opposition to deep groundwater and the Dunoon Dam remaining on the table, at least theoretically.
Cr Dicker said, 'I don't think the dam will be back on the agenda. I think we'll see a change of government at the state election. And I think, you know, dams are the folly of the Coalition.'
Cr Chate said the enthusiasm for the dam idea from the current incarnation of the Rous County Council continues to ignore the 'massive environmental impact' as well as multiple cultural heritage assessments.
Both councillors are keen on increasing the role of demand management and potable recycled water for a sustainable future, noting hardly any of the water coming out of Rocky Creek is currently used for drinking anyway.
Community engagement
Both councillors say they will continue to be as available to the community as possible, with Cr Dicker creating regular email bulletins and Cr Chate planning to continue his popular listening posts in Alstonville on the first Saturday of each month.
'I'm usually there from 9.30 to about 2pm,' he said, 'and if anyone wants to come and talk to me about anything, they can sit down and we have a chat. I'll make a note of it, and then I type it all up and send it off to council.
'It's really useful. I love a good chat, and I'm getting tremendous support for the listening posts. The community seems to really enjoy having someone from council come in and sit down and talk.'
Cr Chate said community members are generally very civil when he meets them face to face, with angry people tending to prefer the anonymity of social media.
He said he was learning a lot on Ballina Council, despite the long hours involved in meetings, the frustrations and all the behind the scenes work. 'I am a very busy person. And I seem to thrive on this kind of stuff. So I'm just loving it. No regrets!'
While there will be no Ballina Council meeting in January, the thrills and spills will return in late February, so stay tuned for that…
More stories about Ballina Shire Council: