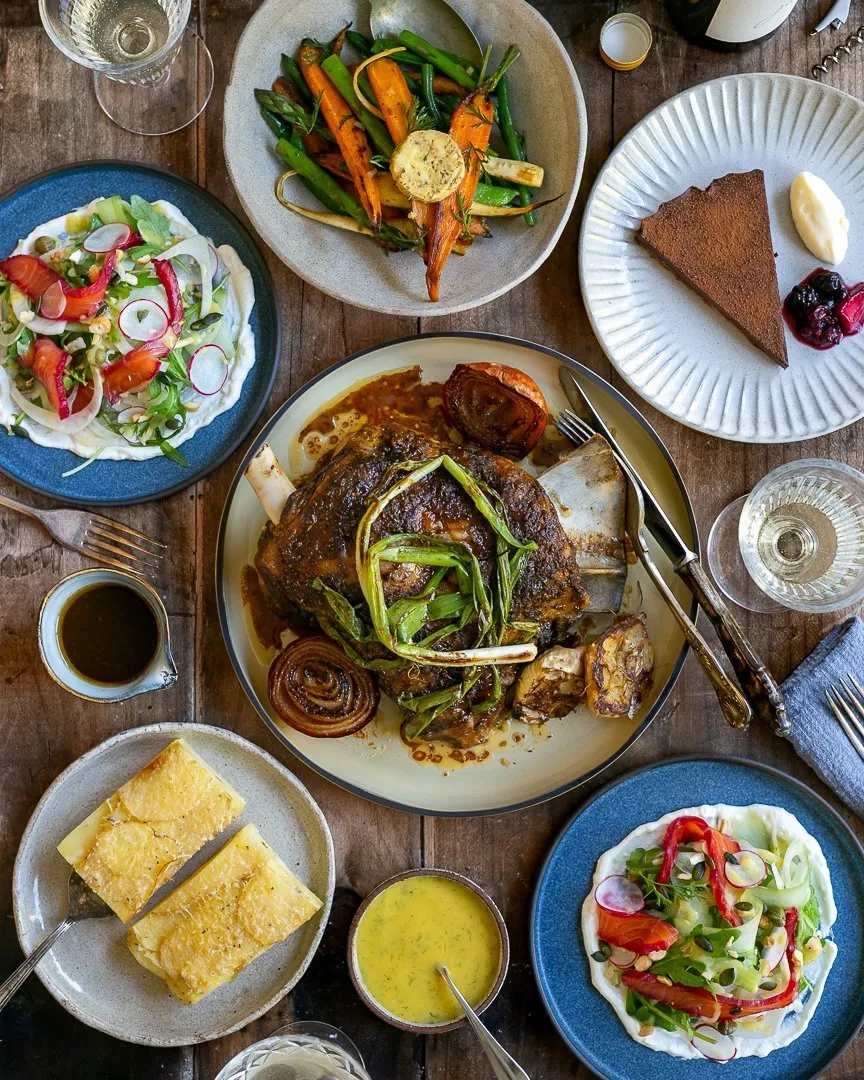 Claudia Lawrence used to work in the corporate world, and when she moved to the area, time-poor with young children, cooking daily became an impossible feat. This is when she was inspired to start a business called Dinner is Served that produces high quality chef-prepared meals that you take home and serve with minimal preparation yourself. 
Along with her business partner and Executive Chef, Etienne Karner, Claudia is on a mission to change the perception of the ready-meal. Etienne brings with him a wealth of international experience having worked around the world in some of the best five-star hotels and Michelin-starred restaurants. In Sydney he was at the iconic Park Hyatt Sydney, where he held the position of executive chef, before moving to the region to reopen the Byron at Byron Resort after their extensive renovation. He now brings the best of these cultures and cuisines to your plate at Dinner is Served.
'Sourcing and preparing a meal for the people you care for is an act of love, and even the busiest people don't want to miss out on this element of their lives,' says Claudia. 'I didn't really understand this when we started the business, but post COVID lockdowns I noticed that people didn't just want to order online from a menu anymore, often they wanted to come to the kitchen, have a look at the food, talk to us to find out what might suit them. That's why we've upgraded our premises; now people can visit our beautiful cafe, enjoy a cup of coffee, have a bite to eat, as well as take home our ready-made meals for the week.'
The Dinner is Served menu changes weekly to keep things interesting and make the most of seasonal produce and flavours. They have dishes like a whole roasted pork belly porchetta with rosemary and garlic, sliced and served with cannelloni, or an elegant ravioli, but sometimes the theme is French (creamy French tarragon chicken with rice pilau), Mexican, or Greek (lemon and garlic roast lamb). Plus they always stock a selection of family favourites like lasagne and delicious pies. 
Using a ready-made meals software platform called Cookaborough they can share the weekly menu with their customers, keep track of all orders and take payments securely online. Each Friday a new menu goes live and is open until Wednesday for customers to order online. They can choose to have the meals delivered to their home or pick up their order from the cafe. 
'Honestly, enjoying chef-prepared, wholesome, delicious and nutritious meals has never been so easy,' says Claudia. 'We've got quite a broad spectrum of customers: many people need nourishing complete meals every night; and there are also people who, instead of going out, have a restaurant-style meal at home; or families who stock up on good quality, ready-made meals that just need to be heated and served!'.
'Rather than ordering one single family-sized meal, many families order different single-serve meals; it's a lot simpler than preparing different meals from scratch and most importantly, everyone gets what they want! No hassle of shopping, prepping, cooking or washing up after, the meals come beautifully packed in recyclable containers that can be either popped into the microwave or oven – it's a win-win for all!
'There is something lovely about someone cooking for you, we often get comments from busy parents, singles and even seniors about how our meals have made a difference in their daily lives. Using high quality, local produce and a team of talented chefs gives our meals a freshness and flavour that has to be eaten to be believed. Whether you're dining alone, feeding the troops mid-week or having a quiet no-fuss night in at the weekend, Dinner is Served has got something for you.'
Dinner is Served.
Unit 11/4 Ascot Rd, Ballina.
dinnerisserved.com.au