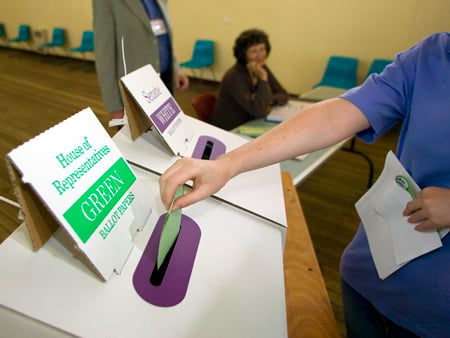 Ballina voters had a surprise fifth candidate appear when the electorate's ballot paper was drawn last week: Peter Jenkins for the Sustainable Australia Party (SAP).
Mr Jenkins drew what's called the 'donkey' position: the candidate named at the top of the ballot form list. It's considered an advantage owing to a percentage of unengaged voters who will just vote 1 for the first candidate.
The minor party representative appears to be akin to a 'ghost candidate', a term used during the 2022 federal election with reference to Pauline Hanson's One Nation Party's field of candidates, including in the Northern Rivers division of Richmond.
Ghost candidates were typically living outside electorates they were running in, and had low campaign profiles, including minimal engagement with the communities they were named as representing.
Peter Jenkins is registered as living in Bellingen, a riverine village halfway between Sydney and Brisbane in the state electorate of Oxley.
SAP Ballina links unclear
By Tuesday afternoon (March 14), Mr Jenkins' connections to the Ballina electorate were still unclear, with no obvious social media page for his campaign besides the general ASP Facebook page. While media releases are yet to be received from his campaign team at either 99.9 BayFM  or The Echo, his team posted a short bio at www.sustainableaustralia.org.au/ballina2023.
It reads, 'I have lived in regional NSW for nearly all of my adult life. Born in Coffs Harbour, my father was a banana grower, and my mother was a ballet teacher. I am a self-employed IT consultant working mainly in the security and medical monitoring industry. I have been involved in small business my entire life whilst also working with larger corporate enterprises'.
'My wife and I have a 22-year-old daughter and 19-year-old son that we are very proud of and love dearly. I am passionate about the natural environment and also our built environment. Both of which are critical to maintaining and protecting our cherished way of life and our community.
'I am running for the SAP because I believe there should be honesty in politics. SAP has practical and realistic solutions to the current problems of overdevelopment and environmental destruction'.
The SAP party says it is featuring 82 candidates across the state's 93 electorates.
An ASP media spokesperson told The Echo Mr Jenkins would not be able to attend Wednesday's Meet the Candidates forum in the Byron Theatre, owing to him being outside the electorate.
An invitation for Mr Jenkins to participate in the free community event via video, as has previously happened at similar election forums, was also declined.
Invitations for Mr Jenkins to participate in a feature interview as part of a series with candidates aired on Bay FM's Community Newsroom have so far been ignored.
Ballina: Meet the Candidates kicks off from 6pm sharp on Wednesday 15 March, with four of the electorate's five candidates promising to be there for the event, hosted by The Echo and 99.9 BayFM Community Radio.