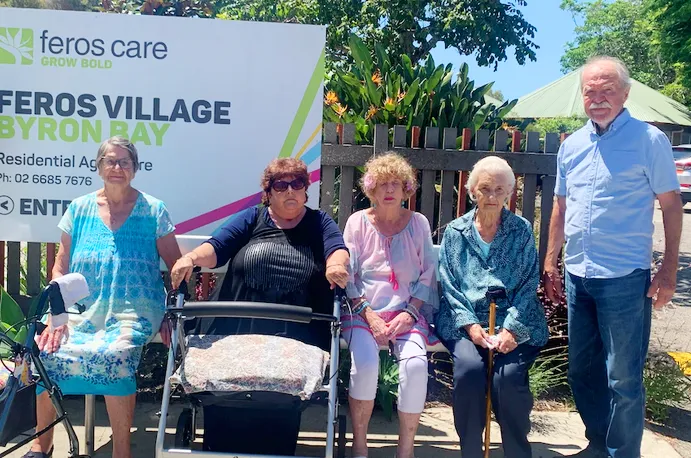 In 1997 John Howard introduced the Aged Care Act that privatised the aged care system. It was the beginning of the end of quality care. You don't need to work in the sector to realise that juicing our elderly for cash is unethical. It's at the heart of a cruel system that does not put people at the centre of care. Sitting in the centre of those models is the profit motive. If you're not making profits in the aged care sector then you will fail, whether you are a private enterprise or a registered charity.
Unlike nursing homes, the more independent and lower care Byron Feros is not a profit-making model. And in the world of aged care, that's a problem.
Last week I sat in on a meeting with the residents of Byron Feros and their families. Just a few days before they had been told by the CEO that the site was going to be redeveloped and they would have to leave. Let's just reframe this by saying that 'the site' is their home. Four cottages with ten units that sit on 8000 metres of Crown land; this was the realisation of the dream of George Feros, who walked the streets of Byron with a bucket, raising money for Feros Village – hostel-style 24-hour care for the frail aged. 
Forty people live there. They are happy. Or at least they were. In 2020 Feros celebrated 30 years. They said 'Grow bold'. Well, guess what? These older people are bold, and they're not intending to leave. This is their home. They have a community in this community and they don't want to go. No one consulted them about what they wanted. The residents hadn't heard even the faintest rumour of redevelopment. It seems these grand plans have been top secret. It seems plans for their removal were a fait accompli. And let's just call this what it is; the removal and eviction of some of Byron's oldest residents from what was to be their last home.
Why should they leave? They have rights. This is their home. One woman had been moved in from Merimbula just two weeks before the announcement. No one had said anything about the plans for redevelopment before she moved. How can an organisation cognisant of plans to redevelop take on a new resident? Making her move 1300 kilometres and then telling her she has to leave? That's cruel. That is not good care. That is an approach that causes harm.
In fact, the residents had all been blind-sided. The shock left some in tears, and ended with one of them in hospital. They continue to experience enormous emotional duress. It was clear that the stress on the elders who live in Byron Feros is huge. Here are people, some in their 90s and 100s who moved in good faith to what they thought was to be their last home, now being told that their home is being bulldozed for something bigger and brighter and more 'inclusive'.
I don't know, forcibly moving people out of their home doesn't feel very 'inclusive' to me. It feels brutal. It feels like a dereliction of duties. 
One resident showed me her Permanent Resident Agreement, where it was noted that the provider pledged to assist the resident to stay in her original room. They called it 'Ageing in Place'. Well, Feros, the residents want you to abide by clause 1.3 – they want to Age in Place, the very place where they are now: Marvell Street, Byron Bay. Read your own Resident Agreement, Feros board members.
But guess what? The Feros board (all paid positions) of this registered charity, who've delivered this missive through their new CEO and who, I should add, did not turn up to support the residents and explain the decision, are in for a fight.
The motto 'grow bold' might just bite them on the arse. These residents will not be bullied. They are old and they are bold. They do not want to be taken aside, one at a time, and picked off. In fact, they have told Feros that all conversations about the relocation must include a family member or advocate. They intend to stay. They know their rights. They are calling on the community – and the community is coming.
I heard one lady on her walker say to her daughter, 'I feel so much better now I know the community is behind us'. For the first time ever, many of these residents will be painting placards for a rally. This is a pivotal moment for our seniors, but also for us.
Please come to stand by our seniors to save the place they call home. Let's put people at the centre of this conversation. Let's honour the spirit of George Feros. This is their home.
Rally at Byron Rec Grounds this Sunday, 12 March at 3pm. Bring a placard, bring a chair, bring everyone you know.
Let's be bold.