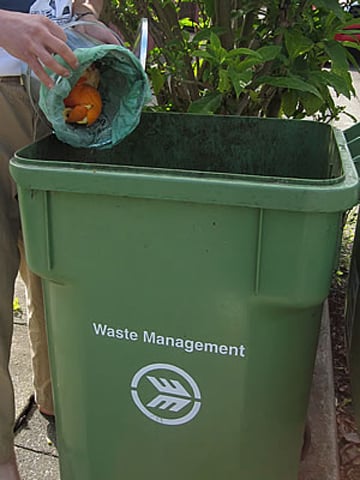 Byron Shire Council has been forced to put on hold the trial of new green waste and food organics kerbside collection owing to the high cost of the tenders it received for it and lack of a government grant to support it.
But mayor Simon Richardson says a full program will go ahead as part of a new integrated waste collection contract in August 2015.
Cr Richardson acknowledged it was disappointing news for many in the community who were looking forward to the new service.
'It's a setback but it was also a financially responsible decision and not unlike many decisions made in household budgets.
'If the price comes in too high to upgrade an item, households are faced with the decision to wait, save more and source a better price.  It's no different for Council,' he said.
The limited service would have provided the bins to households in urban areas of the shire but not to units or businesses.
But Byron Shire Council's waste and recycling manager Warren Burgess said the council now plans to roll it out to the whole community, albeit at a later date.
Mr Burgess said Council is currently preparing tender documents for an integrated collection contract, covering all of the shire's waste collections, which should be awarded in late 2014 or early 2015.
'It's anticipated that with a contract of such significant scope, competitive market pressure and economies of scale will also ensure a much better value for money result for Council,' he said.
Coincidentally, Byron Shire Council became ineligible for the state government's Waste Less Recycling More funding program following the closure of the Myocum landfill.
Mr Burgess said this funding would have funded the purchase of bins required for the introduction of the service.
'Council has been lobbying the NSW government for it to be granted an exemption and will continue to actively pursue this avenue for additional funding,' he said.
In the upcoming months, Cr Richardson said Council was committed to minimising landfill waste and would introduce a number of new recycling initiatives.
'Over the next six months our shire will have free recycling drop-off stations for problem household materials such as compact fluorescent light globes, household batteries and mobile phones.  Plus the Myocum Resource Recovery Facility will be able to take polystyrene packaging for recycling.
'Also, we will use the delay to work towards developing and incorporating festival, event and commercial organic waste collection. Thus, though the collection will start later, it should reach more people,' he said.
Meanwhile, the mayor urged residents to continue to be diligent when sorting items for the yellow bin and, if you are unsure, check Council's website www.byron.nsw.gov.au.