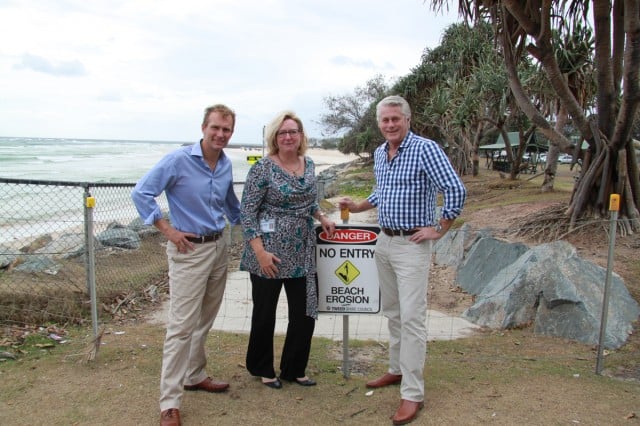 Kingscliff's erosion-battered beachfront is set to be further protected under a plan to build a half-kilometre rock seawall and replenish the beach with imported sand.
On Friday, state environment minister Rob Stokes and Tweed Shire Council announced they would share the cost of a $300,000 environmental-impact study to pave the way for the erosion protection along a 500-metre length of the foreshore.
Mr Stokes and Tweed MP Geoff Provest met with Tweed shire councillors and senior council staff on Friday at Cudgen Headland Surf Life Saving Club to discuss the study and works.
Tweed mayor Gary Bagnall said Tweed shire had been struggling with the costs involved with dealing with the erosion on Kingscliff beach and that 'it should be encouraging to the people of Kingscliff that a minister came to look over things himself'.
Cr Bagnall said it was the second day in a row that Mr Stokes 'made a generous grant to help us deal with erosion in our shire', referring to a $50,000 grant to undertake riverbank erosion stabilisation near Murwillumbah.
Mr Stokes said Kingscliff Beach and foreshore have significant regional, economic, recreational, cultural and social values.
'I really want to applaud Tweed Shire Council on its integrated approach on this section of coast,' he said.
'Here at Kingscliff, the community believes these community assets are very important. How do we protect the key public assets on the foreshore and also the things that people love about Kingscliff?
'It is important to carefully consider all the options for management at this site, to ensure the desired long-term outcomes will be achieved when works begin,' Mr Stokes said.
Council's natural resource management unit co-ordinator Jane Lofthouse said the study was an important step in key elements of the Kingscliff Foreshore Protection and Revitalisation Project, which includes a three-stage, $20.4 million upgrade of the Kingscliff foreshore.
Key elements of the plan include: construction of a seawall to protect the beach and nearby facilities and replenish sand supplies on the beach; upgrading Kingscliff Beach Holiday Park to boost its profitability and reduce its size to create open space for a Kingscliff Central Park; and creating Kingscliff Central Park, including a refurbishment of the Kingscliff amenities hall.
Ms Lofthouse said 'these key community developments require protection of public assets from the immediate coastal erosion hazard before they can be realised, as well as substantial funding from other sources'.
Council last Thursday submitted its application for funding for the revitalisation project through the federal government's National Stronger Regions Fund for which successful projects will be announced in May 2015.
Two years ago, contractors built a 260-metre long rock wall north of the Cudgen Headland Surf Life Saving Club, costing almost half a million dollars, in time for the NSW surf lifesaving titles held there.
The extension of the existing wall in front of the surf club helps protect the Kingscliff Beach Holiday Park, where a big slice of dunal land has been lost to recent erosion and several cabins had to be relocated.