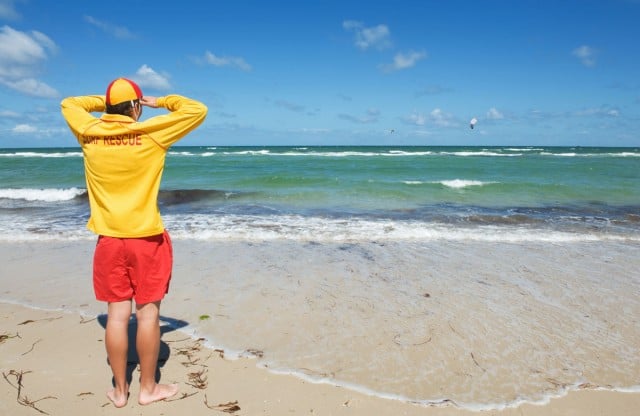 As thousands of people prepare to celebrate Australia Day with a traditional trip to the beach next Monday, Surf Life Saving NSW is urging everyone to look after their mates and stay safe as they enjoy the state's picturesque waterways.
With Australians starting to get into the celebratory mood for Australia Day, beachgoers are being urged not to drink and swim.
Taking a giant inflatable thong into the surf may be as Australian as a meat-pie and sauce, but as a water craft they aren't stable and could involve lifesavers having to carry out a rather embarrassing rescue for those involved.
NSW Surf Life Saving Manager Andy Kent believes that the message of beach safety is getting across to the public, but has urged beachgoers not to let down their guard as they enjoy the celebrations.
'We want everyone to have a safe and relaxing time at the beach and to not put themselves or anyone else in danger', said Mr Kent said.
'One death is one death too many,
'Our lifeguards and volunteer lifesavers have done a fantastic job so far this season, and we would like to thank the general public for listening to the messages about beach safety.'
In terms of coastal drownings the 2013/14 season was below the 10-year average, and the trend appears to be decreasing year-on-year.
'It's been very positive that the message of being vigilant on our beaches appears to be getting through, though of course our aim is to have zero coastal drownings.', he said.
Surf Life Saving NSW wishes everyone a safe and relaxing time over the holiday period.
At the beach, follow these simple safety tips:
• Always swim between the red and yellow flags
• Read the safety signs
• Never mix swimming and alcohol
• Ask a lifesaver/lifeguard for safety advice
• Learn how to identify a rip
• If you need help, stay calm and attract attention
• Always wear a lifejacket while rock-fishing
• If witnessing an in-water emergency call 000-Police
For full details on which beaches are patrolled and patrol times go to the BeachSafe Website or download the app.