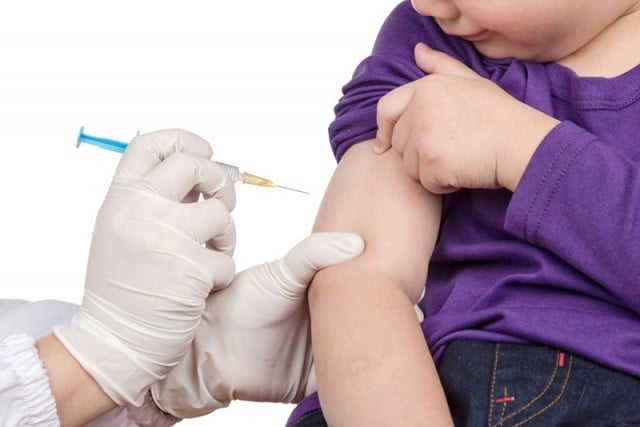 With the 'conscientious objector' option now scrapped for parents who refuse to immunise their preschool-aged children, how will it affect the northern rivers region, an area known to have the lowest immunisation rates in NSW?    
Last Wednesday, the Public Health Amendment (Review) Bill 2017 passed in NSW parliament, closing the conscientious objector option and forcing all parents to have children immunised for preschool.
Specifically it targets principals of childcare facilities who enrol a child without a vaccination certificate or medical exemption. Fines of $5,500 apply. It follows the 2015 'no-jab no‑play' policy which the then Abbott government rolled out across the nation.
Labor's Walt Secord spoke to the changes in parliament.
He said, 'In 2014/15, the Byron Shire rate was 61 per cent, the Mullumbimby rate was 46.7 per cent, and Murwillumbah rate was 76 per cent. These are at dangerous levels. Across the northern NSW local health district, the vaccination rates for children under the age of two is just 84.9 per cent. That is the worst local health district in the state.'
According to www.immunise.health.gov.au, the national immunisation program funds vaccines to prevent diphtheria, haemophilus influenza type B (hib), hepatitis A, hepatitis B, human papillomavirus (HPV), influenza (flu), measles, meningococcal, mumps, pertussis (whooping cough), pneumococcal, poliomyelitis (polio), rotavirus, rubella (German measles), tetanus (lockjaw) and varicella (chickenpox).
Throughout a child's early life, a program schedule by the government outlines when those vaccines are administered. At birth, hepatitis B is recommended, followed by bundled vaccines at the ages of two, four, six, 12 and 18 months. Another round of shots is recommended at age four.
Greens support
Local Greens MP Tamara Smith told The Echo, 'Vaccination is contentious in some parts of our community but it is clear to the Greens that the benefits of vaccination far outweigh any negatives. We welcome the significant education component in this bill.'
'I would prefer to see more emphasis on educating parents and the public in general about the benefits of vaccinating against infectious diseases rather than punitive measures.
'We must ensure that science and the facts around vaccination and side effects are stated to combat myths and pseudo-science. The government has rolled out an advertising campaign focused on busting myths about vaccination, and that is a positive measure. I welcome the vaccination education initiatives.
'The Greens have recommended that the government consider the inclusion of a sunset clause to ensure that there is an early review of the Bill.'
Adverse affect
Confidentially agreements prohibit school teachers or principals from speaking on record about immunisation.
But one source who spoke to The Echo says they have worked in the preschool industry for more than ten years, is a mother and her child experienced an adverse affect from immunisation.
'He was hospitalised,' she said of her eldest. As such, he was not immunised further, she said, and her second child was not immunised.
'I sit on the fence with immunisation,' she says.
'If parents want to immunise, they should get it, but there should be freedom to make the choice.'
'Will there be pop-up baby sitters to look after these kids who can't get into preschool?
'This only punishes low- income earners and looks highly unconstitutional.
'I strongly believe some preschools in this area will suffer in numbers and may find it hard to stay open.
'This appears the first wave of cracking down; workers in the public health industry – paramedics, elderly health workers and teachers – may be next.
'The vaccination debate is an aggressive and nasty one – it's not an open discussion with those who don't want to immunise.
Another adverse affect
A local father also told The Echo that, as a father of five, he had had no issues with vaccination given to his children over the years until his youngest had an adverse reaction.
He said his child became limp and extremely quiet and remained in a 'lowered state of consciousness' for three weeks, despite the doctor telling him it was normal.
'Fortunately, he recovered and the relief we felt was life altering.'
'It was after this experience that I started to investigate vaccine injuries and similar scenarios that many others had experienced with their own children.
'I found thousands of peer-reviewed studies, concerned doctors and scientists, whistleblowers from within the pharmaceutical corporations themselves, all stating clearly the dangers of vaccines en masse'.
'On reading the vaccine inserts the contraindications and possible side effects, one gets the message clearly that we are place our kids and ourselves in a lottery of possible lifelong injuries and even death.  My son is allergic to penicillin which garners no emotional reaction from anyone let alone the medical fraternity. Why is it so difficult to understand that someone could have an adverse reaction to one of the myriad of ingredients held in a vaccine? Saying one-size-fits-all as they do under the current regime with vaccines, is for me like saying antibiotics are perfectly fine for everyone to take'.
'The latest laws featuring No jab, No pay and now No jab no play, punishes me as a responsible parent for having concerns for the safety of my children and now punishes my children for upholding these concerns. The mainstream media and government are attempting to construe the concern of parents for their kid's safety along with the lack of informed consent given by doctors, as a criminal act or as nonsense'. 
'The language politicians and medical zealots are commonly using now is tantamount to religious orthodoxy – casting down the heretics. If history tells us anything it tells us to listen to the concerns of parents and of scientists and to investigate new findings. 
'Thalidomide was readily prescribed and given to pregnant women for a range of harmless conditions including morning sickness. We know how that turned out – deformities and suffering that went on for years until it was found to be the cause of these horrific side effects that destroyed people's lives'.
'It was also widely accepted that our planet was the centre of the universe with the sun and planets revolving around us. Galileo was sentenced to house arrest for the entirety of his living days because the science he proclaimed was Heliocentric – the earth and planets moving around the sun – he and the originator Copernicus were of course proven right'. 
'Opposition health minister, Walt Secord in the NSW parliament during the reading of the bill passed last week said on vaccines; "There is no scientific or medical debate on this: That is settled. The jury is in.' 'Walt Secord would be quite at home in the 1600s, however, as history denotes, the science is never settled, there are always improvements and possibilities where science is concerned. 
'Today there are thousands of peer-reviewed studies on the dangers of neurotoxins being used as adjuvants and preservatives in vaccines. To arrogantly put an end to research by saying "the science is in" in the face of international protests from parents, doctors and scientists; is not science, it's religion'.
'Politicians from both sides of politics continue to invalidate, decry and marginalise us parents for having concerns for our children's safety in regards to the issue of vaccine safety and efficacy in the current vaccine regime. It appears the main motivation for 'no jab no play', as it is being preached to us, is to protect the vaccinated, those children who should rightly be already protected if the vaccines they are given worked. Herd immunity is also being used as the excuse to bully concerned parents, when most adults in our society are not up to schedule. Anyone for a life-time mandatory vaccine register, cradle to grave?  Don't panic they're working on it no doubt, it'll be worth trillions'.
'Vaccines are a gold-rush for Pharmaceutical companies. It's a billion dollar industry and some big Pharma share holders are accused of a conflict of interest like our Prime Minister Malcolm Turnbull. The Turnbull's own millions of dollars worth of Pharmaceutical Company shares of which Lucy Turnbull is also the Chair of Prima Biomed, the cervical cancer vaccine developer. The Turnbull's have enjoyed huge profits through this company's share value alone, soaring from just over $700K to well over $5 million dollars and these latest laws won't hurt these share values either'.
'The powerful Pharmacy industry owns a stake in media too. Billions are paid in advertising and news media contributions. James Murdoch, son of media tycoon Rupert Murdoch, was on the UK vaccine giant GSK (GlaxoSmithKline) board for some time.  The Murdoch press appears to be heading the charge against parents concerned about vaccines'. 
'In February this year, Nephew of former US President, John F Kennedy, Robert F Kennedy Jnr, a respected lawyer with a masters degree from Harvard in environmental law, offered a reward of one hundred thousand dollars for anybody who can point to any study that states clearly that vaccines are safe – the money is yet to be claimed'.
'I think there is one thing that everyone can agree on; we all want our children to be safe.
'If this is so, then why isn't the Australian Government investigating the myriad of concerns from international scientists, doctors, whistle blowers, lawyers and parents? Maybe if they did, then politicians the likes of Walt Secord could tell us why the term 'the jury is in' should ever be used to describe a scientific approach to science'.