Local northern rivers mother-of-three Jordana Edwards opened the doors of her boutique tea store Clean Tea last week, after years of brewing a healthy and therapeutic alternative to a morning cuppa.
The family-owned and -operated boutique tea store opened to the public on Friday 1 December, on Banksia Drive in the Byron Bay Arts and Industry Estate.
Young mum Jordana founded Clean Tea in 2013 while on a journey to regain her health and wellness after having her third child.
'My mum Amanda is a herbalist and naturopath who helped me to discover a clean approach to health. We developed three teas from our small kitchen, hand-blending organic ingredients,' Jordana said.
'There's something special about a hand-blended, boutique tea. There's love that goes into every cup.'
The store's opening date has a special significance to Jordana. 'It was the first of December in 2013 when I sold my first Clean Tea at the Byron Markets. It was also the day my husband proposed to me at the Lighthouse. It's a very special day for us so there's no better day to open our first retail store,' she said.
Despite the success and growth of the family-run business, every tea is still hand-blended with care, love and pure organic ingredients.
'Mums can enjoy pregnancy and breastfeeding safe teas, or indulge in a guilt-free treat with a chocolate tea. There are infusions for almost any ailment: help with digestion, getting a good night's sleep or to boost immunity,' said Jordana.
Local tea-lovers are invited to a special open day on Saturday 9 December with 30 per cent off all Clean Tea offerings, just in time for Christmas.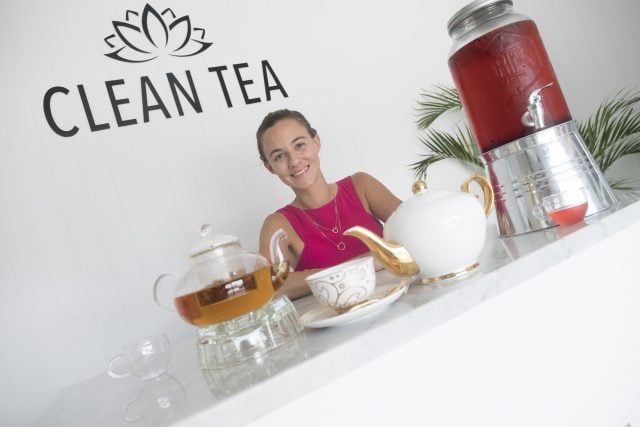 Jordana Edwards in her boutique tea store Clean Tea