Happy New Year, everyone! Hope that 2019 brings more sense, kindness, clarity, reason, empathy and better leadership. We sure could use some!
Of the many issues covered in The Echo in 2018, here are just a few:
At the start of 2018, local politics and governance continued in the chaotic and undisciplined way it ended in 2017. It reached peak stupid when an independent report was tabled over the unannounced cutting down of native trees in Railway Park. It proved what we already knew: the former GM took it upon himself to fast-track process. The report cost $20,000.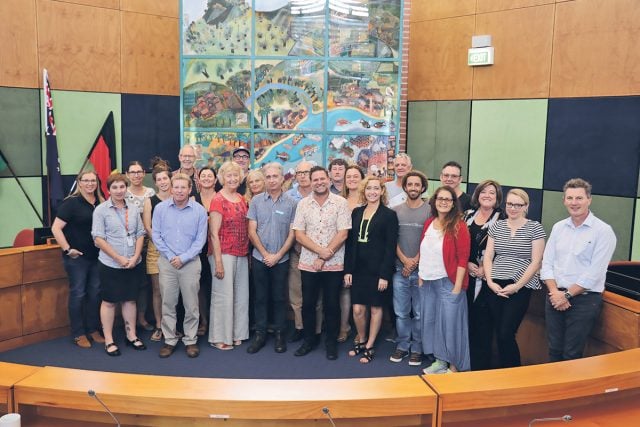 As things didn't seem to be getting any better by April, councillors voted to spend around $30,000 on consultants to improve their image via a citizens' jury panel; 28 randomly selected anonymous ratepayers were brought in to decide how the rate-rise funds will be spent.
Public perception over any real reform appears to be Council's strategy, and continues for 2019 with more panels planned.
Prior to a new general manager being appointed, the mayor bravely suggests notice of motion for a full organisation and governance review in March. That suggestion is withdrawn at the meeting without much fanfare or explanation.
Council did seem to settle into a groove with less chaos and unpredictability – longtime senior staffer Mark Arnold became general manager in June.
But that's notwithstanding Council's lack of community representation at a major JRPP decision, which approved a massive hospital on Ewinsgdale Road in August. Later the JRPP unexpectedly rejected a massive inappropriate DA proposal at the end of Jonson Street in Byron. Council staff suggested approval with conditions, owing in part to councillors voting to raise the height at the end of Jonson Street. Yet those changes have yet to be approved by the state government. 
Also Job training provider NORTEC makes news in early January after it flogs off its commercial building assets. An Echo investigation finds of course it is entirely legal, despite many of those assets being gifted to them by philanthropists, who were aghast. The federal government minister responsible – Minister for Small and Family Business Craig Laundy – washed his hands of the case. Meanwhile NORTEC's revenue plummets and they withdraw courses, and the government still stays mute
Real estate agency, Unique Estates, goes into liquidation at the start of the year and by October, founder Nicolette van Wijngaarden is charged with 10 counts of fraud.
Pokies were removed from the Beach Hotel in January. Paul Bibby reported at the time there were 429 Pokies which generated $138.8m in turnover. Annual losses were $12.7m, or $34,795 per day.
A large food hub DA on Bangalow's outskirts was eventually withdrawn in February after public and political opposition.
In April, a large 239-lot camping ground/events centre is proposed just outside of Mullum under the guise of being vegan and spiritual.
A savage attack on a 16-year-old in Byron's CBD by police in January eventually results – after a year long inquiry – in a recommendation that charges being laid against one officer.
A proposal for an eco village on Saddle Road becomes larger – so large it would encompass the entire ridge line if approved. The submission followed an initial invitation by councillors for Shire landowners to propose their land as affordable-housing projects. With some Saddle Road landowners opposed to the urbanisation of the area, the proposal is later knocked back in August. Yet later in December the eco village is included – at the last minute and without any public engagement – by Cr Spooner in to the Rural Land Use Strategy. The inclusion aims at 'providing at least 80 per cent affordable housing.'
The coroner's findings into the death of Brendan Vickery, who drowned at the Island Quarry waterhole in 2014, were handed down in April. The assistant coroner  was 'satisfied that a lot has changed since Brendan's death,' while Vickery's mother Tracie said the lack of a thorough autopsy 'made closure hard'. She also raised concern that fencing was not installed sooner.
Island Quarry chairperson Shane Rennie told The Echo they had had fencing and warning signage installed since about year 2000, with chain wire fencing being completed in 2014. 'Now that the inquest has been completed we are moving forward with implement- ing our vision for the quarry.'
Surfing pioneer and local Pauline Menczer is inducted into the surfing hall of fame in March.
The Echo reports in March of commercial rent increases in Mullum.
Lennox Head resident Catherine Cusack MLC (Liberal) launches an extraordinary attack in March on the Byron Bay Community Centre, calling for a review of its governance and claiming the tender process is not transparent. It is refuted by manager and (Labor) councillor Paul Spooner.
In August, a male teenager receives serious head injuries after being attacked by a group of youths at a party in the disused Yelgun train tunnel. A local group of young men appear to model themselves after the so-called Eshay movement. It sparks a public meeting in September to find solutions to the ongoing issues of youth violence and antisocial behaviour in the Shire's north.
Councillors stagger on with plans throughout the year to liberate flat low lying lands near the Mullumbimby Community Gardens into a housing project, yet it comes with virtually no consultation with neighbours. Named, lot 22, 22 hectares of flood prone land was identified in Council's assessment of potential locations for a Council affordable housing project.
Despite a long held community desire that a two storey height limit would apply to Byron's CBD, councillors voted (Cr Cameron against) at their September meeting to standardise the height to 11.5m. Cr Spooner's motion was supported by the mayor, Hunter, Martin, Ndiaye and Hackett, while Cr Cameron voted against. Crs Lyon and Coorey were not present for the vote.
Speaking about the contentious development planned for the corner of Jonson and Browning streets in November, Cr Richardson told The Echo, '11.5m is the current [height restriction] for the overwhelming amount of the CBD [other areas are 9m], and hasn't allowed for four storeys, thus it is not the height limit that has done so, but the unique lay of the land in this instance.'
Despite speaking at the JRPP against the proposal and its height exceedance, the mayor said of the development, 'This is unique for the CBD and won't lead to any rush on four storeys.'
It remains unclear whether the mayor actually understands the concepts and implications of precedence, let alone the rest of the councillors.
In June councillors voted  to send their plans for rural weddings, events and function centres to the state government for Gateway determination.
New commercial zonings
New commercial zonings are proposed by Council under the Draft Byron Shire Employment Land Strategy in September.  Lands that could be potentially developed or expanded include the Billinudgel industrial estate and the industrial area in Manns Road, Mullumbimby (to the west of the site).
A new estate to the east of the Gulgan Road interchange at Tyagarah is suggested, as is a new estate on farmland to the west of the Gulgan Road interchange, Tyagarah. A new estate south of Bangalow Road east of the Pacific Highway is also proposed. The plan suggests the yet-to-be-approved West Byron suburban area would swallow up most of the proposed residual vacant land at 7ha. 
In September, Byron Council – led by the mayor – tries to move its Australia Day ceremony back a day in order to acknowledge that January 26 marks 'the day the cultural decimation and denigration of the first Australians began'.
The non-elected PM Scott Morrison – who trails behind in the polls against Labor – tries to use the issue as a diversion and dividing technique by berating Council.
Council's proposal also includes an attempt to change the day of Byron's Australia Day citizenship ceremony. In October, Council reverses its decision to hold the Australia Day awards ceremony on a different day, 'owing to a breach of the Australian Citizenship Ceremonies Code.'
Questions were raised in June around how the process for the remediation and future outcomes of the South Byron sewage treatment plant (STP) are being delivered, with a key concern being the opportunity for community input. Located at 1 Broken Head Road, the STP was decommissioned in November 2005 and has since had around half the remediation work required done, according to Cr Paul Spooner.
Unwanted petrochemical plant
Teven residents faced an unwanted petrochemical plant and won after multinational corporation Holcim withdrew its DA in June.
With North Byron Parklands (NBP) in Yelgun seeking residency approval and an increase to 55,000 patrons for their flagship festival event, councillors raised its concerns in late December with a notice of motion. The decision is yet to be made by the Independent Planning Commission (IPC), who held a public meeting in December. NBP is where Splendour and Falls festivals are held.
Skinny dippers start to feel the arm of the law – nude bathing becomes an issue at Tyagarah and continues throughout 2018.
Wilsons Creek Residents eventually won the battle to keep a Telstra tower out of their path after Council rejects the DA in September. Meanwhile Main Arm residents are still contesting a tower in their valley, despite a fibre connection already existing to Upper Main Arm. A tower at the Brunswick Heads Bowling Club is approved.
An old, beautiful and much treasured Lennox fig tree gets destroyed in August despite a concerted public opposition and protest. Ballina Council acquiesce over threats from insurers and the landowner who claimed to be affected by the root system. Those claims are in dispute.
Universal Medicine
Universal Medicine founder and former tennis coach Serge Benhayon lost his defamation case mid October against one of his greatest critics, Byron Bay blogger Esther Rockett.
In November, a mass exodus of around 17 long-term volunteers at the Byron Bay St Vincent De Paul centre was downplayed by management, despite claims of poor treatment and a change in management direction.
The Lennox Head community rallied – and won – against a DA to expand a sand mine. In November, Ballina Shire Council investigates allegations that the mine is 80 per cent over its extraction limit.
State politics
The NSW seat of Ballina (Ballina and Byron Shires) has been held by Tamara Smith MP (Greens) since 2015.
Railway land in Mullum's CBD is flagged to be sold by NSW govt in January 24. No announcements have been made since it was reported a year later.
Everybody's best friend representing a terrible NSW government, Ben Franklin MLC (Nationals), announced his intention to run for the Ballina seat in August. The grooming of this electorate is well underway for the upcoming March 23 election – but aren't we way too smart to be duped by personality over policy? There are so many local funding announcements and new laws undermining democracy by the state government that it's hard to keep up!
In September, Council purchased the old Mullumbimby hospital site from NSW Health for $1. In late November, the old Byron hospital was also handed back to the community (Council) for $1.
Bypass funded
The long- running and contentious bypass funding announcement in December by the NSW government was enthusiastically embraced by the Greens-dominated council.
Under the NSW Liberal-National government last year, the annual rate of land clearing in NSW soared 800 per cent and their koala plan appears destined to fail. Their new holiday-letting laws appear completely flawed and undercooked. Water mining was an issue for 2018, and the government's much-trumpeted independent review for the northern rivers was criticised over its weak terms of reference.
In December, Australian Lawyers for Human Rights (ALHR) say they were alarmed that the NSW government rushed through laws that expand the powers of Family and Community Services to permanently remove children from their families. Also in the same week environmental groups claim the government's new Integrated Forestry Operations Approvals will 'Increase logging intensity throughout public native forests, [and] open previously protected old-growth forest to logging.'
No levy, comment on holiday letting
Regarding the government's holiday letting laws, The Echo asks NSW minister Niall Blair why his government did not consider a levy, which would be collected by councils. Such levies exist overseas and contribute to maintaining and improving infrastructure. That question was then handballed everywhere within government, including the local MLC. The question was never answered.
Then in December, The Echo reported that the Airbnb media spokesperson was also a former NSW Liberal-Nationals staffer, which clearly indicates a profound conflict of interest between corporations and governments.
The contentious West Byron development proposal continued to be a circus, with constant protests and Regional Planning Panel (JRPP) hearings throughout the year. The largest ever number of submissions were collated by Council at 4,633; 4,630 were opposed. One of the two West Byron DAs is in court over a deemed refusal, while the JRPP continues to sit on its hands on the other DA. Determining anything before the March states election would perhaps not reflect well for the National Party, who are putting everything they have (it seems) into this electorate. National Party candidate Ben Franklin distances himself from the proposal and it appears no political actor is in favour of it.
A massive proposal on the corner of Jonson and Browning Streets, headed by developer and former Byron Bay masterplan group member Graham Dunn, gets rejected by the JRPP in November. Yet the rejection leads to further questions around Council and JRPP process and the mayor's support of increasing the height limit of the CBD (see above).
In August, the unelected Northern Joint Regional Planning Panel (JRPP) approves a large medical centre on McGettigans Lane/Ewingsdale Road without much fuss, and it turns out later that there was no community representative for the decision. Traffic mitigation on the overburdened Ewingsdale Road appears insufficient.
A week later, a medical professional told The Echo the facility is not needed and was not requested by anyone within the local medical fraternity.
JRPP integrity
The integrity of the Joint Regional Planning Panel (JRPP) was defended by NSW planning bureaucrats in May, despite the panel having an almost 100 per cent approval rate across all NSW panels over the last few years (determinations are available on their website).
The Echo received a reply from the planning department over the question: 'How is appointing a former politician to this position (of chair) considered an independent post?' 
In short they said, 'The Independent Commission Against Corruption (ICAC) has oversight over the conduct of the Planning Panels and its members.'
Head of the northern chapter is former Nationals Party MP Garry West. He was criticised by land and environment judges in late March over his poor handling of a council amalgamation report. It was part of the Berejiklian coalition government's push to merge local governments, which saw the plans being rejected after community backlash.
Both National Party candidate Ben Franklin and NSW Labor's Walt Secord both support the role of the panels; however, Secord believes the panel appointments should be more independent.
In other planning news, Tweed, Byron and Ballina shires were exempted with a 12-month reprieve (until July 1, 2018) for a state-wide requirement to implement the Low Rise Medium Density Housing (MDH) Code. The state-based housing code requires Councils to 'fast-track' two-storey apartment and townhouse proposals in urban residential areas within 20 days. For further information visit www.planning.nsw.gov. au/Policy-and-Legislation/ Housing/Medium-Density- Housing.
The NSW planning department gets an overhaul in December, which includes a new ethics unit within the department.
It comes as SMH reported in December that 'A high-ranking bureaucrat has become the third person to blow the whistle on the Department of Planning, alleging he was stood down and ultimately sacked after pushing for investigations into the rorting of a taxpayer-funded energy voucher program and the potential contamination of sensitive drinking water catchments.'
Other recommendations to be adopted by the review include 'More use of plain English materials and a plain English user guide for the planning system, mandatory probity checks for IHAP members and community representatives, auditing all infrastructure contributions made by developers, and the spending of those contributions,' and 'more transparency around where infrastructure contribution funds are spent.'
Shark nets scrapped
Shark net trails start then end later in the year after public support evaporates in August.
In June, Tyagarah Beach and East Cape Byron will now be permanently open to beach fishing after the state government downgraded their status from 'sanctuary' to 'habitat protection' zones. The two areas were part of the NSW government's decision to scrap top-level environmental protections to ten of the state's best marine habitats, also including Batemans Bay, Port Stephens and Coffs Harbour.
The year ended for state politics with NSW Greens infighting engulfing the party; local NSW Greens MP Tamara Smith admitted her party is 'falling short when it comes to handling sexual violence claims.
Federal politics
The Richmond electorate (Tweed, Byron and Ballina Shires) has been held by Labor's Justine Elliot since 2004.
2018 saw much undermining of democracy and idiocy from the federal coalition, who appear poised to be rejected harshly by the electorate in the upcoming May election.
But there was a ray of hope when, in late November, students around the nation – including the Shire – walked out of school to demand political action on climate change and a halt to Adani's proposed QLD coal mine. Seems the kids should be put in charge!
Govt pursues whistleblowers, not the alleged lawbreakers
Labor federal MP Justine Elliot says her party won't be commenting on whether they would stop the prosecution – if elected – of an ISIS intelligence officer and his lawyer who blew the whistle over Australian ministers and officials implicated in spying on East Timor for commercial advantage. Witness K and lawyer Bernard Collaery are being persecuted by the federal government after disclosing to the public a surveillance operation of a sovereign nation in 2004.
While the case is ongoing, it yet demonstrates clearly that the powerful will always pursue those who expose their crimes, rather than those who commit them.
Austerity laws quietly enacted
Amendments to the Banking Act 1959 and seven other federal laws were ushered in fairly quietly on February 14; however, concerns were raised by the Citizens Electoral Council (CEC) political party, who claim the laws could enable governments to implement austerity by taking bonds and even personal savings in the event of a financial crash.
It is called the Financial Sector Legislation Amendment (Crisis Resolution Powers and Other Measures) Bill 2018.
The Law Council of Australia, who oversee federal legislation, declined to comment to The Echo on their position on the laws, while Greens senator Peter Whish-Wilson supported the laws and attacked the Citizens Electoral Council as 'full of shit.'
The Act's explanatory memorandum 5.15 explains capturing deposits and section 12 outlines the secrecy provisions.
Work for the dole
On July 25, The Echo reported that local work for the dole participants are being treated like 'criminals on parole' under tough new rules introduced by the federal government, community organisations say. New penalties include payment stopped until participant talks to work provider if a work for the dole shift is missed.
Media diversity took a hit in August after entertainment corporation Nine was given the green light to buy news media outlet Fairfax. The merger creates the largest single commercial media entity in Australia, comprising print, TV, radio and online. The deal was made possible by former senator Nick Xenophon, who has since evaporated from political life.
If elected in May, local Labor federal MP Justine Elliot said Labor 'will explore every avenue to protect and bolster media diversity.'
Landcare funding cut
On August 29, The Echo reported Landcare funding had been slashed 80 per cent.
Landcare is an environmental volunteer co-ordination network that supports groups to restore degraded public and private land. A representative of the north coast Regional Landcare Network says there has been a sharp decline in government funding – 64 to 80 per cent – since 2015, owing to 'changes in federal and state government funding priorities.'
Local MLC Ben Franklin (Nationals) told The Echo this was a federal matter and is 'not state funding'.
In the face of overwhelming opposition to the new 'backdoor' encryption-access law, local federal Labor MP Justine Elliot defended her rushed vote for the bill on the grounds of 'national security' and 'keeping Australians safe'.
Under the Telecommunications and Other Legislation Amendment (Assistance and Access) Act 2018, law enforcement and intelligence agencies will be able to access encrypted private information without a warrant, as well as have the power detain individuals in certain circumstances.
Remarkably Mrs Elliot reasoned that the law needed to be rushed owing to Labor being wedged by the cross-bench and the coalition. Instead of taking more time to deliberate, she said she 'wanted to ensure that our agencies have appropriate powers over the holiday period.'
Mrs Elliot was asked, 'The Echo understands the Office of the Australian Information Commissioner (OAIC) enforces Australia's Privacy Act 1988, but is underfunded. Do you agree?' No reply was provided. Instead, Justine Elliot told The Echo her party was wedged by the coalition and the crossbench over the law, and eventually sided with the coalition.
Centrelink closes
In December the federal government closed the Byron Bay Centrelink office, claiming it was owing to 'significant reduction in foot traffic'. While blasting the closure, local federal member Justine Elliot (Labor) declined to specify what a Labor government would do, if elected, to ensure that services such as the Centrelink o ice remained open.
And finally we said goodbye to Elaine Robinson, Gavan Higginson, Wawan Prahara, Ned Sutherland, Bill Snow, Tuppy Lang, Malcolm Garth, Dorothy Mullins, Edith Franks, Chris Lacaze, Carol Moore, Trevor Sleep and Noel McAviney, among others.