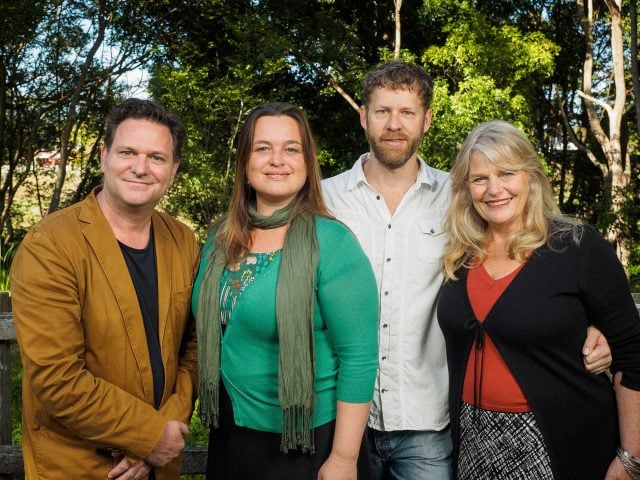 Byron Greens councillors
Ian Cohen and other activists of his ilk were inspirations and next-generation activists followed their lead. While some of us were successfully resisting the destruction of old-growth forests in Timbarra, Evans Head, and the globally important Dwarf Heathland in Patersons Hill in Byron, Ian had traded in his blockading days for the less photoworthy but crucially important political sphere.
Along with Richard Jones, another local environmentalist-turned-pollie pioneer, and two others, the 'Gang of Four' negotiated to conserve tens of thousands of hectares of old growth. That successful negotiation will and should always be honoured.
However, a quick look at the state of our region, country, and planet shows that previous wins happened way too rarely. We cannot simply resist our way to a sustainable or regenerative society and planet. A polarised, adversarial way to making decisions makes winners arrogant and lazy and losers resentful – a vicious cycle and one we need to change.
In response to Ian's 'comment' in The Echo (July 10) Richard Jones wrote, 'I really don't share the view that the Greens council has "lost its way". It's very hard being in government. It's quite different from being a protester.
'Governments at all levels are forced to make unpopular decisions. Some don't have the courage and fail. As a result we end up with unserviceable deficits. What this council has shown me is that the Greens are now mature enough to govern. They can make tough and unpopular decisions – and I'm not saying I agree with them all. We need to have green governments at all levels to remove these conservatives, on both sides, who are holding Australia back.'
Negotiation needed
Governance is complex and not a position the Greens are used to being in but we are achieving much to be proud of that sits comfortably within our Greens guiding Four Pillars.
One of the pillars is peace and non-violence. Peace is not just the absence of war; it's empathy and connection to others. In the last term of Council, Simon was imploring two sides of a debate to get out of the trenches and find a way forward, when former Greens councillor Tom Tabart yelled from the gallery, 'We're Greens, we belong in the trenches.' This is what separates current Greens councillors and many previous. Sitting in a trench throwing grenades at the 'other' is not peaceful. It's impossible to move forward and there are no solutions from within a trench, only resistance.
Climate emergency
We agree we are in a climate emergency; we cannot afford to just do what we always have done in the hope of securing marginal and occasional wins. We all need to drop egos and fixed ideologies so we can be open to new and different ideas. We must drop the idea that Greens belong on the sidelines throwing grenades. That doesn't mean we don't resist. We continue to resist West Byron, stop rock walls in Belongil; we resisted the Bangalow Food Hub and have stopped or amended many other inappropriate developments.
Listening to people
However, it is true that our focus has changed from a default position of saying No. Just like Damon Gameau in 2040 has perfectly captured, the answers lie in society focusing and enacting possible, positive solutions, which we Greens councillors and so many other progressives are doing in our spheres. That means acknowledging change is before us and understanding we must try and manage it.
Our adherence to grassroots democracy means we Byron Greens councillors do not believe a dozen locals who have had their views promoted for decades are the only voices to which we should listen. They have expertise to share, but so too do many, many others in our community.
We created a community roundtable, bringing the progress associations and community groups together regularly to discuss matters with Council. The citizen jury and community solutions panels foster views from more than just loud voices. The first panel recommended we make infrastructure priorities based firstly around safety for locals and we adopted these recommendations.
For the first time ever, Council is creating a shire-wide drainage program.
As a result we are receiving more feedback and engagement from the breadth of our community in numbers significantly higher than ever before. These initiatives received no acknowledgment from previous Greens representatives. Tellingly, though we are often accused of not listening to our community yet when we do, we're attacked for not making decisions and leading as we were elected to do.
Ecological impact
Within the pillar of ecological sustainability we've drastically reduced use of chemical pesticides and completed the vast bulk of the previous Biodiversity Conservation Strategy. We're on our way to meeting our emissions-reduction targets before 2025, with solar being installed at all sewage treatment plants, in the Council carpark, and a 5MW solar farm on the horizon.
There's a new bio-energy facility, an Australian first that will light the way for other councils to follow.
We've massively increased the migration paths for our native fish throughout the Brunswick River, and continue not just to resist shark nets but pioneer alternatives.
We're at the forefront of plastic-reduction initiatives and have implemented green bins that take over 7,000 tonnes out of landfill each year to be used as compost. These initiatives have received no acknowledgment from previous Greens representatives.
Many other sustainable initiatives fall within the Greens pillar of social justice, like working hard to support affordable housing, seeing if we can establish a well-planned, innovative eco-housing and low-cost housing precinct.
We created a sustainable agricultural officer position, supported positions to help our homeless; the rail-corridor feasibility study now shows we could have a light rail shuttle and a bike path – making it potentially the greatest game changer in our Shire's history. Imagine the benefits of being able to get out of cars, get to our markets in Byron and Bangalow, or to our friends, schools, or workplaces in other towns via light-rail shuttles. We believe this can and will happen soon.
Solutions focused
By focusing on solutions and peacefully working with other levels of government, no matter the colour of their flag, we secured the Mullum hospital site.
We also secured money for the bypass to complete a project 30 years in the making. Far from being ignored, David Milledge's report was thoroughly addressed point by point during Council's deliberations and all questions raised by former mayor Jan Barham were put to the biodiversity assessment officer. This can be heard in Part 2 of the audio of Council's meeting of the 23 May 2019.
We purchased the Education Department land in Suffolk so the community has space to play outside. We've taken on Airbnb and the holiday-let lobby and won concessions under the new planning regime from the state government, including obtaining reduced caps on short-term holiday letting (STHL), the only council in NSW to do so. Now Byron hospital belongs to the community too. Worth millions to the government, yet we got it for a dollar along with a $200k grant to help fix it up.
We've done more to fix the roads and infrastructure than any previous council, investing over $18.7 million last year and $42.3 million in the 2019/20 year. After decades of neglect, we've started the process to bring our infrastructure up to a decent standard.
Most of these achievements would not have occurred without Greens councillors leading the way. Attendance at meetings has always been around 10–20, but we welcome more to come and take part.
There is a place for saying No to an issue; however, there also needs to be a place to say Yes to solutions. We are trying to find a balance. Ian believes we have lost our way. We would contend we're just focusing on a new way: trying to work with staff, the wider community, state government, with anyone who wants to help find solutions.