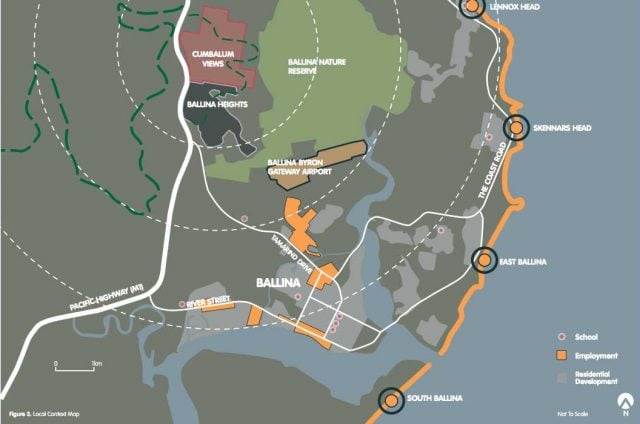 Reports that the Banyan Hill/Cumbalum residential estate in Ballina Shire have been delayed as a result of Ballina Shire Council dragging their feet have been denied by Ballina Shire Council.
The developers behind the estate are Intrapac Property who took the Ballina Shire Council to the Land and Environment Court to determine the development application (DA) for the development.
Max Shifman, Chief Operating Officer for Intrapac Property told Echonetdaily that, 'Intrapac have a long list of documents submitted to Council between October 2018 and early this year which have not had a determination made within the required dates.'
Complex development
However, Matthew Wood, director of planning and environmental health at Ballina Council has said that 'There are some key steps and obligations that both Council and the developer must address in the process for the release of the land for residential development. In the case of Banyan Hill, this includes the consideration and assessment of a number of reporting and design requirements specified by the development consent for the subdivision (granted by the NSW Land and Environment Court)'.
According to Mr Wood Council is working through the documents submitted by the developer including 'several development applications and modifications to the current development approval in place.
'The modifications have been proposed by the developer to address a number of the key issues that need to be addressed before development of the land and its subdivision can proceed. These proposals for changes to the development approval were received by Council during April and early May 2019. They have been exhibited to enable public comment and Council has been working through the application assessment process,' he said.
'One development application, a construction certificate and the three modification applications are the subject of appeals in the Land and Environment Court initiated recently by the developer. Council is also working through the requirements of these Court appeals.'
Pressure tactics
According to Ballina Shire Councillor Keith Williams this is just more of the same from Intrapac Property.
'This appears to be a continuation of the tactics of this developer regarding this estate. Instead of working with Council in the first instance, the developer took Council to the Land and Environment Court before it had time to even consider the complex development application required for a large estate such as this.
'Things that should have been worked out at in the initial stages were instead rushed to court. It is no surprise that Council staff are now swamped with material and continuing amendments from the developer,' he said.
'This is an important development for the future of the Shire and I fully support Council staff taking the time they need to ensure a proper assessment of the issues.'
Buyers frustrated
According to a recent report in the Northern Star some people who have purchased land in the estate are becoming frustrated at what they believe are delays in being able to build.
Echonetdaily asked Intrapac Property if they had given buyers 'an unrealistic time frame within which they could build at the development?'
Intrapac's CEO responded saying that 'Timeframes were completely realistic and reasonable if assessments had been completed within the normal periods. We have not been made aware of any outstanding documentation or requests for further information by Council.'