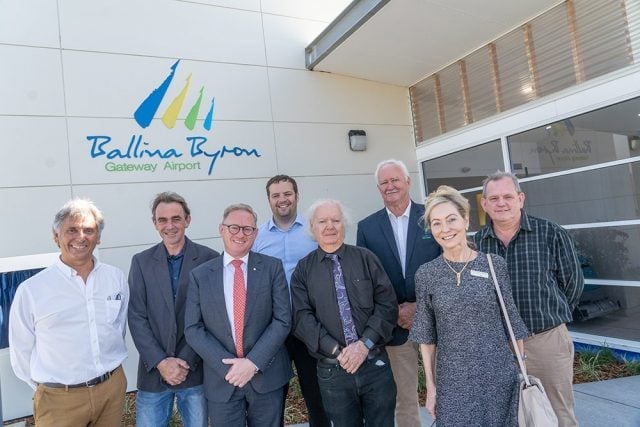 It's the third-biggest airport in NSW, its visitor numbers are increasing and it's in public hands.
No wonder it was all smiles today at Ballina Byron Gateway airport as Ballina mayor David Wright (whose council contributed $2.4m) thanked Ben Franklin MLC (the NSW government contributed $4.5m), saying he was 'delighted that we have more than tripled the departure lounge area to create a much more comfortable space for passengers'.
The airport was first built 34 years ago by Ballina Council with money from the development of nearby commercial land, and according to Councillor Wright its development is like a 'jigsaw' with infrastructure pieces being gradually added over time.
Future stages include expanded parking, and the re-routing of the airport entrance road past the current Harvey Norman centre and through the planned new 3 hectare innovation and industry precinct.
Ballina Shire Council's manager Airport and Commercial Services Paul Tsikleas said the Council was quite 'visionary' in making such a significant investment and praised councillors for backing the project, which is regional in scope as many visitors to Byron prefer to fly in through Ballina, for example, instead of the privatised Gold Coast airport.
The council said the expanded terminal and improved facilities, following the 2016 runway upgrades, would provide the opportunity for increased flights and hence visitor numbers to Ballina as well as the Far North Coast, assisting local business growth and generating more jobs.
Mr Tsikleas said passenger numbers had increased from 260,000 pa to 530,000 in the past six years, with Cr Wright saying 'tourism is worth more than $300m to the [Ballina] shire' from 'more than one million visitors in the last 12 months', with 'many of them coming through the airport'.
Mr Franklin said he greatly enjoyed working with Ballina Council and particularly acknowledged Mr Tsikleas' management of the airport, saying  'if other regional councils could have someone like you oversighting their projects they would be incredibly fortunate'.