Monty Python's Spamalot
HOTA  |  5–7 March
Following its sell-out run in Sydney last year, Monty Python's Spamalot is coming to the Gold Coast at HOTA, 5–7 March, on the only Queensland stop of its 2020 tour.
Directed by Richard Carroll, and choreographed by Cameron Mitchell, this hilarious musical – which is lovingly ripped off from the classic film comedy, Monty Python and the Holy Grail, retells the legend of King Arthur and his Knights of the Round Table.
Audiences can expect the unexpected as a diverse, cross-gender cast of heroic-yet-foolish actors battle their way past various cows, killer rabbits and French people, in pursuit of claiming the legendary Holy Grail.
A smash hit in both New York and London, as well as winner of the Tony Award for Best Musical, Monty Python's Spamalot redefines the word 'epic' and will be one not to miss during its limited Gold Coast run.
Monty Python's Spamalot will take place in the HOTA Theatre, for three days only. 5–7 March. hota.com.au
---
This World tour with Nock, Wilson, Stuart & Zwartz
Byron Theatre  |  Sunday  |  6pm
This World is the stunning debut release from a brand-new collaborative band formed by four of Australia's most established and celebrated improvisers.
Individually they have worked with some of the greatest musicians in the world: Coleman Hawkins, Pharoah Sanders, Hugh Masekala, Ian Moss, Yusef Lateef, Hermeto Pascoal, Charlie Haden, Michael Brecker, and Don Walker.
New Zealand born pianist/composer Mike Nock (ONZM) is one of the acknowledged masters of jazz in Australasia. Based in Sydney since 1986, he previously spent 25 years in the USA. He is a recipient of the Don Banks Music Award and is an inductee of the Australian Jazz Bell Awards Hall of Fame. Mike has released a plethora of critically acclaimed albums under his own name, on many international labels, including his own label FWM.
Jonathan Zwartz (also originally from NZ), and Sydney native Hamish Stuart, form one of Australia's great musical partnerships. For 30 years they have run Sydney's Starfish Club together and are the first-call rhythm section for a who's-who of the Australian music industry and international touring acts. Zwartz' albums regularly top best-seller lists and have won numerous awards including an ARIA, an IR Award and a handful of Australian Jazz Bell Awards.
Melbourne saxophonist Julien Wilson has been awarded almost every major accolade in Australian jazz, including the National Jazz Award, The Freedman Fellowship for Jazz, an APRA/AMCOS Art Music Award, and a Bell Award for Australian Jazz Musician of the Year. Since the mid '90s he has maintained strong relationships with many Sydney musicians and regularly performs there.
This Bay FM fundraising event is a night not to be missed by lovers of fine jazz!
This World tour with Nock, Wilson, Stuart & Zwartz, Byron Theatre, Sunday 6pm.
---
Country Witches Association fourth Meeting
Brew House Theatre  |  Friday  |  7pm
Back by popular demand… Welcome to the fourth meeting of the CWA! The (dis)organisation everyone's been waiting for – The Country Witches Association!
Tired of waiting for change, creative women around the world are getting ready to stir the political pot – bringing comedy and music to the boil, to facilitate dangerous dialogues and uncomfortable collaborations.
Irish troubadour, and Country Witch founding member, Áine Tyrrell says: 'If you're not doing something the church would have burnt you for 400 years ago, then you're just not witching properly… or enough… or at all!'
The CWA Byron Bay Byron Brewery, Friday 7pm.
---
The Science of Fate with Hannah Critchlow, presented by the Byron Writers Festival
Byron Theatre, Tuesday 6pm
Are we really the masters of our own destiny? Neuroscientist Hannah Critchlow shows how far our future is already hardwired in our brains in this conversation event with Adam van Kempen.
So many of us believe that we are free to shape our own destiny. But what if free will doesn't exist? What if our lives are largely predetermined – hardwired in our brains – and our choices of what we eat, who we fall in love with, even what we believe, are not real choices at all?
Neuroscience is challenging everything we think we know about ourselves, revealing how we make decisions and form our own reality, unaware of the role of our unconscious mind.
Leading neuroscientist Hannah Critchlow draws vividly from everyday life, and other experts in their field, to show the extraordinary potential, as well as dangers, which come with being able to predict our likely futures – and looking at how we can alter what's in store for us.
Lucid, illuminating, and awe-inspiring, The Science of Fate revolutionises our understanding of who we are – and empowers us to help shape a better future for ourselves and the wider world.
The Science of Fate with Hannah Critchlow, presented by the Byron Writers Festival, Byron Theatre, Tuesday 6pm
---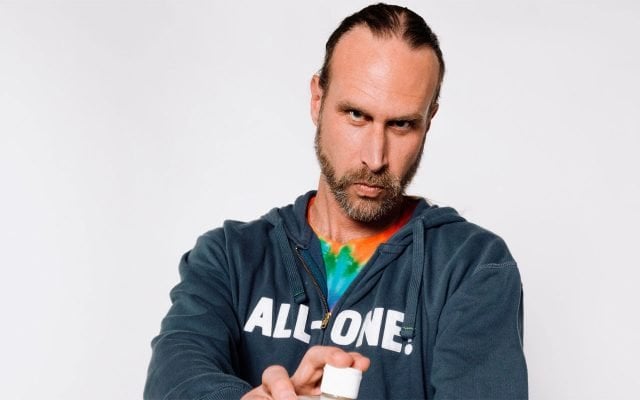 The Natural Future – Ideas and Solutions
Byron Theatre  |  Saturday  |  7pm
Dr Bronner's CEO (Cosmic Engagement Officer), David Bronner is visiting from California for a film screening and meaningful conversation with Dan Fitzgerald (ReGen Ventures), and Patagonia Ambassador, Dave Rastovich.
'How can we take the principles of regenerative agriculture and create lives and businesses that are truly regenerative by nature – going beyond 'sustainable' living by supporting nature and her healing powers?' they ask.
'We, as individuals, communities and companies, can do this collectively to create a regenerative future.
Conversation topics include; hemp, fair trade, climate change and, most likely, surfing.
The Natural Future; Ideas and Solutions. Byron Theatre, Saturday 7pm.