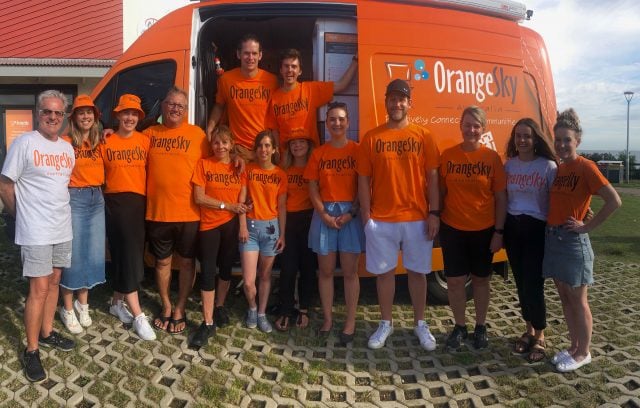 Showers and doing a bit of laundry are an unremarkable daily event for most people. But for the homeless the luxury of a warm shower and getting your clothes clean is not such a simple and unremarkable experience.
Today saw the launch of the Orange Sky service van 'Don' that aims to not only make these services more available throughout the Northern Rivers but to also connect with the more than 1,500 homeless people here.
Don is a hybrid van with two huge washing machines, two dryers and a  hot shower that will set up at various locations including Lismore, Byron Bay, Bangalow, Lennox Head, Ballina, Mullumbimby and other communities from late February. This will be supported by over 50 volunteers who will be on hand to have a chat, help with accessing the free facilities and generally provide support and connection.
Local support
'We welcome Orange Sky to the region and have been liaising with them around sites they can use and think that it great that they are here to diversify what is on offer to the homeless,' said Cherie Bromley who is the Community Programs Manager for the Byron Community Centre.
'It is fantastic and we are working cooperatively with them to ensure that more services are available to rough sleepers in the shire.'
Orange Sky was launched in 2014 by entrepreneurs and co-founders Nic Marchesi and Lucas Patchett and has washed over 1.4 million tonnes of laundry with its volunteers engaging in over 200,000 hours of genuine conversation with friends across the country.
It has been brought to the Northern Rivers with the help of funding from local philanthropists from the Seaton Foundation and the James Frizelle Charitable Foundation.
'We have watched the Orange Sky story unfold from afar and feel privileged to have played a role in cementing its presence in the Northern Rivers,' Belinda Seaton said.
This was echoed by James Frizelle who said, 'As a Foundation we strive to work with charities that are creating a positive social impact and we understand that Orange Sky is doing so much more than providing access to free laundry and showers but is really providing a connection point for many people in our community to have a conversation and feel seen and heard.'
Get on board
'The Northern Rivers is a tight-knit community and we are looking forward to having a genuine conversation not only with our friends in need, but also the wider community about the difference a simple conversation can have for someone doing it tough,' said Mr Marchesi, who recently returned from the Obama Foundation Camp. 'We see many different people from all walks of life using the service and we want to be part of a community that supports and understands the many reasons that lead to experiences of homelessness. All over Australia our volunteers sit in one of our orange chairs and have conversations with young mothers, single dads and women over the age of 55, who are the fastest growing homeless population increasing by 31per cent between 2011 and 2016.
'What we want more than anything is the support of local volunteers with a passion for genuine conversation and a nonjudgmental nature, and we are sure the Northern Rivers will respond with the community spirit it is renowned for.'
For more on how to volunteer or support the #OrangeForOrangeSky campaign, visit https://orangesky.org.au/