The destruction of biodiversity will be humanity's downfall

Dr Willow Hallgren
It has only been a generation – since the mid-to-late 1980's – that knowledge of both anthropogenic climate change and the term 'biodiversity' have filtered through from the scientific community to the general public's consciousness. Since then, however, they have profoundly reshaped both our behaviour and the way in which humans see ourselves in relation to our environment.
Biodiversity – more than just the number of species
Most people think biodiversity is the diversity or number of species, but this is only one type of biodiversity. There are actually two other types: biodiversity can refer to the genetic diversity within species and to the diversity in ecosystems.
Ecocide: Humanity's suffocating footprint as it devours the planet
According to a 2019 United Nations Global Assessment report on Biodiversity and Ecosystem Services, based on a systematic review of about 15,000 scientific and government sources, 'The diversity within species, between species and of ecosystems, as well as many fundamental contributions we derive from nature, are declining fast'
With an estimated eight million species of animals and plants on planet Earth (this number varies with the methodology used, and includes 5.5 million insect species), scientists think that around one million animal and plant species are now threatened with extinction, many within decades. That's one in eight or 12.5 per cent of all plant and animal species!
This current global extinction rate is higher than ever before in human history, and between 10 to 100 times higher than the average extinction rate over the last 10 million years.
The average abundance of native species in most major land-based habitats has fallen by at least 20 per cent, mostly since 1900
More than 40 per cent of amphibian species, almost 33 per cent of reef-forming corals and more than a third of all marine mammals are threatened
Around 10 per cent of all insect species are threatened
At least 680 vertebrate species have been driven to extinction since the 16th century
5 per cent of species are estimated to be at risk of extinction from 2 degrees Celsius warming
16 per cent of species are at risk of extinction from just over 4 degrees of warming
A lot of this destruction of biodiversity is driven by land use change due to human activity, with an estimated 137 species being driven to extinction in the world's rainforests every single day, but increasingly, species are vulnerable to extinction from climate change. The report found that the distributions of 47 per cent of land-based flightless mammals and 23 per cent of threatened birds, may already have been negatively affected by climate change.
What's more, the extinction rate is accelerating, and will continue to accelerate as climate change continues. Even if we limit global heating to 1.5 to 2 degrees, most land-based species distributions will shrink profoundly, and more recent research indicates that as many as one in three species could face extinction in the next 50 years unless warming is reduced.
Particularly at risk from climate change are ecosystems composed of species that are limited in their ability to migrate. These include mountain ecosystems, and places where climate change is occurring at rates many times faster than the global average rate of warming, such as Artic ecosystems.
In the long run though, ecosystems as we currently know and define them will likely look very different – future ecosystems will be composed of novel assemblages of species that will form in their place, and scientists have only begun to predict what these might look like.
Individual response to global heating will change the world
This is because individual species will respond to climate change differently. As temperature and rainfall patterns change across our country, some species will be able to migrate to keep up with their preferred climate such as birds, insects, some plants with wind-dispersal of their seeds etc. Others won't – they will be unable to adapt, so will be at risk of extinction. This means that many ecosystems, such as the Gondwana subtropical rainforests of the beautiful Caldera here, on the East Coast of Australia, that we know and love, and are examples of some of the oldest ecosystems on the planet, will look very different in centuries to come. This is because all the different species which make up these ecosystems will respond to climate change at their own pace and in their own capacity, and in some cases will disappear.
Climate change will alter many ecological relationships between species. Symbioses between species will be at risk of breaking down (eg the pollinator species for a type of flowering plant might become extinct) and this will be an added stress on species trying to adapt to changing temperatures and rainfall.
Extreme weather events – like we've been seeing
Climate change is also resulting in an increase in the frequency and/or severity of extreme climatic events, such as heatwaves, drought, cyclones and storms. The planet has undergone one degree of anthropogenic global heating yet extreme climatic events have already had profound impacts on Australia's biodiversity. This can be seen in successive, unusually frequent marine heatwaves which have devastated large parts of the Great Barrier Reef; and the unprecedented Black Summer bushfires of 2019–2020 that had a catastrophic impact on large swathes of forests up and down the East Coast of Australia. Millions of hectares of koala habitat was burnt in these fires, and early estimates suggest around 80 per cent of the Blue Mountains world heritage area, and more than 50 per cent of the Gondwana world heritage subtropical rainforests burnt including the Lamington National Park in southeast QLD and the Mt Nardi National Park in northern NSW.
Of course, as readers of this column would be aware by now, if the current CO2 emissions trajectory continues, we are on track to reach 3–4 degrees of global heating by the end of this century, with utterly calamitous consequences for biodiversity across the globe.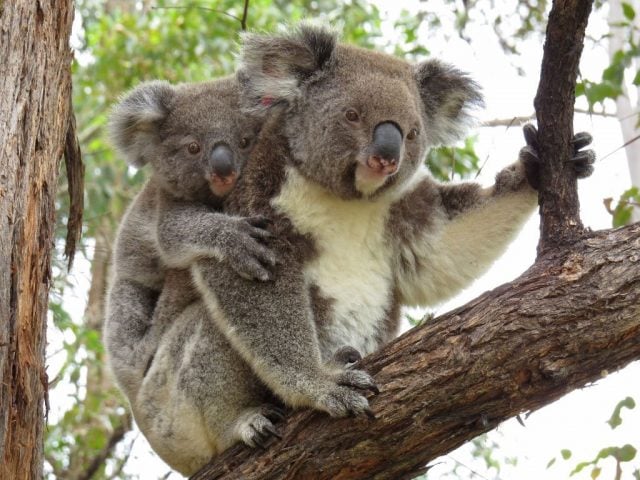 Stopping the decline in biodiversity: everyone's responsibility
Over half a million of the worlds estimated 5.9 million land-based species do not have sufficient habitat for their long-term survival without a major restoration effort. One of these species is our beloved koala. It's estimated that if current land clearing practices continue then the koala could become extinct by 2050.
So both as individuals and communities, we all must step up to intervene in this unfolding ecological tragedy. Anyone with a backyard or some acreage can aid in this global revegetation project by planting and tending trees and shrubs that will produce food or provide habitat for native wildlife. Individuals, businesses and landholders can all get involved in tree planting efforts to regenerate forests for their biodiversity and climate-stabilising benefits.
Various forest conservation and rehabilitation NGO's like Rainforest 4 and Reforest Now are actively working to conserve and restore forests here in Australia and overseas. Up until the coronavirus pandemic, community tree planting events were held by Reforest Now (unfortunately they have been closed to the public). However, you can still donate to these and other organisations to support their projects, and you can even become a tree subscriber and have a tree planted on your behalf every month (what a great idea!).
At a state and national level, governments need to immediately ban logging in all old growth forests, and commit to more conservation measures such as buffer zones around National Parks. They also need to increase connectivity between reserves, create more wildlife corridors, and legislate proposed new biodiversity reserves such as The Great Koala National Park.
Government assistance for landholders and farmers to conserve and enhance biodiversity on their properties must be provided. Farmer and landholder education on how to conserve biodiversity and natural ecosystems should be promoted and measures (like the wonderful Land for Wildlife program) enhanced. Regenerative agriculture should become the norm, not the exception, and this will also foster greater resilience to drought in the agricultural sector as climate change worsens.
Biodiversity and infectious diseases: Nature strikes back
Well, what scientists and medical professionals have been warning us for ages, not to mention films like Contagion and TED talks such as the one given by Bill Gates in 2014, has finally happened – a global pandemic, the likes of which the world has not seen for at least 100 years, has swept the globe and impacted human society in a profound manner. Like a biological earthquake – we knew this was coming… not the precise date of impact, but statistically, this was on the cards.
Covid-19 is only the latest of the many infectious diseases that have been transferred to humans from animals (what is termed 'Zoonotic spillover') in the last couple of decades. Others include Ebola in 1996, Bird flu in 1997, SARS in 2002, Swine flu in 2007, and MERS in 2012.
Kate Jones, Professor of ecology and biodiversity at University College London, and colleagues found that 60 per cent of the 335 diseases that emerged between 1960 and 2004, came from non-human animals.
Research suggests that outbreaks of animal-borne and other infectious diseases are on the rise, and there is good evidence to show that it is increasingly human activity and resulting environmental change, including our destruction of biodiversity, that creates the conditions for new viruses to cross the animal-human boundary to create the novel diseases to which humans have no immunity, like COVID-19.
Human activities such as deforestation, mining, road building through wilderness areas, rapid urbanization, and overcrowding in cities, create the sort of environment where such diseases can emerge. The threat in urban areas is particularly high if densely packed populations engage in intense interactions with a range of wild and domestic animals, such as occurs in 'wet' (fresh meat) markets. Wherever there are lots of novel interactions of species occurring, the likelihood of cross-species transmission of pathogens increases.
With urbanization, human population, overcrowding of cities, deforestation, and habitat destruction all increasing globally, it is likely that it is just a matter of time before we are challenged by more zoonotic diseases as the 21st century progresses.
---
Further reading
www.un.org/sustainabledevelopment/blog/2019/05/nature-decline-unprecedented-report
www.theguardian.com/environment/2019/nov/26/koala-factcheck-australian-bushfires-survival-species-at-stake
www.newscientist.com/article/2101308-decline-of-wild-bee-species-in-england-linked-to-pesticide-use
www.nature.com/articles/ncomms12459
www.iucn.org/news/secretariat/201709/severe-threats-biodiversity-neonicotinoid-pesticides-revealed-latest-scientific-review
www.rainforest4.org/make_a_donation
koalapark.org.au/
www.ted.com/talks/bill_gates_the_next_outbreak_we_re_not_ready?language=dz
www.ted.com/talks/bill_gates_how_we_must_respond_to_the_covid_19_pandemic
www.theguardian.com/environment/2020/mar/18/tip-of-the-iceberg-is-our-destruction-of-nature-responsible-for-covid-19-aoe
Author
Dr Willow Hallgren is an earth-system scientist who studies the impact of climate change on ecosystems and biodiversity, the feedbacks between vegetation and the climate, and how policy can influence climate change, by changing how we use the land.
Willow has previously worked as a climate and biodiversity scientist in government, industry, and academic roles in both Australia and the USA at the Massachusetts Institute of Technology (MIT). She was also previously the Science editor of Monash University's student newspaper Lot's Wife.
She is a city escapee of many years now and is currently hiding out among the hill tribes of the beautiful Tweed Valley.
---
More Planet Watch articles