Mungo MacCallum: December 21, 1941 – December 9, 2020
Mungo's farewell ceremony was live-streamed on
Tuesday, 15 December, 2020.
'Mungo was a friend to The Echo when as a fledgling publication it needed friends. In the beginning he let us republish columns he wrote for national papers, because we could never pay what a political journalist of his standing deserved and normally received. Later he worked out how to write an original column for The Echo's tiny stipend by syndicating it later in the week to other outlets. But whether or not the work was properly remunerated was a matter of indifference to him, and for 31 years he elevated the newspaper's standing simply by writing for it.' – David Lovejoy, co-founder of The Echo newspaper
'Mungo was one of a kind and he blazed a trail through Australia's ranks of political journalists across 55 years with his mix of shrewd analysis and satire that was unique. He took great delight in calling out pomposity, bombast and hyprocisy for what it was and left pretenders with nowhere to hide. For all this he was also one of the most compassionate people I've ever met.' – Kerry O'Brien
'Mungo – we will miss your smile, your wit, your singing and your brilliant writing.' – Craig and Jane McGregor
Tributes From Friends and Associates
Vale, Mungo!
In the near-decade that I was The Echo's resident proofreader / copyeditor (a.k.a. grammar nazi), Mungo's columns were rarely touched by my blue pencil – a claim few others can make.
Reading his columns and proofing / solving his crosswords were among the many pleasures of my Echo incumbency. It goes without saying – but I shall say it – that Mungo will be sorely missed by many.
Gordon Balfour Haynes
Vale Mungo a prince among men
What an inspiration. A breath of fresh, insightful, knowledgeable, and humorous air Mungo has given us over the years.
Keeping the bastards honest and always true to his convictions.
When the statue to Nick Shand sitting on the park bench is replaced, I suggest he be chatting with Mungo by his side.
Much aloha
Noah Yamore 
Mungo 
I first encountered Mungo when I was a teen and I read my uncle's Nation Reviews. On one of our many trips to the Northern Rivers I heard a report of his exit interview with the current Prime Minister of the time and really did LOL.
On subsequent trips, now with our young children, we'd encounter Mungo at the Bruns, in Mullum, and Billinudgel. It became a standing joke that our trips would not be official until 'the first Mungo of the season' had been spotted. On one occasion I spoke with him at the bar and asked if he really did suggest to Bob Hawke that he needed a good rare steak and some horizontal folk dancing. He just laughed along with those waiting or serving at the bar.
Our children are adults now but we still have fond memories of our 'Mungo spotting' adventures. I'll miss his good humour and his great writing.
Neale Ferguson
A Memory of Mungo
In the late 1960s, I had a casual job as a subbie on the Australian/Mirror. At 6pm, I had to collect my scripts for editing and somehow find a spot in the editorial room along with the proper journalists and other editors. There were a couple of long benches and a scatter of chairs and it was a bit of a scramble to secure a spot.
Except, there was one lone desk against a wall with its own chair. I was quietly told that this belonged to Mungo and was not to be touched! Rupert was in New York at the time. I think things may have changed on his return.
John Davies
Tribute to Mungo 
I was fortunate enough to work with Mungo at [ITAL]The Echo[/ITAL], and even filled his column space a couple of times when he was on holiday. I've always considered this a great honour and, now, even more so. In the world of words, he was a master.
Vale Mungo, you can breathe easy now.
PS: So glad you left a bank of crosswords. More shenanigans to remember you by.
Jann Gilbert
♦ My absolute favourite Mungo quote came when he was describing the McMahon visit to Washington where Sonia wore THAT dress. They were accompanied by Nugget Coombs and he referred to Sonia as looking like Snow White, down to her last two dwarfs.
What a super writer he was.
Judy Mellowes
♦ I am writing on Human Rights Day to pay tribute to one of our most brilliant journalists, a man who cared deeply about people and their right to a decent life, as evidenced in his writing.
It is, of course, Mungo MacCallum, known simply as Mungo. He and Jenny engaged with the local community, the nation, and the world from their Ocean Shores home. A home that was the haven for their family. Mungo sadly left them last night after putting down his pen just a few days back.
It is to the family that I say thank you. Thank you for sharing so much of your husband and dad with us.
The brilliant mind, the incisive intellect, the laser-like way he could cut through political humbug. The deep laughter that lit up his face. I mourn the absence of Mungo's column already. A column I hoped I never featured in on the wrong side. The most poignant words I had said about me were in a video recording Mungo did for [ITAL]The Byron Echo[/ITAL]. It still touches me to my core. I feel very privileged as Mungo judged politicians with brutal candour.
At the Twin Towns Services Club in Tweed Heads, Mungo asked me – the emcee – why the attendance of the national press for a backbencher lunch? The backbencher being Paul Keating, in between being treasurer and prime minister.
At a barbecue fundraiser for one of my campaigns, Mungo entertained us with stories of his time in Canberra. He entertained us even more upon departure, backing over the barbecue plate. Jenny drove home.
Melbourne Cup Day at the Ballina RSL during the 2007 Federal Election campaign with Kevin Rudd, myself and team, when Kevin backed the winner.
Mungo's parting words were sweet. Thank you, good night, after he fired an Aussie salvo at our current prime minister.
Jenelle Saffin, MP Lismore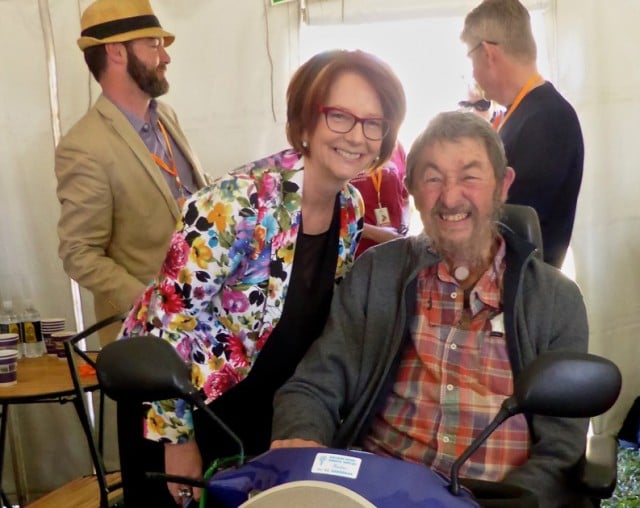 ♦ Our Wednesday Echo will no longer be the same without your column, but we would really like to let you how much we in the Byron branch of the ALP have appreciated your brilliant, provocative and always entertaining contributions over the years. We have been very grateful not only for this, your political insight and experience – but also the moral fortitude, and calling out of hypocrisy that has been a light and encouragement to all true believers in these difficult times, whether members of a political party or not.
Byron Bay Branch ALP
Vale Mungo MacCallum
I dipped in and out of Mungo MacCallum's life for decades, starting with an introduction in the office in (old) Parliament House, Canberra that he shared with my childhood friend, the late Helen Ester (nee Cunningham), also an accomplished journalist who held similar views of the Australian political class.
Helen worked for the Inside Canberra newsletter, later launching her own publication, Monitor. Mungo was writing for outlets far and wide. I was astounded that these bright sparks could turn out wonderful stories from such a claustrophobic office.
Mungo and I shared space and time in two media outlets, the quirky Nation Review and ABC radio's Double J where I interviewed him each afternoon for the Frontline news program: 'So, Mungo, what's been happening in Australian politics today…?' and off he'd go.
Later, as editor of the Lismore Echo, I engaged him to write a weekly column that we titled, with his amused approval, 'Political Corrections'.
Along with the journalist gene, I share Mungo's Wentworth family background, mentioned in David Lovejoy's tribute as being 'hard to overcome, even when you choose left-wing politics'. My grannie was a Wentworth, every bit as eccentric, and as intelligent, as Mungo, albeit from an earlier era.
For many years a tradition in the Mungo-Jenny Garrett household was a party marking the Feast Day of St Mungo (13 or 14 January, according to the calendar you choose), honouring a sixth century saint celebrated on Glasgow's coat of arms.
Arriving at one such event I noticed Mungo in his office, clattering away on his manual typewriter, ignoring the mounting revelry upstairs. I asked Jenny what he was writing and learned it was an obituary for a recently deceased, high-profile Labor politician. It was due to be filed that afternoon for the next day's paper.
Soon Mungo joined the feast honouring his namesake, and partied on.
I read the obit next morning – it was word perfect and insightful, amusing, irreverent… all the qualities that marked his columns and other writings over the years. Moreover, it had been written as a single draft on a typewriter, and faxed to Sydney.
The last time I saw Mungo was on the sad occasion of the funeral of our mutual friend, Helen Ester, on the Gold Coast in November 2015. Mungo wasn't up to driving by then, so I gave him a lift up and back, and we conversed as much as we could, given his dependence on a 'speech box' owing to his laryngectomy.
We didn't stay for drinks and the drive south was a largely silent and sombre one.
A few days later Mungo's obituary for Helen appeared in The Sydney Morning Herald. As might be expected it was again word perfect: 'In matters of belief and conviction she was unswerving to the end,' he wrote.
Words that apply equally to Mungo himself.
Legend has it that St Mungo performed four miracles in Glasgow, which are also depicted on the city's coat of arms. One of them, I'm pleased to note, is that he restored life to a robin that had been killed by some of his classmates. This is some relief, although next time the bell tolls, it may well be for me.
Robin Osborne
♦ My name is Steve Beaton, I live in Perth/Lesmurdie and received my OBE earlier this year.
I have been an avid reader of Mungo's columns for a long time. They were always a joy to read, succinct, witty, meaningful and did not pull punches.
He told it like it really was!
Gough Whitlam's description of him was Mungo-to-a-tee. His memoir would no doubt reflect a life well lived and enjoyed with a mixed bag of important, interesting, as well as ordinary people.
Sad to say, they don't make anyone like him anymore. He will be mourned by many.
Please pass on to his family our sincere condolences.
Stephen Beaton 
♦ He appreciated these few words a couple of days before he died.
I hope the obscure choice of words will not be lost on those who knew him.
The swallowed ring of memory,
Singing St James Infirmary,
The sight of feasts so rarely seen,
Crowned by this year's tureen,
Witty words and derivations
Written for a better nation,
Your body squarely rooted now
I can do nought else but bow,
As it doth prepare to part
No more is able to hold your heart.
Sanatan Saraswati
♦ The man who had been told the terrible news still laughed, and maintained the rage to the very end. His heart was so great it carries on still. Thank you for the books and insights. Vale inimitable but always inspirational Mungo.
Rosie Lee
♦ I have been to writer's festivals all over the world for the past two decades, and have never met an author less inclined to bullshit than Mungo. He was a great incisive journalist and a decent man, who will be sorely missed. Thank you for your contribution to our beloved Bundjalung Country and to the Australian nation, Old Man.
I reckon Marshall's Creek should be renamed Mungo's Creek in his honour.
With Love and respect,
Melissa Lucashenko
♦ In January 1989 a friend and I travelled around India for three weeks by train on an organised tour with Ausventure. Our fellow passengers included Mungo (rapidly dubbed Mr Mango by the Indian crew) and Jenny, his partner (described by Mungo as a talentless trollope!).
Who could ever forget such a travelling companion, hanging out the window of the non-smoking carriage with a cigarette in his mouth and commissioning the crew to supply cartons of 'tax deductible' Indian beer (at inflated prices) at every overnight stop.
Many a discussion and argument ensued as we made our way in a wide circuit around India, visiting numerous sites of historical and cultural significance, Mungo demonstrating his wealth of knowledge on every topic imaginable. I no longer recall most of the members of our small group, but Mungo and Jenny remain as vivid memories.
Sad news to hear of his passing, his wit and wisdom will be sorely missed.
Cynthia O'Keefe
Mungo the beloved
This is a parody I wrote for Mungo for one of his feast days. He seemed to like it.
To Master Mungo MacCullum
On the occasion of the feast day of the Glorious Saint Mungo the beloved
(with apologies to John Skelton)
Merry Mungo
His namesake's flower,
Cutting of wit
With a pen of Power:
Political sadness
Much mirth and some madness,
All good in his badness:
In debauchery,
And drunkenly,
So manly
His misdemeanour
In every thing,
Far, far passing
That I can indite
Or suffice to write
Of Merry Mungo
His namesake's flower
Cutting of wit
With a pen of Power.
Impatient but still
Very full of goodwill
As Saint Jenny and Digger
Bob Ellis
Sweet philander,
Good Cassandra:
Erudite of thought,
Well made, well wrought,
He cannot be bought,
By fame or by fortune
Or pleading importune
This Merry Mungo,
His namesake's flower
Cutting of wit
With a pen of Power.
Dr Helen Lewis
Vale Mungo
You were loyal! Loyal to the cause, to the vision of Gough Whitlam, we all benefited. Your eternal Legacy resonates 'Take No Shite!'
Jo Faith
Indeed, Mungo had an 'analytical mind'. It took Mungo to get me back into 'the politics of prose writing' in 2016 just as it took Mungo – in the very early 1970s – to help me become one of his 'Radical Poets'.
No rival came within a bulls-roar of his precision, knowledge, and care for this country, beginning with the [old] [ITAL]Nation Review [/ITAL]and onwards.
I praise The Echo for having found him. I guess Mungo will continue speaking from yet 'another world'.
Stefanie Bennet
♦ Mungo was working from home for the past three decades, enjoying the alternative lifestyle – a man way ahead of the pack. Harbouring joy and laughter as he took the piss, old mungo will be sadly missed.
Michele Grant
♦ Who to now for erudite, lucidly phrased incisive wit to deride the largely witless?
You, insightful scribe, informed my views and created knowledge and understanding.
From the days of darkness pre-Whitlam, through enlightenment and action, and back.
It's time again, and we can only hope more of your ilk will rise above.
RIP and thanks Mungo.
Wanderer
♦ Thank you, written from the heart.
I've always loved Mungo's incisive witty commentary on those who occupy the political space.
I was immensely pleased a few years ago to find that your Echo provided a place for him to espouse his view on current matters.
What a loss we have all suffered from his passing.
Jeff from WA
♦ Who else could make you burst out laughing while doing a cryptic crossword? Thank you, Mungo, you'll be missed by many.
David
♦ Returning to Australia in 1975 and living in Canberra next to a friend of Mungo was the most enlightening introduction to politics here. His words were clear and insightful as has his writing ever since. So sad that he died too soon.
Chris Eyre Holmes
♦ I've been dreading this day. I am bereft. I feel I have lost half my brain! Vale Mungo.
Christine Willmot
♦ Dear Mungo, for years and years we have looked to you for our political commentary. Always delivered with wit and truth and humour. You have sort of been a part of our lives… bloody hell man, we're going to miss you.
Julie Thomas
♦ Mungo's distinctive voice and his exquisite words can be recaptured by listening to him reading his book on ABC radio in 2005.
Len Waugh
♦ Heartfelt condolences to you Jenny Garrett whose warm friendship I remember from when you lived in Sydney and visited Mangrove.
Sonia (Manishananda) Groen
♦ What incredible skill he had as a writer to make me want to read a political column. A subject I generally find boring and dry. Mungo had me laughing as he educated me. He humanized that world. The world needs more like him. RIP.
Dave Lawrence
♦ The median quality of political prose now plummets.
Genuinely worried there's no replacement for his take-no-prisoners honest-to-a-fault punditry.
Jon Agar
♦ Blessings on your journey home Mungo.
What a treasure you have been. I loathe politics, but reading your take on things pulled me in.
[ITAL]The Echo[/ITAL] will never be quite the same. I trust where you're going your voice will now be clear as a bell and you can enjoy a good natter again. X
Odette
♦ Australia is left a much poorer place, on so many levels.
Sanatan Saraswati
♦ Great values. Wonderful way with words. Laugh-out-loud humour. We'll miss his columns and his cryptic crosswords.
Beth Hansen
♦ We will miss you Mungo and your invaluable insights/ visionary and incredible longstanding (historical) political experience, going back decades. I didn't realise Mungo was so very ill after reading his final article just last week. I was hoping Mungo would make another decade.
So lovely and touching reading the sentiments expressed from those kind and compassionate friends at The Echo. Deep sympathy goes out to Mungo's family and close friends. What a legend Mungo was, and this region was very blessed to have had him.
Lindy Stacker
♦ I weep. Australia could have been Mungo, Barry Jones, and Kerry O'Brien. Instead we are Paul Kelly, Angus Taylor, and Paul Murray.
Richard Proudfoot
♦ Goodnight Mungo, lexicon of a master of political comment – an icon you are, RIP. Kind regards to Jenny. You are a star amongst the heavens now.
Janelle Anne VOS
♦ Mungo inspired and educated many of us. His column was always the first thing to read in each week's [ITAL]Echo[/ITAL].
Sorry for your loss, and Jenny's.
Karina
♦ Vale Mungo
Mrs Sandra Leadbeatter
♦ Everything I feel has already been written in the responses by all above. Thank you mungo for every word you ever wrote, that i have read.
Dearly missed, dearly appreciated – and again, thank you.
Roma Newton
♦ Gooday, back in the sixties a mate of mine, John Swords, worked for the Canberra Times and I often went to see him in Canberra. I was not too bad a cricketer in those days and the PM, Billy McMahon, organised a cricket game at Manuka Oval and I got to go up as a batsman. Anyway, Mungo had broken his leg and he was made wicket keeper. He was drinking a large can of beer. He kept behind the stumps and I fielded a ball and threw it in to him, but it hit his beer, and by the time he got to it – it was empty. He never ever spoke to me again. By the way, I was bowled first ball by one of the Australian 48's, at his age of 82. Vale Mungo.
David Dixon
♦ How lucky were we to be afforded such a deep and soulful character. This man spoke a 'truth and sense' which was music to many people's ears… Thank you to you Mungo and Jenny.
Rob Marshall
♦ Thank you Mungo for your insights and perception, I remember you well at lunchtimes around Mullum. And also thanks to David Lovejoy for a well deserved tribute.
Vale Mungo!
Craig Mackey
♦ Legend. A beautifully written tribute to Mungo whose column was where I started when The Echo was delivered.
Chris Burgess
♦ A quiet dread, of this day, and here it is.
Such a bedrock of journalistic flair, immediacy, and erudition that had many of us reaching for the dictionary too, to help fathom this vast mind of political knowledge and insight.
He knew exactly, right and wrong, and gave wonderful portrayal of all we needed to know.
A deep sadness.
Thanks for your contribution to Australian humanity.
Tim Shanasy
♦ RIP Mungo
Maggie Wheeler
♦ Thanks for all the laughs and inimitable writing over the years.
You will be missed but not forgotten.
Anon
♦ One voice I will truly miss. RIP Mungo.
Maxim
♦ Go well Mungo and thanks for your writer's life. Always on the money and on the side of good. A classic Aussie shit stirrer. Your Byron Echo column was always a treat to read.
Roger Monk
♦ Shocked and saddened to hear of Mungo's passing – what a sharp mind and wit! His shit stirring ability to dissect the innards of politics and tell it like is will be sorely missed. Will the next Mungo please stand up.
Frank Stewart
♦ I never thought it would happen. He's looked frail for years but seemed somehow eternal. Definitely never missed a beat with his brilliant analysis of facts. What a loss! Hope to meet you again somewhere, some day.
Garry Fetherston
♦ What a loss to great Australian journalism. Will miss seeing him about. Condolences to Jenny and family.
Margie Heggie
♦ Vale Mungo. Amazing bloke. Loved his passion and humour on the written pages and the air waves.
Lea Mitchell
♦ He wrapped that up quick didn't he! I've been reading Mungo's contributions since the late '80s. He was frequently the smartest guy in the room. And such a unique combination of insight, humour and wit. He'll be missed.
Keith Warren
♦ Rest In Peace Mungo. You will be missed.
Patricia Hibberd
♦ Vale Mungo. When I first moved to this area I loved hearing your viewpoint and remember once being at a café when you recorded. Then I loved reading your insights.
Maureen Fletcher
♦ What a tragic loss to the world of journalism. RIP Mungo!
Guy Kachel
♦ Brilliant writer. He will be missed by all of us who were fans of the Nation Review and his columns throughout the years. RIP.
Dee Hadley
♦ RIP Mungo, thinking of you, Jenny, and the family at this very sad time.
Susan Stirton 
♦RIP Mungo… you are and always be a legend within the Shire and beyond.
Joanne Kliemt
♦ My goodness … all us good ones are escaping… see you soon brother.
Warren Gerrard