An exciting initiative to keep coffee cups out of landfill launched in Lennox Head yesterday. Ballina Shire Council is backing the HuskeeSwap program with free coffees at different cafes in Lennox this week, for coffeeholics keen to try a new solution to a growing problem.
Ballina's Waste Education Officer Samala Heart told The Echo, 'Today kickstarts our HuskeeSwap launch week. Council is paying for free coffee for the first fifty coffees for each cafe which is participating in the HuskeeSwap program.
'We have five cafes on board so far, and what that means is people can either purchase or use their existing Huskee cup, and continue to swap it at any of the participating cafes,' she said.
While there are a number of cafes already using the Huskee cup in Ballina Shire, Byron and Tweed, the swap and go system is new to the region, and comes with perfect timing to address COVID concerns.
How does it work?
Huskee Swap Operations Manager Michael McFarlane explains. 'The swap system was designed to make using reusables more convenient,' he said.
'As a coffee drinker you purchase a Huskee cup, hand it in when you order your coffee, the cafe puts it aside, to be sanitised along with their glasses and ceramics, and the customer's coffee is made in a freshly sanitised cup, which is pre-washed and ready to go.
'Sanitised means it's been washed for a minimum duration at a minimum temperature, to be safe. So if you have a reusable in your car or your bag, and you've forgotten to clean it, this means you can hand it into the cafe and swap it out for a clean one,' said Mr McFarlane.
'The sizes are interchangeable, which is another advantage for the coffee drinker, and for the cafe it means they've got a streamlined inventory of reusables coming in.
'When you've got a line ten deep and every customer's got their their own reusable cup, of different shapes and sizes, it can be difficult for the cafe to manage that. This is much easier for everyone,' he said.
2.7 million cups
Samala Heart said the swap and go system is a first for Ballina shire.
'We're pretty excited. It provides another solution for people to reduce single use and make a difference.
'We know that 2.7 million coffee cups are thrown away into landfill every day, in Australia alone.'
Unfortunately the situation has worsened since COVID, with many cafes no longer able to accept traditional resuable cups because of hygiene issues.
Ms Heart said, 'With the Huskee cup swap system, you can hand over your cup, and you get given another Huskee cup that's already been hygienically washed, so the cafe feels confident they're handing over a sanitised cup which they know has been washed appropriately.
'It's easier for them to use too, because they don't have to keep track of whose reusable cup it is. So it's smoother and more seamless for the cafe, and for the customer as well.'
The Huskee approach also suits businesses which need to order coffee ahead, unlike other reusable cup options.
New life for a waste product
Huskee began life as a Kickstarter project in 2017, and is now available at 150 sites in Australia, and 22 countries worldwide, including 400 swap sites globally.
Michael McFarlane explained that the name comes from the fact that the cups are made from waste coffee husks.
'Husk is a by-product from coffee processing,' he said. 'After the cherries are picked, you dry them and process them, and the layer which surrounds the seed and comes off, it's kind of like the layer of popcorn that gets stuck in your teeth, so that usually is wasted.
'Some is incorporated back into fertiliser for farming, but there's just so much of it generated it often just rots away. We repurpose that waste into the cups, hence Huskee cups.
'They come in four sizes, with a universal lid and universal saucer. Cafes use them as a dine-in alternative to ceramic or glass because they're more durable,' said Mr McFarlane.
The resulting cups have a solid, friendly feel, more like ceramics than cardboard or glass, and able to withstand high temperature cleaning.
If a cup does get damaged for some reason, it's a closed loop system, which means Huskee cups are able to be recycled and reprocessed into new cups. You simply return the damaged cup to the cafe or Huskee.
The main goal is to reduce wasteful single use cup use around Australia and the world.
Council support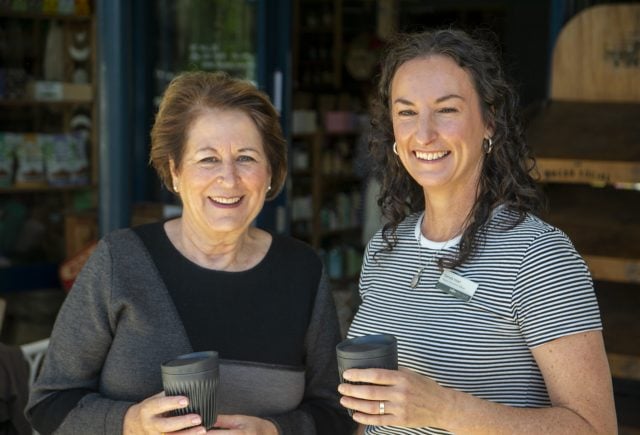 Ballina Deputy Mayor Sharon Cadwallader said it was great to see Lennox Head leading the way with the new initiative.
'The energy savings are fantastic and the data supports how good this product really is, and it's a perfect fit to be launching it in Lennox today, because Lennox is very environmentally friendly,' she said.
Cr Cadwallader is also a fan of the Huskee cup lids. 'It's not quite bone china, but it's very thin and that means a lot to some people, particularly people like me, who don't like a really thick lid.'
Mayor David Wright was itching to try out the new cups. 'There are so many benefits,' he said. 'We're about to have a climate person on staff at council, and these are the sort of things we want to do, to show the community ways forward and put ideas in people's heads.
'Lennox people wanted to ban plastic bags. That didn't work first time, because there was some resistance, but now everyone's doing it. Things change. So we're trying to stop waste and stop things ending up on the beach.'
Cr Wright also thought Lennox was the perfect fit for Huskee cups. 'The amount of coffee that's drunk in Lennox per head of population is as many as there are dogs per head of population! There are babies and dogs everywhere, that's the demographic for this area.'
'It's so vibrant, and that's why council's spending $10m on the main street. In two years time this will be all beautiful,' he said.
'Many of the businesses in Lennox Head have great sustainability initiatives already,' said Samala Heart, 'so it's about working with them to bolster those initiatives, and work with them to trial this before going out to other areas.'
Seed and Husk
Rochelle and George Chrystostomou from the launch cafe Seed and Husk said they have sold Huskee cups before but were pleased to be joining the swap and go initiative.
'I think the main thing is people struggle to find places that are willing to swap their cups over, the time that it takes to wash the cup, and most people aren't prepared to wait that long, so it's a good exchange,' said Rochelle.
Co-owner George Chrystostomou said, 'We won an award for sustainability a few years ago, with the Lennox Chamber, so this kind of goes hand in hand.'
Michael McFarlane will be in Lennox Head with his popup Huskee stall outside various Lennox Head cafes between 8am and 12pm this week.
Starting at Seed and Husk, he will then be progressing to Quattro, Shelter, The Kiosk and William Street.
And the price? Mr McFarlane said, 'We have four sizes now, 6 ounce is $16, 8 ounce is $18, 12 ounce is $20 and the 16 ounce is $22. So all the standard cafe sizes.'
Unlike a regular cafe cup though, this one keeps on working and keeping single use plastic out of landfill for as many years as you use it.
If the trial initiative is successful, the plan is to extend it into other areas of Ballina Shire.