Paul Bibby
Byron Council has taken a further step toward getting cars out of, and pedestrians into, the centre of Byron, by voting to introduce car-free Sundays.
Designed to replicate the success of the town's New Years Eve celebration – Soul Street – the move will see part of Jonson Street and some other adjoining streets closed to cars for one Sunday a month.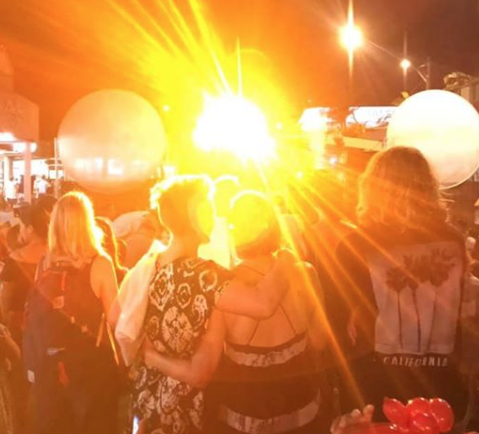 'The time is definitely now,' independent councillor Cate Coorey said in moving the motion at the last full Council meeting.
'We have, as a Council, delivered the means by which a car-free town centre is possible: a road that bypasses the town centre, and new and improved cycleways.
'There should be no need here to explain why this is a good idea – we have been working towards getting cars out and people in for years and it is a main tenet of the Byron Town Centre Masterplan.
'I feel that a car-free Sunday is a good way to get people acculturated to a town centre that is walkable. A Sunday does not interfere with people's commute and will have less of an impact on people's daily lives.'
The meeting heard that the Council already had plans to permanently relocate the Byron Community Market into the centre of town, including the partial closure of Jonson St.
This market occurs on the first Sunday of each month, meaning that the relocation could compliment the plan for a car-free day in the centre of town each month.
'Ongoing investigations on Butler Street Reserve have delayed the market's return to the Reserve, but the now operational bypass and upgrades to Railway Park, the rail corridor and the surrounding carparks, have presented an opportunity for the permanent relocation of the market in to the centre of town,' Council's place manager, Claire McGarry said.
However, Ms McGarry highlighted a number of potential issues with the car-free plan.
These included the impact on local businesses, reduced parking and loss of the associated paid parking revenue, and the cost of traffic management such as providing water-filled barriers, traffic controllers and signage.
'Significant community consultation, planning and budget allocation will be required,' she said.
'Staff having commenced the investigation and Development Application preparation process [in relation to the market relocation] recommend that Council give this process priority, and not commence any conflicting projects seeking to achieve similar outcomes at this time.'
Councillors voted unanimously to proceed with the car-free Sunday plan.
'It's evident whenever we close the road how much everybody loves walking around in the centre of town,' Cr Coorey said.
'The sky won't fall in, businesses won't fold – in fact I think people are more likely to go in.
'I note the staff report and I'm happy to fit in with the process of relocating the market. I would like to see it happen as soon as practicably possible.'