---
♦ Budgeram means story in Bundjalung language.
Belle Budden
This 26 January 2022 will be the 50th anniversary of the Aboriginal Tent Embassy in Canberra, Ngambri-Ngunnawal Country. This is an iconic moment in the history of the struggle for justice for Aboriginal people in the country because the Aboriginal Tent Embassy remains as relevant and necessary as ever for Aboriginal and Torres Strait Islander people. Situated on the lawns of Old Parliament House, in the Parliamentary Triangle in the nation's capital of Canberra, the Embassy provides a unique opportunity for Aboriginal and Torres Strait Islander people to take their concerns directly to government. The 26 January is always referred to at the Embassy as Invasion Day and it is a focal point and a platform for Aboriginal and Torres Strait Islander people to voice their dissent of government in relation to our Country, Communities and Culture.
On the eve of 26 January 1972, the McMahon government announced the implementation of a new system that rejected granting independent ownership of traditional land to Indigenous people in favour of 50-year general purpose leases for Indigenous communities, provided they could demonstrate a social and economic use for the land and excluding any mineral and forest rights.
After the announcement, many protest groups sprang into action, including a group from Redfern in Sydney. Four members of this group – Michael Anderson, Billy Craigie, Bertie Williams and Tony Coorey – drove to Canberra and set up a beach umbrella on the lawns opposite (what is now Old) Parliament House. This was the start of a 50-year legacy of protest and support for grassroots campaigns for the recognition of Land Rights, Aboriginal Sovereignty and addressing the injustices of the genocide against Aboriginal and Torres Strait Islander people. It is a critical part of the history of the struggle for Aboriginal and Torres Strait Islander Peoples in this country. The campaigns and the activists who ran them are too many to list here and many of the advancements gained for our people have been poorly recorded in mainstream media.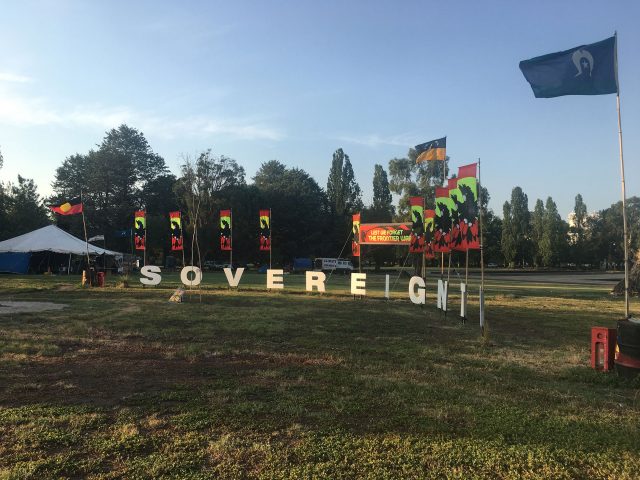 In 1992, on the celebration of the 20th anniversary of the Aboriginal Tent Embassy it became a permanent fixture, representing the ongoing struggle for Aboriginal Sovereignty and land rights. In 1995, the Australian Heritage Commission recognised it as a site of special cultural significance and it was entered in the Register of the National Estate – Australia's list of natural and cultural heritage places. It is the only place recognised nationally for the political struggle of Aboriginal people. It is also the longest continually run protest site in the world.
Aboriginal Embassy
The Embassy also has the diplomatic function of supporting grassroots actions, and Aboriginal and Torres Strait Islander Peoples travelling to Canberra for business with the government. It ensures they have a safe space to land, have a cuppa and gain some support and insight into the workings of government. It is essential for all Australians to acknowledge that Aboriginal and Torres Strait Islander Peoples have a different cultural framework to mainstream Australians and that they should have access to support in navigating important meetings with government around Country, community and culture. There are 80 other embassies in Canberra for people from foreign countries and cultures to go for support navigating processes with the Australian Government, and 50 years of evidence demonstrates this same need from Aboriginal and Torres Strait Islander Peoples.
Activists from the Aboriginal Tent Embassy were pivotal in making genocide a crime in Australia. Australia ratified the Convention on the Prevention and Punishment of the Crime of Genocide on 8 July 1949, but did not legislate to make genocide a crime in Australia until 2002. Aboriginal activists worked with barristers from 1999 onwards to bring about this legislative change in 2002. Until this happened it was not a crime to commit genocide in this country.
The Black Lives Matter movement, and the continued abhorrent rates of Black deaths in custody in Australia demonstrate one of the continuing struggles for Aboriginal and Torres Strait Islander Peoples and the relevance of institutions like the Aboriginal Tent Embassy. Sadly, the Prime Minister's comments following the mass protest movement from BLM in 2020 demonstrated that we, as a nation, still have a long way to go in achieving justice for Aboriginal and Torres Strait Islander Peoples in this country.
---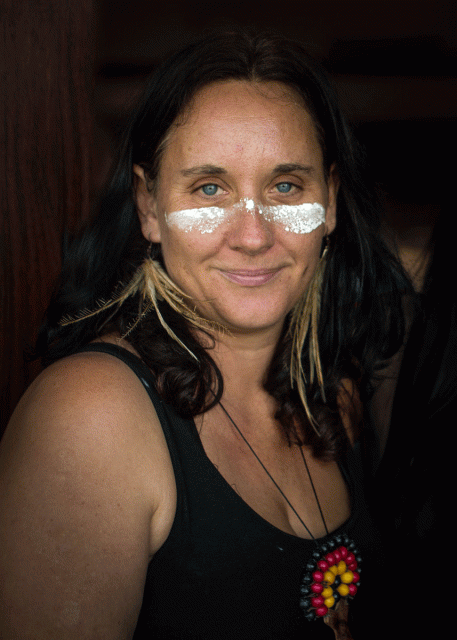 Belle Budden is a local dubay of Wakka Wakka descent. 'Living off country I pay my respect to the Arakwal people and the wider Bundjalung people of this land,' says Belle. 
Belle has worked in community for 15 years, Belle is an artist, dancer and weaver working across many other mediums. Belle is passionate about community and has committed to empowering women and young people through cultural practice. She has worked in government, arts and community organisation to advocate for improved access to land, culture and services. Belle is currently employed at Desert Pea Media as the Projects Manager.
---
---
More Storylines articles