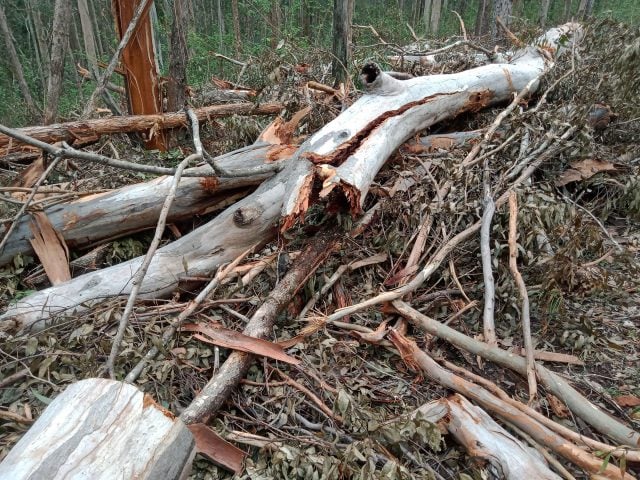 If it was private land it would be considered core koala habitat so why are the NSW government allowing Cherry Tree State Forest to be logged?
Confirmation that Cherry Tree State Forest is core koala habitat by North East Forest Alliance (NEFA) on Sunday has led to a call for the Minister for Energy and Environment Matthew Kean 'to stop logging their homes if his claims of saving koalas from extinction and doubling populations are to have any credibility'.
It has been identified that koala populations declined by over 50 per cent in the 20 years before the 2019–20 Black Summer wildfires burnt 30 per cent of their habitat.
The NEFA assessment last week confirmed that koalas and their habitat are widespread in Cherry Tree State Forest, making it core koala habitat that would have logging excluded if it was on private land said NEFA spokesperson Dailan Pugh.
'There is no doubt that Kkoalas are widespread in compartments 3 and 4 of Cherry Tree State Forest, and have been for at least the past 23 years, and it appears they are using most suitable feed trees,' said Mr Pugh.
'The forest in the logging area is dominated by koala use tree species, and thus is highly suitable koala habitat and qualifies as core koala habitat as defined in State Environmental Planning Policy (Koala Habitat Protection) 2021.
'If this core koala habitat was identified in a council Koala Plan of Management it would be prohibited from logging under the Private Native Forestry Code. Why then is a Government agency exempt from having to assess whether it is core Koala habitat, and allowed to log it?'
Koala protection reduced
The introduction of the State Environmental Planning Policy (Koala Habitat Protection) 2021 excluded rural and forestry zones reducing the protection for koalas and habitat from logging.
'The Koala Wars erupted early last year at the instigation of loggers fearing that the revised 2019 Koala SEPP would result in more core koala habitat being identified which they would not be able to log,' said NMr Pugh.
'This has yet to be resolved, though logging of identified core koala habitat still remains prohibited. The NSW Government needs to lead by example, not exempt themselves from requirements applying to private landholders, and ensure they are protecting core Koala habitat on public lands.'
Mr Pugh pointed out that previous logging has likely impacted the koala colony at Cherry Tree Forest.
'Half the planning area for this operation was intensively logged in 2015, since then protections for koalas have been reduced and logging intensity increased,' he said.
'The current logging will result in the removal of most of the mature koala feed trees being used within the logging area, which will reduce the resources available for koalas and thereby their population. Logging is now proposed for the forests to the south next year. Once this population is reduced below a critical threshold it may become unviable.
'Koala populations to the south and west of Cherry Tree State Forest were decimated in the Black Summer fires, with an estimated 78–89 per cent loss of koalas in burnt forests on the Richmond River lowlands,' said Mr Pugh.
'If Minister Kean is to have any credibility about saving koalas from extinction and doubling populations then he has to stop logging their homes to give them a chance'.