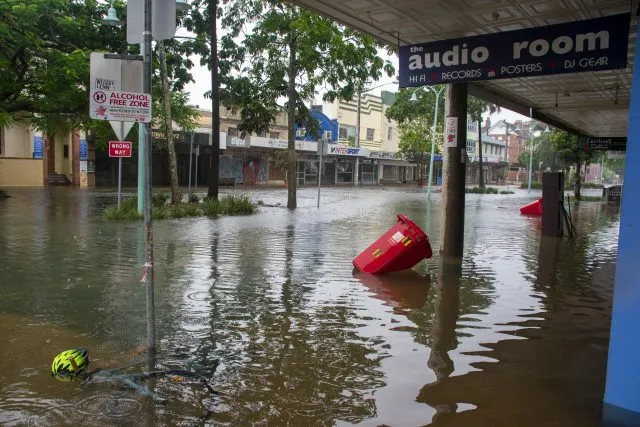 Engineering works have been proposed to mitigate the extreme flooding experienced in Lismore in February and March 2022. Here are the suggested options:
Build a higher levee
The cost of raising the levee is as yet unknown but could be expected to be many millions, if not billions. The money is not yet sourced or assured. 
Enormous disruption would be caused by the removal of existing infrastructure and houses, by the extensive excavations required for the site, and by the transport of earth and rock from other areas to provide fill for the levee. The construction would devastate efforts to rehabilitate the current levee area.
The gross inequity involved in attempting to protect only the CBD and flood-prone parts of East Lismore is unacceptable.  A higher levee would:
(a) signal the abandonment of South and North Lismore, and significantly intensify their flood hazards and problems.
(b) speed up and magnify the flood effects on downstream farmers and townships such as Coraki.
Now that climate change and its damaging consequences are beyond all doubt we have to ask how high the next major flood will be. It could be 18m or 20m or 30m. There is no known limit – all we know is that more frequent and bigger floods are assured. Spending huge amounts of money in an attempt to alleviate, but possibly worsen, a threat of unknown size is the height of poor planning.
We need to admit that the existing levee was an expensive failure, which merely protected parts of Lismore from small and medium floods. It has made major floods much more dangerous and destructive for both the 'protected' areas and the remainder of Lismore.  We must not compound this blunder by repeating it and subjecting more people to greater peril and heartbreak.
The proposed Dunoon Dam (the DuD), below the existing Rocky Creek Dam, has been advocated by some, although not Rous County Council (RCC), as the prime candidate for supposed flood mitigation in Lismore.
Apart from the intractable problems of destruction of (a) nationally significant Indigenous heritage and (b) internationally significant rainforest, this dam would provide no flood mitigation and would, in fact, increase risk to downstream residents.
Ineffectiveness of upstream containment dams
As the map above shows, the catchment of Rocky Creek, on which the DuD would be built, contributes very little to the flood waters that inundate Lismore. Figures provided by RCC show that Rocky Creek catchment above the DuD is 50km², or 3.57 per cent of the 1,400km² catchment above Lismore.
Even in the extremely unlikely event that Rocky Creek Dam and the DuD were empty at the beginning of the rain event, they could not intercept more than 3.57 per cent of the flood water heading for Lismore. A second flood within a month, as happened in March 2022, would be even less able to be contained as there would be no possibility of emptying the DuD into an already flooded landscape.
This would be true of any other dams constructed on other tributaries with the aim of holding back flood waters. They could not provide mitigation, their cost would be astronomical, and their construction would entail large-scale loss of farmland and native vegetation.
Increase in downstream risk
The downstream risk from a large dam is explained in the 2012 Environmental Flows Assessment (EFA), commissioned by RCC. It states that the most extreme floods may be exacerbated in the 3km immediately below the dam wall.
'Modelling shows that the magnitude of the largest floods may be increased, with the largest flows in the natural regime of 17,280 ML per day shifting to 20,456 ML per day with Dunoon Dam operating'.  This is an increase of 18.3 per cent on the largest flood.
The additional impact is explained by the surface area of a large dam. 'When full, the dam acts to increase catchment runoff efficiency, with all rain that falls directly onto the water surface delivered directly into downstream flow when the dam is spilling. This phenomenon results in increased peak magnitude of the modelled flood events when these conditions are met.'
This phenomenon on Rocky Creek Dam already increases the flood peak downstream. On February 28 the following text was sent to all residents below Rocky Creek Dam, including The Channon village and parts of Keerrong:
'NSWSES DAM FAILURE EVACUATION ORDER ROCKY CREEK DAM. People at your home address BELOW ROCKY CREEK DAM should evacuate now to higher ground'
What warning would the SES have to send if there were another dam with an even larger surface area located only 3km above The Channon village? And at 3.5 times the volume of Rocky Creek Dam, what would happen if that dam did indeed fail?
Modify rivers by straightening bends, cutting diversion channels or deepening river beds
Any modification which hastens the flow of flood water past a town can only compound the problems for downstream people, towns, farms and land. It is a moral issue. Prioritising one community for protection over another is intolerable.
Dredging the river, as done in the past to keep channels open for shipping, would have no effect on floods. The river at Lismore is tidally influenced so a deeper channel will always be full of water and will have no capacity to hold flood water.
In conclusion, it is clear that Lismore will continue to flood in ever-escalating cycles in the years ahead. Whatever the solutions are, attempting to control with engineering remedies the colossal natural forces at work is at best childish and at worst criminally negligent.
♦ Nan Nicholson is a founding member of WATER Northern Rivers.