It has taken over 21,000 people signing petitions to drag the NSW government and opposition to the table (well the parliament's Lower House) to debate the proposal to place a moratorium on logging in public native forests. This afternoon at 4pm they will be forced to debate the petition their citizens and voters have put forward.
The petition calls on the NSW parliament to:
Develop a plan to transition the native forestry industry to 100 per cent sustainable plantations by 2024. 
In the interim, place a moratorium on public native forest logging until the regulatory framework reflects the recommendations of the leaked 2021 NRC report.  

Immediately protect high-conservation value forests through gazettal in the National Parks estate.  

Ban use of native forest materials as biomass fuel. 
'In June 2021 the governments own Natural Resource Commission (NRC) gave advice to take urgent action following the 2019/20 Blacksummer fires to stop logging in worst burnt areas and protect high-value areas for wildlife recovery,' Dailan Pugh from North East Forest Alliance (NEFA) told The Echo.
According to the NRC report the combination of logging with the impact of the 2019/20 fires presents a 'serious and irreversible' risk to the environmental values of NSW forests. 
'Tens of thousands of people from across the state have come together to call for an end to public native forest logging. The time has come and the case has been made that our public forests are worth more to us standing,' said Greens spokesperson for the environment and agriculture Sue Higginson MLC.
'The government has made no plans to transition out of this destructive industry and into sustainable plantations in the full knowledge that communities and workers will be left behind by their policies. 
'So much of our public native forest estate has been impacted by drought, fires and floods. We need to change our perception of native forests to recognise them as a vitally important line of defence against both the climate and the extinction crisis, but this senseless government is determined to destroy them.
'The response to the petition from the Minister for Agriculture Dugald Saunders was bitterly disappointing. Tens of thousands of people are calling for our forests to be protected and the minister has completely dismissed what's best for communities and the environment.
'The Government claims that sustainable native forest management includes cutting down critical habitat for threatened species, including koala habitat, clear felling areas of our forests and cutting down hollow bearing trees which are essential for the survival of forest dependent threatened species like gliders, owls and bats.
'Bizarrely, the Government claims that cutting down our forests is good for the climate crisis in complete contradiction to scientific consensus. Old trees sequester more carbon than young trees, which on its own should be enough for us to be doing everything we can to protect them.
Rally today at 2.30pm
A rally to highlight awareness of the debate is being held before the parliament today at 2.30pm bringing together 14 conservation groups. Speakers at the rally will include local Sean O'Shannassy from NEFA, Jacqui Mumford the Chief Executive Nature Conservation Council, Independent MLC Justin Field, Takesa Frank from the Brooman State Forest Conservation Group, and North Coast local Greens MLC Sue Higginson.
'We are hoping that there will be some movement on the issue of burning native forests for electricity and stop logging in burnt areas of native forest and protect areas of high value,' said Mr Pugh. 
'Stopping logging is in the best interests of the state and workers, protection of flora and fauna, reduction in greenhouse emissions, reducing fire risk, and carbon sequestration. There are many reasons to do it but I'm not sure the ALP are ready to stop logging. We have hopes they will do something in the future.'
As a result of Australia's out-of-control logging activity it is considered one of the world's global deforestation hotspots', specifically eastern Australia, along with countries like Brazil and Indonesia. As a result on October 4 fifteen species and three ecological communities from around the country were added to the federal threatened species including the parma wallaby, koalas, greater glider.
'It's madness that logging companies are driving the parma wallaby, koalas, greater glider and dozens of other forests species towards extinction to make toilet paper and other low-value products,' Nature Conservation Council CEO Jacqui Mumford said.
'Deforestation in NSW has been identified as a threat to our forest-dwelling wildlife for decades.'
National Parks Association of NSW (NPA) has called for the protection of high-value ecosystems through 'national parks, nature reserves and marine sanctuaries' as part of the federal government's proposed action plan to protect habitat for threatened species.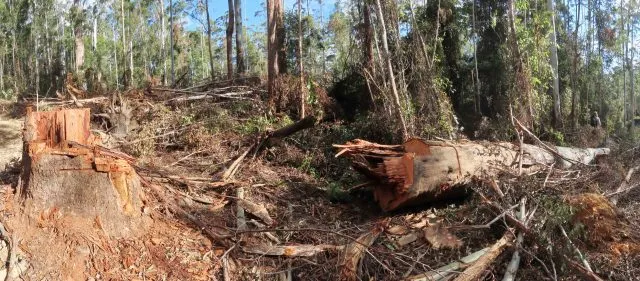 'It is critical the definition of the Southeast Coastal Ranges includes both the NSW Southern Forests and the mid-North Coast, capturing important ecological communities in need of enhanced protection,' said NPA CEO Garry Dunnett last week in response the federal government action plan proposal. 
In the meantime the NSW Forestry Corporation and the NSW Environmental Protection Authority (EPA) are continuing to fail to protect native forests and threatened species. The EPA has just dismissed damage to 13 marked hollow-bearing trees and seven koala browse trees in core koala habitat in compartment 44 of Wild Cattle Creek State Forest identified by NEFA as being excessive damage.
'The end of public native forest logging is inevitable and we are so close to finally seeing the transition out of this industrial scale destruction,' said Ms Higginson.
'Parliament could do this today if the government would stop blocking this important reform and develop a plan that delivers economic security for communities and protects our precious forests.'