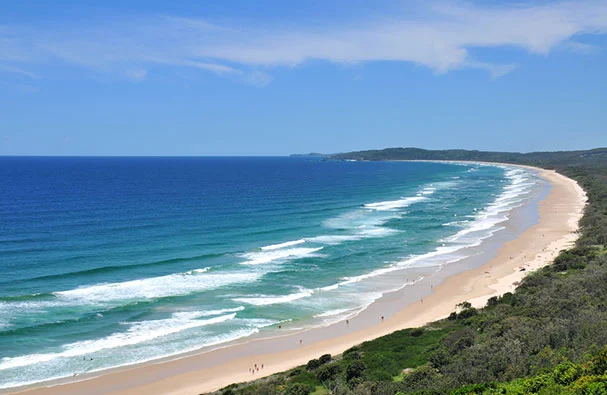 After two years of four-wheel drive [4WD] access restrictions to South Ballina's beach, the Ballina Shire Council is to debate a review of the system this Thursday.
Independent Councillor Rodney Bruem has moved for the council to work with 'relevant NSW government agencies' to consider the feasibility of introducing camera surveillance at the beach instead of relying on a locked gate both physically and by policy against recreational fishers.
Cameras are currently used at Seven Mile Beach at Lennox Head, also in the Ballina Shire, where recreational fishing is allowed.
But the more open policy led to accusations of over-use by 4WDs during pandemic restrictions and concerns for wildlife, human and domestic pet safety.
Seven Mile Beach left exposed to 4WD 'hoons'
Independent Cr Jeff Johnson failed to get majority council support to restrict 4WD access at Lennox Head last year, after speaking out repeatedly on the matter and describing interstate'hoons' as disrespecting Ballina's beaches.
Picturesque scenes of wildlife returning to the beach were reported when it was briefly closedowing to adverse weather forecasts earlier this year.
Three other current councillors were on the council and voted against Cr Johnson's last failed motion on the matter in the term ending late last year: independent Crs Sharon Cadwallder, Phillip Meehan and Stephen McCarthy.
But Cr Cadwallader, now the mayor, has spoken in the past of concerns about 4WDs on the beach at South Ballina.
'Multi-agency' protection at South Ballina, home to endangered Pied Oyster Catcher
Access to the beach at South Ballina has been restricted to commercial fishers, emergency services and indigenous community members for the past two years thanks to what Greens Member for Ballina Tamara Smith described as a 'multi-agency' decision at the time.
Ms Smith had spoken out about 4WD destruction on the beach prior to the state's administrative move, while concerns about equine use of the beach had also been expressed.
The restrictions have been hotly debated in council chambers before, mostly thanks to former Cr Keith Williams, as well as in the broader community in recent years.
The council has previously voted to protect the beach, along with Patchs Beach, from 4WDs.
The Echo has also previously received messages of support for protection of the South Ballina beach from the local First Nations community and advice on threats to the Pied Oyster Catcher population.
Bruem notes system's success but moves to change it
Cr Bruem's notice of motion in the agenda for this week's November ordinary Ballina Shire Council meeting showed he considered the restrictions 'successful' in terms of 'limiting excessive 4WD traffic, anti-social behaviour and environmental damage'.
Cr Bruem also noted residents were 'mostly satisfied with the change'.
But the independent councillor said there were concerns the regulations had 'unfairly impacted on recreational fishers, especially those who are senior or have mobility issues'.
A camera and permit system would provide for better management and protection, Cr Bruem said, since residents reportedly said the gate was 'often left unlocked and open to all'.
There were no restrictions or monitoring of traffic accessing the beach from Richmond Valley Shire, Cr Bruem said.
'Synching the system with Council's permit system at Seven Mile Beach could potentially allow for limited access by local recreational fishers who feel they've paid a heavy price for the behaviour of others, mostly residents from outside the Ballina Shire', Cr Bruem said in notes on his motion.
Independent cr cites support from Nationals minister
The independent concluded his notes by saying he had the support of NSW Minister for Better Regulation and Innovation Kevin Anderson.
Mr Anderson had written to the council saying Crown Lands was 'amenable to Ballina Shire operating a permit system', Cr Bruem said.
'Further consultation with state agencies should ascertain whether state funds may be obtained if required for establishment costs,' he said.
Council staff warn against 'cost-shifting' beach management
Staff notes on the motion said the 'consistent position of Council' on South Ballina Beach access had been to defer to state authority.
'The management of the beach and 4WD access, including any decisions on special access, is a matter for the State Government (specifically Crown Lands and NPWS), as Council is not the land manager for this area of the coastline,' staff notes read.
Staff said there were 'significant land management and resourcing implications associated with the beach', including the presence of 'threatened fauna species and Aboriginal cultural heritage values'.
Management of beach access arrangements was also 'more difficult and resource consuming' where a 'broader array of user groups' was granted access, staff said.
There was a need to be 'very cautious about the shifting of responsibilities and cost, in any reconsideration of the previous decisions of Council', staff said, as well as 'redirection of resources away' from their 'already substantial land management tasks'.
Staff recommended that if the council was inclined to support the notice of motion, any approach was 'framed in such a way that Council is inviting the State Government to revisit matters'.
The carefully worded request was to prevent 'committing Council resources to initiatives that are not currently within the endorsed Delivery Program and Operational Plan or within the land management jurisdiction of Council', staff notes said.
Students flock to South Ballina's new wildlife beach haven for outdoor learning
The organiser of a campaign to protect South Ballina's beach, Megan Ward, wrote to The Echo saying there was no place for 4WD's on beach ecosystems.
Ms Ward said the beach was 'entering a new era as a valuable teaching resource'.
Local high school students were being invited there 'for educational beach walks', Ms Ward said, with 'primary schools now learning about shorebird and coastal ecology'.
'This is something that our own mayor Sharon Cadwallader is fully aware of and supports,' Ms Ward said.
'Perhaps Ballina Council efforts could be looking at how to enhance this environmental resource for all the community, rather than monetising it and destroying it for a select few,' the campaigner said.
South Ballina beach was one of the last remaining beaches providing a sanctuary 'for many endangered shore birds and other marine life', Ms Ward wrote, 'including being the key habitat for the critically endangered Pied Oyster Catcher'.
Ms Ward said all key stakeholders had agreed to close the beach to vehicles 'following ongoing dangers to other beachgoers, including families and the elderly'.
The campaigner said she recognised the beach's closure had caused 'some recreational fishers to feel they may have been disadvantaged', but that 'many understand why this had to happen'.
'They were thankful they had experienced it yet understood the nature of human beings, where there will always be some who ruin it for others,' Ms Ward wrote.