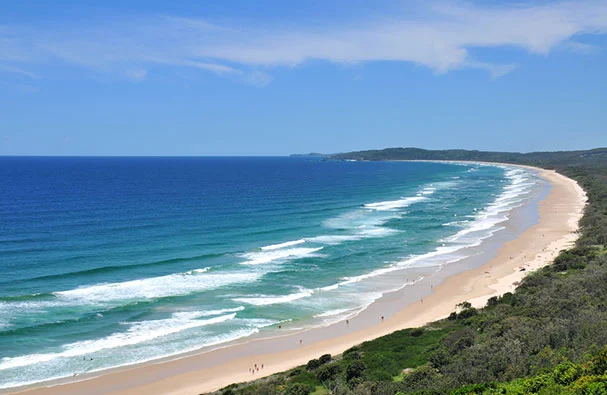 Moves towards use of a smart phone app to help control 4WD access to South Ballina's beach have failed in a recent Ballina Shire Council meeting.
Independent Councillor Rodney Bruem last month said he wanted the council to work with relevant NSW government agencies to review the access system currently in place and to 'consider the feasibility of using technological systems as a permit system'.
Camera surveillance is used at Seven Mile Beach in Lennox Head, where 4WDs are still allowed.
The more open system has been accused of leading to environmental destruction.
But it wasn't until after councillors had debated Cr Bruem's motion in November's ordinary meeting that he added a second part specifically calling for the introduction of a smart-phone permit monitoring app.
The last-minute change to the motion prompted official dissent from a majority of councillors, led by independent Cr Phillip Meehan and supported by some who later voted for the app idea anyway.
Mayor Sharon Cadwallader was absent from the meeting and Deputy Mayor Eoin Johnston used his casting powers as chair to vote against Cr Bruem's motion.
Greens cr says 4WD beach access review 'a Trojan horse'
Most councillors had already spoken passionately on the merits of reviewing restrictions at South Ballina's beach by the time Cr Bruem said he wanted the council to write to all NSW councils to support use of an app for beach permit control.
Cr Nigel Buchanan seconded the motion and approved its last-minute addition.
Deputy Mayor Eoin Johnston was chairing the meeting in the mayor's absence and officially approved Cr Bruem's update.
By then, Greens Cr Kiri Dicker was the only councillor to have refrained from debate, which meant she was the only one still able to speak and address the motion's newly added second part.
'Earlier in this meeting we were kind of debating whether we would have to forego a playground so we could afford a basketball court because we don't have any money,' Cr Dicker said.
The Greens councillor said considering extra costs for a permit review of South Ballina's beach and a new monitoring app therefore seemed absurd.
The proposal was 'clearly a Trojan horse for increasing 4WD access to the beach', she said.
Respect the beach, says Dicker
Cr Bruem had earlier said a ban on most 4WDs at South Ballina's beach unfairly punished locals for a lack of care shown towards the beach by interstate visitors and that people with mobility challenges deserved permission to be on the beach in 4WDs.
Speaking against his motion, Cr Dicker said she thought people wanting to drive on South Ballina Beach were reasonable and cared about the beach and the environment but that it was difficult to accept humans were 'part of the problem'.
'The issue of South Ballina Beach is exactly why we can't have nice things, really,' Cr Dicker said, 'because we ruin them when we have access to them'.
The Greens councillor said it was necessary to reevaluate human relationships with the environment.
'We need to stop seeing it as a place that we own, that exists for us to conquer and explore,' Cr Dicker said, 'we need to start seeing it as a place that owns us, quite frankly, and a place to revere and respect.'
Cr Meehan says council debate stymied
Cr Meehan raised a point of order, challenging the deputy mayor's decision to allow Cr Bruem's second part of the motion.
'It's like a stymied debate or a stymied position of Council,' Cr Meehan said, 'so I don't think it should have been allowed to be included'.
General Manager Paul Hickey said the motion had changed a lot from what had been debated and that the chair had a few options.
Cr Johnston could ask for the second part of the motion to be withdrawn, Mr Hickey said, or allow everyone to speak again via a motion of dissent.
The chair also had the power to simply move to a right of reply from Cr Bruem.
By then, staff had explained the idea of an app system to monitor 4WD access to South Ballina's beach hadn't yet been costed and that there wasn't an existing staff availability to carry out any associated tasks.
State government agencies had introduced tighter restrictions on the beach towards the end of the previous Ballina Shire Council term and it was ultimately still the responsibility of Crown Land, with staff making it clear in agenda notes they were reluctant to see the council commit to taking on costs.
Dissent, local government style
Upon hearing the GM's advice, Cr Meehan moved for dissent with the chair's ruling, with Greens Cr Simon Chate seconding.
Cr Meehan referred to the council's obligations for proper process.
Crs Dicker, Stephen McCarthy and Eva Ramsey also voted in dissent, with Crs Cadwallader and Jeff Johnson absent from the meeting.
But Cr McCarthy had previously spoken in support of an app and, in accordance with proper process, took the opportunity to vote for it by officially amending Cr Bruem's motion to read exactly as it had read prior to the dissent motion: in two parts.
Cr Eva Ramsey also voted in dissent before supporting the amendment, with Cr Bruem seconding and Cr Buchanan repeating support.
The two Greens councillors voted against, along with Deputy Mayor Eoin Johnston and Cr Meehan.
Votes in the chamber were evenly divided 4:4, prompting the chair to have to use his casting vote.
Cr Johnston cast against the amendment and councillors were then faced with the same motion they'd first debated, without specific reference to an app.
Councillors voted the same way they voted on the amendment, again requiring the deputy mayor to use his casting vote, which he used against.
The voting process took around an hour but ultimately ended with the council voting for the status quo, which is for the state government to continue its management of 4WD access on South Ballina's Beach.
The council is expected to debate the system used at Seven Mile Beach in an upcoming meeting.