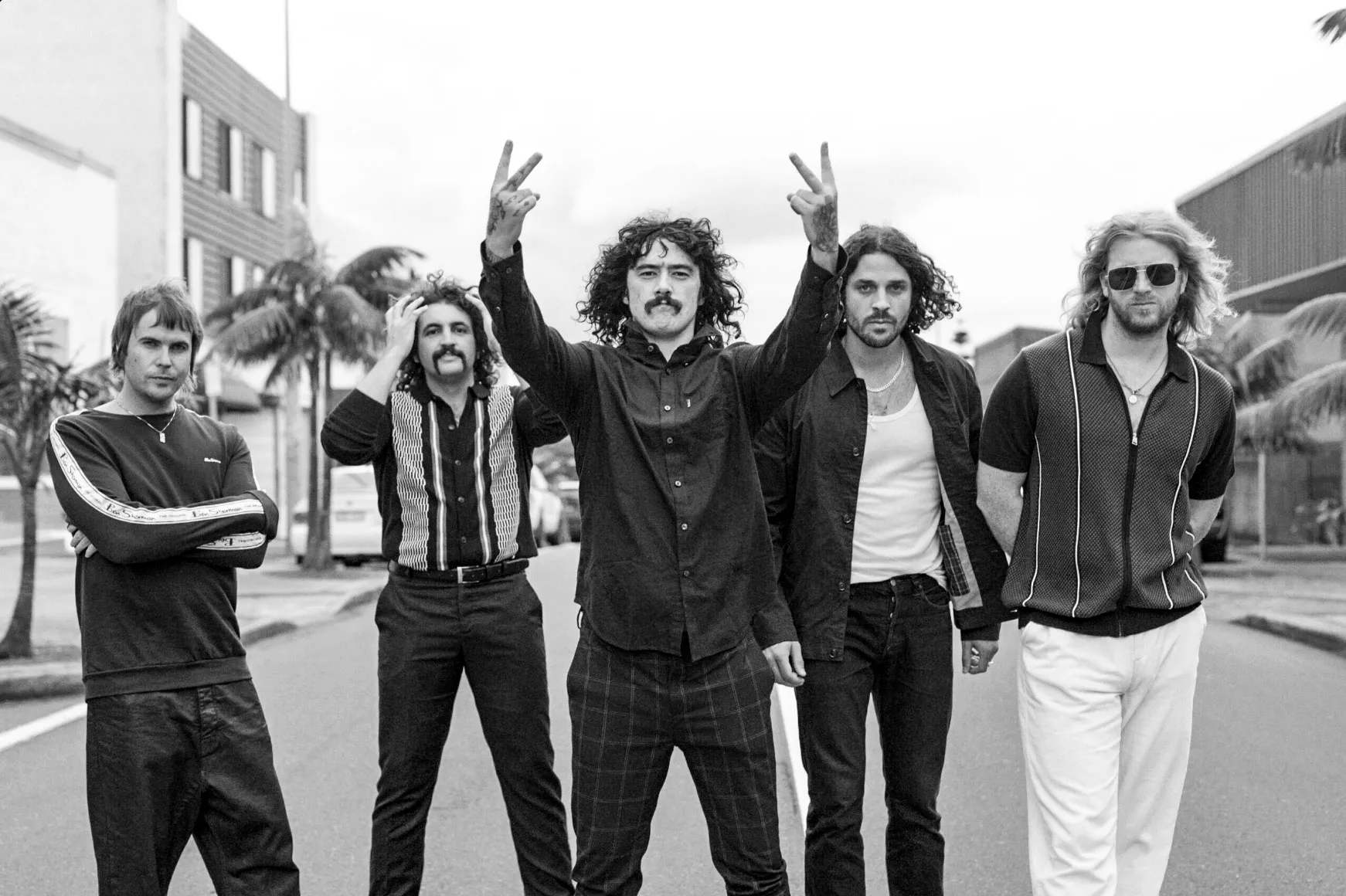 As we approached this year's Bluesfest, controversy arose as two acts pulled out of the event after discovering Sticky Fingers was also playing. Sticky Fingers is no longer on the bill.
King Gizzard and the Lizard Wizard announced on social media 10 days ago that they 'stand against misogyny, racism, transphobia and violence'. On Instagram, they said they were 'surprised and saddened to see Bluesfest commit to presenting content that is in complete opposition to these values.
'Given this decision by the festival, we have decided to cancel our appearance at Bluesfest.'
Sticky Fingers
The act at the core of the issue is Sticky Fingers whose frontman Dylan Frost was accused in 2016 by Thelma Plum of being abusive, and who was alleged to have been part of an altercation in the crowd at First Nations punk act Disposessed show also in 2016.
According to a long 2018 article in The Australian, cited by Bluesfest, 'the band's own video of the event shows Frost doing nothing more than telling Dispossessed he has "the greatest respect" for them. Frost, 'a Maori who has marched alongside indigenous activists at political rallies – avows that he abhors racism', according to that Weekend Australian Magazine article.
In December of that year Sticky Fingers announced an indefinite hiatus – a statement from the band said: 'For some time we've been dealing with some internal issues in the band. They've heightened to the point where it's not fair to anyone involved for us not to do something. We have looked for help to try to get through this and will continue to do so.'
In April 2018, Sticky Fingers re-emerged to continue their career with a campaign to address their issues, yet in 2021 Sticky Fingers were back in the news when member Paddy Cornwall pleaded guilty to the charge of affray after a violent altercation between himself and bandmate Dylan Frost. It has been reported that Cornwall wrestled Frost to the ground and punched him 26 times in the head.
King Gizzard and the Lizard Wizard exits
After Sticky Fingers were announced as part of the 2023 line-up the King Gizzard and the Lizard Wizard made their announcement.
At that time Bluesfest, Director Peter Noble responded saying that Bluesfest has been the promoter of music festivals that allowed diverse artists to exercise their freedom of artistic expression and have afforded the Australian public access to their works. 'In the course of doing so, Bluesfest has been proud to give prominence to indigenous artists and to promote diversity in the music industry.
'Recently, a band decided to cancel a forthcoming appearance at Bluesfest because Sticky Fingers, particularly its lead singer (who are booked to play at Bluesfest), was involved in an incident with another artist offstage a long time ago.'
Noble continued… 'I believe an attempt to victimise this man and his band in the circumstances is cruel and unforgiving. This cruelty and lack of compassion are foreign to my values, as is the attempt to suppress the band's artistic expression. I was and remain proud to give the band a chance at rehabilitation.'
'It has been suggested that because of the listing of Sticky Fingers, Bluesfest and I endorsed the lead singer's ancient troubled behaviour. That suggestion is deplorable, untrue, and actionable as being defamatory.'
Sampa The Great pulls out of Bluesfest
Soon after Zambian singer, rapper and songwriter, Sampa The Great announced she would also be pulling out of the festival.
Yesterday Bluesfest said that they are sad to announce that Sticky Fingers is to step off the Bluesfest 2023 line-up.
'Bluesfest cannot, sadly, continue to support Sticky Fingers by having them play our 2023 edition, and we apologise to those artists, sponsors and any others we involved in this matter through our mistaken belief that forgiveness and redemption are the rock on which our society is built.
'The narrative that they continue to deserve to be canceled, as well as anyone who publicly supports them, is difficult to accept, wherein a portion of society and media, passes eternal judgment toward those, in this case, a diagnosed mentally ill person whom we feel doesn't deserve the continued public scrutiny he's being given.
'We thank everyone who has contacted us and advised their support in this matter, especially those suffering from a mental illness who feel they cannot have their illness supported in a manner whereby they feel included in society.
Good deeds
'Sticky Fingers has done so many good deeds that have never been reported, including building and funding recording studios and music education programs in disadvantaged regional communities.
'We will now move on, put this behind us and continue to plan and present our best-ever edition of Bluesfest… proudly. '