It was hard to tell how many people fronted up to the Friends and Families of Feros Residents (FFFR) rally at Marvel Hall in Byron Bay yesterday, during a torrential downpour, because the room was bursting at the seams and spilling out of every doorway onto the street, with residents and their supporters protesting the impending closure of the aged care facility.
Organised and MC'd by Mandy Nolan and daughter of a resident, Maree Eddings, those gathered in the sweltering heat to make sure their numbers were counted.
Delta Kay gave a welcome and spoke of the deep respect Bundjalung people have for their elders. 'I'm really sad. Like most of you locals here, we all ran up to old George Feros with his wild grey hair with that beautiful bell and box – back then we'd give two-cent pieces and one-cent pieces…
'I'm here to ensure that our residents get home, a home so they're safe, secure, and they're happy. Is that right?
Mandy Nolan gave a brief overview of why they had called the rally. 'Id like to thank you all for coming because actually turning up today is what it's about. It's about turning up and you have turned up on day full of rain and difficulty and adversity. You have turned up to defend what I really believe is the heart of Byron Bay, it's the heart of this community, which tells a story of who we are as people and it's how we care for our own people and our foundation with Feros Care – what George Feros established here was a powerful story and legacy of putting old people first. 
A legacy is being destroyed
'Right now, what's happening is that legacy is being destroyed.
'I have to ask also, how are the residents coping during the ordeal? And what about the Feros claims that they're "sorry to have to do this"? But they are victims here, they have no choice… 
Tamara Smith said she felt very privileged to be in the room with the residents. 'I think we need to reclaim George Feros's name back today, because this is definitely not George Feros's shame. This is the shame of the corporation that has come about because, as Delta reminded me, anyone that has lived as George did, for countless years walking the streets of Byron, in the heat, in the rain, collecting coins to see this vision realised – and all of those people in our community that contributed to this, what we have here is that dream for the residents of Feros today. That is their home. That was George Feros's dream. Anyone who knew George and his legacy, know he would be horrified. 
A national corporation on Crown land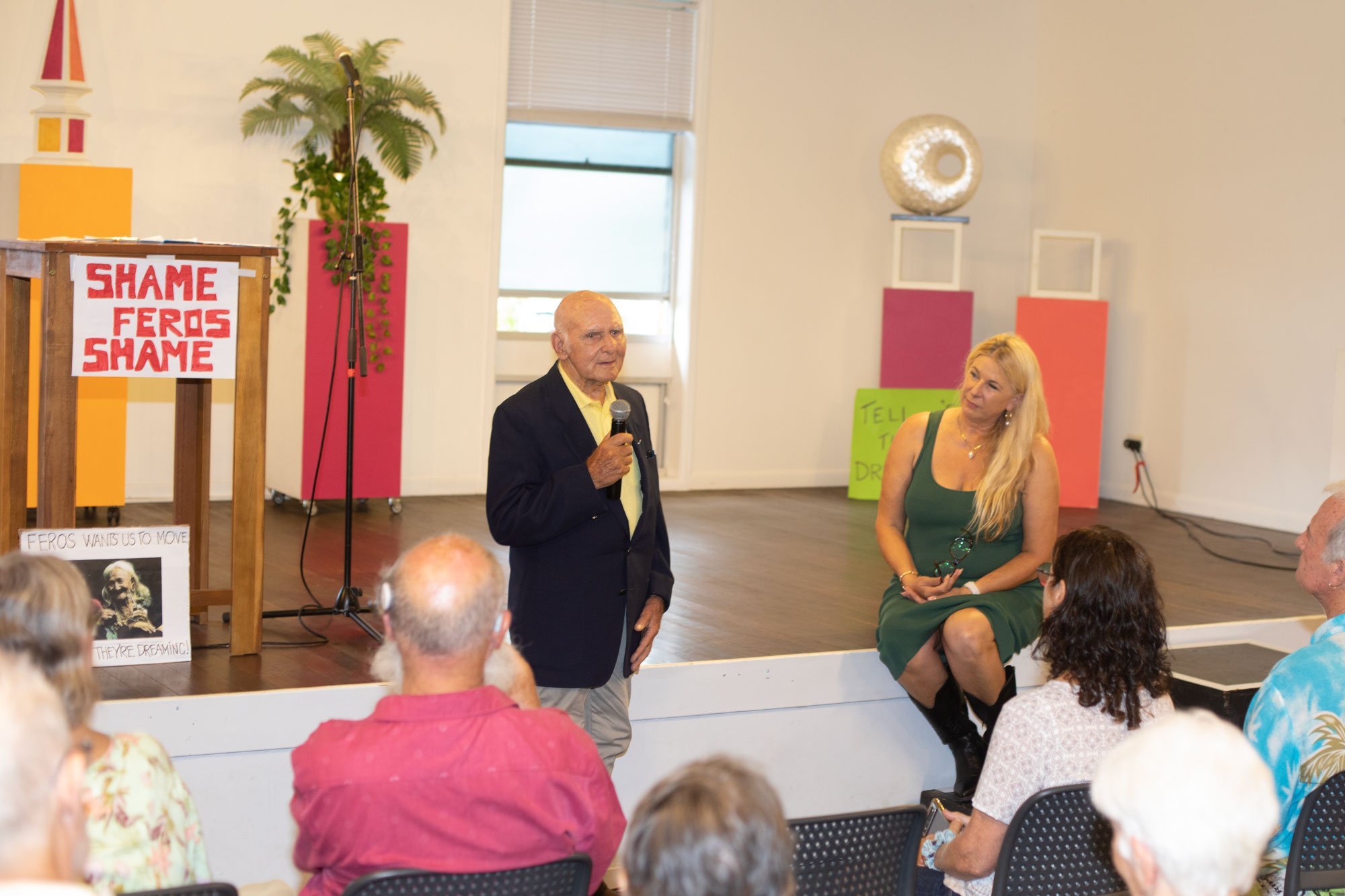 'This is a national corporation and this is Crown land. It's very upsetting, I feel very moved, sitting and talking to residents in their 90s that have been evicted in this manner. 
'So I want to say first and foremost, this is a community asset. This is Crown land, this is our land, this is public land. The infrastructure came from money from our community. So on what planet do our residents in that vision, just get told – sorry, you're booted out? It's just bonkers. It's completely bonkers.'
Feros resident ninety-five-year-old Kate Smorty thanked everyone for turning up. 'It's very reassuring and heartening.
'With not much notice we were told we needed to come to and urgent meeting. At the meeting we were told we had to go. And since then, how do I feel? I can't believe that the board of Feros Care are telling 95-year-old people, they have to go!
'For me, I'm 95 and I've been told "this is your home" and you sign a contract – You believe you can stay for the rest of your life. This is your home to live in, so we're all comfortable and happy to stay there. And then suddenly, we have to go!  You can hardly believe it. 
Not over the shock
'So I'm in shock and I haven't got over the shock yet.'

Byron Shire Mayor Michael Lyon said he had been standing outside listening to the speeches for 20 or 30 minutes and was feeling quite uncertain. 'Firstly, I am staying here because I do want to show support, as Mayor of your town, for you as residents and as families of residents, you're in a real fight here and I support for your feelings, and for the position that you've been facing. 
'I feel that and I care about that, and I care about your fight and what you want to do. 
'In terms of a council point of view – we don't have any legal role here or any decision making role, as far as I can tell.
'But there is certainly a role, and for me that role is to ensure that we get proper communication and proper consultation and proper understanding, before a decision like this, which is going to affect so many people and be such a heart rending thing gets started. 
'I think on that level, I want to play a role to to help with that dialogue between the Feros Board, and the residents and families here, because you are stakeholders in this. And it's obvious, it's clear. And you deserve the respect as a stakeholder, particularly, you know, the stakeholder ultimately, the most important stakeholder in terms of the reason for this whole existence of this facility. 
'I want to play that role to really get this information clear, because I'm not clear about it. And I've had a couple of conversations with the CEO and she's represented her thoughts. And I've had a couple of conversations with Mandy and others in relation to what's going on, and I'm not clear yet on the situation.
We're in a bit of a mess
'I want to play a role if you like, and if you'll have me, as a detective, and just as an information conduit, because I think we were going to need to communicate our way – we're in a bit of a mess and I think we need to communicate our way out of that. And I don't know what that looks like, at the end of the day, for the facility.
'In the meantime I do agree that we need to just have a pause, so that we can all actually get up to speed on what is being faced here. 
'So ultimately, I guess what I'm here to say is that I support you in the in the fight, but for me, it's a fight for information and communication and consultation. And let's have that first before we make any decision. And so that's what I'll be trying to do. I'll be trying to get transparency around everything so that everyone in this room is in the same position and understanding about what the facts are, and then we can make our judgments. 
'But right now I'm hearing a lot of misinformation. I'm hearing counterclaims. I guess I don't have those facts. And I can hear that that is a murmur of discontent [in the room] and maybe people feel like they already have that information. I don't have that information. And so I'm going to find out what I can find out. 
'People should never be put in this situation where we have to have this rally today. And from that point of view, I will say that the board has failed in their role to communicate and consult. So that needs to be rectified first.'
The past and now
Other speakers included Donald Maughan who spoke about George Feros and the history of the facility and filmmaker and resident Alan Harkness who having once worked alongside Hollywood screen icons Ava Gardner and Fred Astaire, made a documentary about life at Feros Village Byron Bay, a glowing memorial of an insider's perspective of the 'bold, beautiful and vibrant community' of Feros Village.
Ex-Feros Care board member Nick Towers spoke about his time serving the community on a very different board and Byron Councillor Sarah Ndiaye who said that Feros hadn't receieved approval for anything so it didn't make sense to start evicting residents. 'They've not even started the process of making sure they can do what they're saying they want to do on that land – to put people through all this trauma. It's just it doesn't make sense. It doesn't make any sense to me. 
'I really support the idea of a moratorium or a pause so that everyone can get an understanding of what's going on here. I've welcomed an intergenerational facility, just not here.' 
The rally ended with songs from Áine Tyrell and other members of the community.
These gathered were invited to join the Friends and Families of Feros Residents (FFFR) Facebook page to keep up with what was happening.