Anger and frustration at not being able to go home saw a group of residents reclaim their properties yesterday on Cabbage Tree Island.
The mob were prompted to defy Ballina Shire Council and Jali Aboriginal Land Council to retake Cabbage Tree Island, from where they were evacuated during the 2022 flood event and have since been locked out.
The island has been occupied by the descendants of the Numbahing clan for over a 120 years and is home to over 80 people.
The Traditional Owners say that only two houses sustained flood water damage inside, noting that all the foundations (which are made of reinforced concrete and brick) are in good condition. They say this has been confirmed by the Australia Army engineers.
The residents have been housed in pods in Wardell and Ballina and just want to come home.
Traditional Owner and Cabbage Tree Island resident Aunty Susan Anderson, who was brought up on the island, says her grandfather owned the land for many years. 'My grandfather wanted this and he bought it and he cleaned it with the other families and my other grandfather and great grandfather.'
Aunty Susan says there was very little damage done to the houses on the island. 'They tell us "we are we going to do a couple more assessments" then the next week, "we'll do a couple more assessments". They do assessments all the time and they're not letting the community from Cabbage Tree know what's going on!'
Aunty Susan says residents are frustrated. 'They are feeling like they just want to move back anyway. They are determined.'
One of the residents who went home yesterday is Mark Marlow. Mr Marlow says that after the water subsided the army came in. 'They ripped up the carpet and ripped kitchens out all around the road in people's houses so they can't move back in.'
Uncle Jacko Anderson said that after the flood he walked through some of the houses with an Army engineer. 'He said there's nothing wrong with it – only two houses were not good.'
Wendell Cook, who lives on the island with his father, is very frustrated with the Aboriginal Land Council and their action locking residents out. He says he really feels for the elders of the community. 'You know, they cry a lot. Me being a young fella, it's a mission for me to get them back home – you know?
'Our elders are jurisdiction around here. Not a corporation or anything like that – or land councils, shire councils or the government.
Cook said he feels it's very unfair that residents cannot move home. 'We've got no say. They are pushing us around like we're puppets.
'My grandmother lived here and my grandmother's father and my grandmother's father's father. My family's been here since the beginning.'
Aunty Faye Cook said she moved to the island in 1965. 'I had all my kids here. They went to the school here.'
A tearful Aunty Faye said that pod life is ok but not ideal, and that the Jali Aboriginal Land Council is not doing its job properly.
'I'd rather come back to my home and my own culture. How can they (Jali) do that to their own people? 
'They're not telling us anything that's going on.'
When The Echo called Jali Aboriginal Land Council (ALC) the message said that no messages could be taken, as the mailbox was full. After we sent a message via the ALC website The Echo received an email from the New South Wales Department of Premier and Cabinet's office.
'The widespread and devastating floods that occurred in NSW during February and March 2022 were unprecedented,' said a government spokesperson. 'The scale of damage, destruction and displacement in the impacted regions was unlike any other previous emergency event in NSW. 
'The Cabbage Tree Island community lost 26 homes and six community buildings during the floods, impacting approximately 220 residents.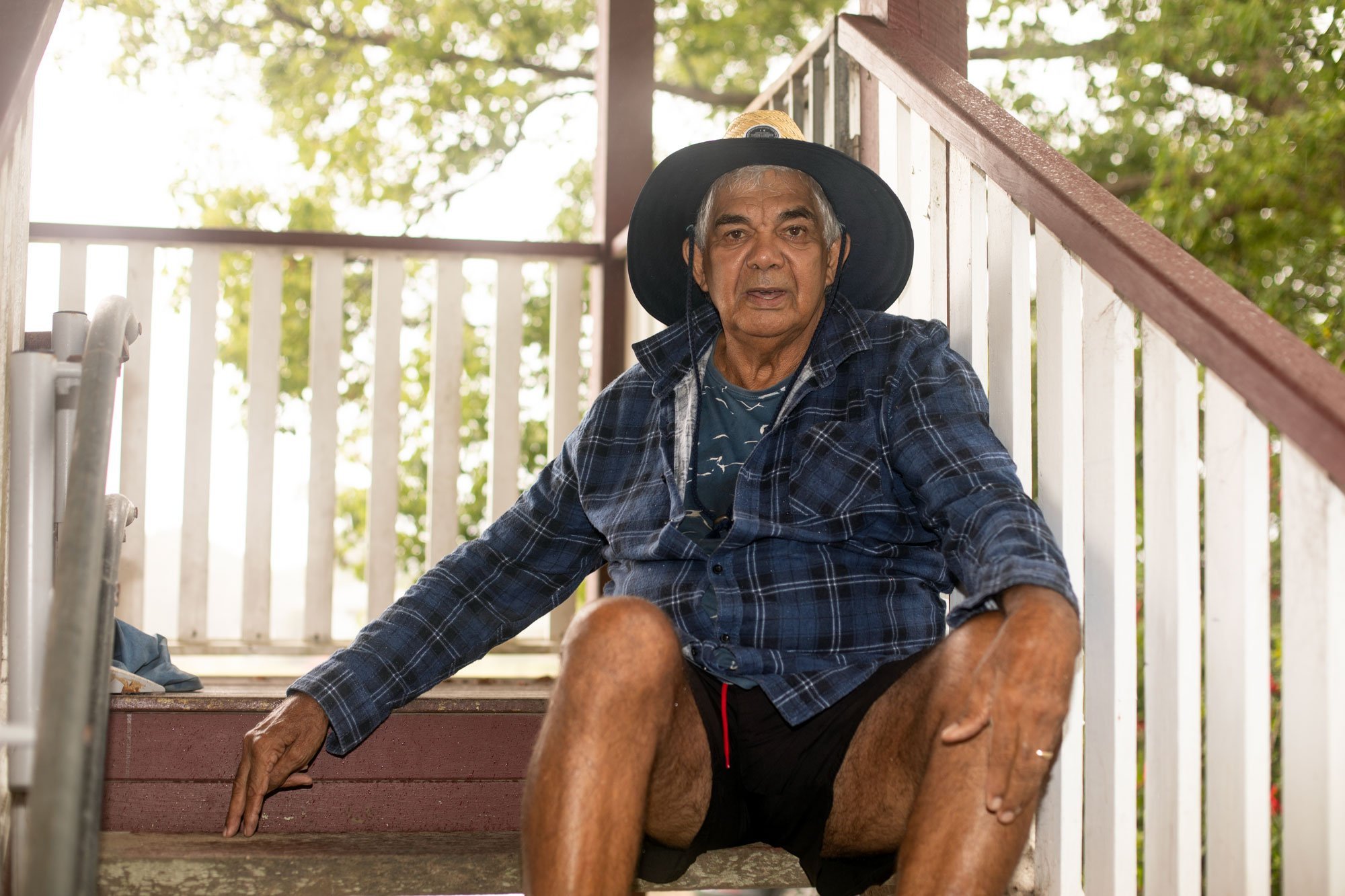 'The NSW Government remains committed to supporting the Cabbage Tree Island recovery and delivering community-led solutions that make sense for the circumstances and needs of individuals and families. The NSW Government is working closely with local stakeholders including Jali Local Aboriginal Land Council.'
The email went on to say that Cabbage Tree Island residents have been offered housing in the Wardell temporary pod site to address medium-term needs, while the long-term strategy is developed in consultation with community.
'In addition to the broad range of recovery initiatives, grants and programs that are servicing the Cabbage Tree Island community, the Australian and NSW Governments have also committed $70 million for Aboriginal housing solutions and $50 million for the repair and reconstruction of Aboriginal community infrastructure.'
The email said that Cabbage Tree Island has not been occupied since the floods due to safety concerns and that any work which commences on the island is subject to community consultation and decision making.
Wendell Cook said that ever since the floods the government has been pushing his community around. 'During the floods, our community all got together and just helped each other. There was no government, or government organisations around. But when it comes to fixing the situation, they just come in and take over and think they can just push us around.
'If people want to know what's going on at the island, speak to the right people; people like me who are actually the grassroots people that want to go back home. Don't worry about all these organisations, because they're getting all the money – and where is it? Where is it?' 
Cook and his father are currently housed in the Wardell pod village.
'It's like a concentration camp, a bloody quarantine camp. Look at the government in Northern Territory, in Western Australia, the same government is shutting down all Aboriginal communities. The government doesn't want Aboriginal people living in our own communities. Because we're powerful together. Strong.'