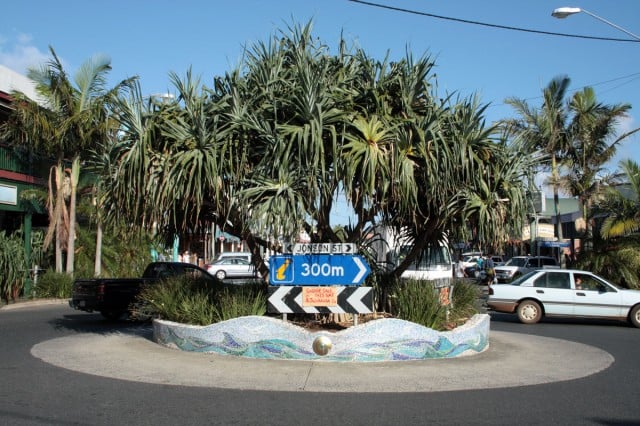 Simon Haslam
Have you wondered why cars have the best view of the beach in the Byron CBD? Or whether misguided development incentives inadvertently cause the high commercial rents, forcing out small business and attracting franchises that export profits out of the area?
If so, you are not alone.
Last November, Byron Council voted to allocate $250,000 to develop a town centre and foreshore strategy to guide decision-making.
The aim is to transform what it termed Byron's 'run-down, incoherent' town centre into a 'more liveable town for its residents' that would also 'hold on to its reputation as an attractive and vibrant destination' for visitors.
Noting that 'lack of adequate planning has resulted in the night-time economy being dominated by licensed entertainment venues,' and resultant 'antisocial behaviour', Council's aim is to produce a strategy that 'promotes the town's natural environment, relaxed atmosphere, spiritual and cultural diversity, health and well-being experiences', leading to extended 'length of stay' and hence visitor 'dispersal' to other towns in the Shire.
Identifiable 'town heart'
An identifiable town heart, which may include a pedestrian mall, revitalised back lanes and enhancement of Railway Park are changes being considered, along with cultural and youth hubs, a focal point between Main Beach and Clarkes, more pedestrian and bicycle access, public art, small-scale commercial development of the foreshore and an integrated transport hub that replaces the current bus stop.
One external factor affecting planning for a liveable town centre is the Ewingsdale Road congestion, which is now becoming the norm.
At Byron United's (chamber of commerce) AGM last November, Council general manager Ken Gainger expressed confidence that any Byron town centre strategy would attract the significant external funding required for the associated physical works, augmenting Council contributions from s94 funds.
And in a newsletter to members last week, Byron United president Michael O'Grady encouraged 'business and all locals' to be involved in the masterplan.
A forum some time in February is planned as part of the extensive business and community consultation process on the strategy.