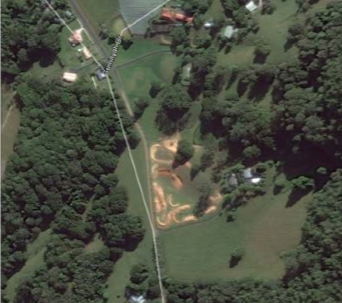 Luis Feliu
Tweed Shire Council is set to take legal action against a Stokers Siding landowner who built a massive, unauthorised motocross track on his rural property which prompted complaints from neighbours.
Extensive earthmoving was needed to build the dirt track at No. 137 Adcocks Road, Stokers Siding (pictured right) which council now wants restored to its natural state.
Council officers inspected the property in April following several complaints and were told by the landowner's son that he had built the track for his own use and that he'd been advised by 'a friend in the earthmoving industry' that he didn't require council approval because he wasn't importing soil to the site.
The landowner, staff say, also did not have approval for a change of use of the property for recreational activities and a letter was sent to him about the unlawful earthworks and land use.
The landowner's son wrote back telling council 'As you are aware the subject land is zoned RU2 Rural landscape
zone. The land is used for agricultural purposes being cattle rearing, dwelling house, infrastructure and internal access roads. I have still not had time to seek legal advice but this should answer your questions.'
Staff were not satisfied with the response and wrote back to tell him to reinstate the site to its original form prior to the earthworks, asking him to confirm in writing that he would do so and to set out a time frame for the rehabilitation works.
The request was ignored, so staff called the owner's son on 11 September, only to be told 'that he had no intention of lodging an application for the unlawful earthworks works and land use or to reinstate the site to its natural form'.
Staff say ongoing calls have been received from neighbouring residents in the area over concerns related to the works undertaken to date, the potential expansion in the scale and size of the activity, and the owner's non compliance with council's requirements.
An inspection of the site on 10 November revealed the site has not been reinstated to its natural form, so staff have now recommended legal action be taken against the landowner to enforce compliance.
Councillors will debate the issue at their meeting on Thursday this week.