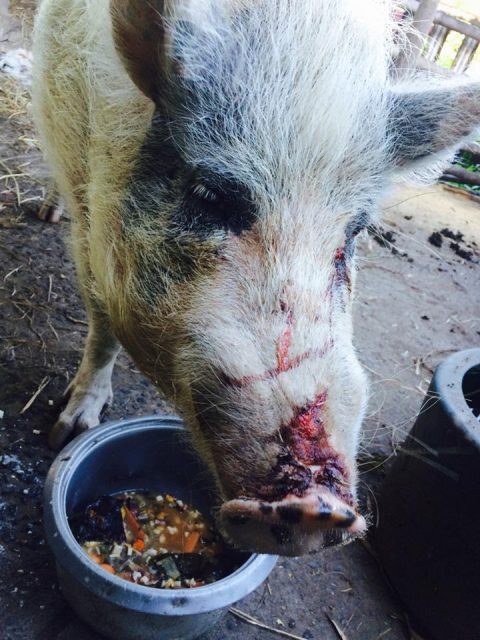 Evidence from 10 witnesses will form part of a hearing against two men charged with torturing and beating a pig and causing the death of 10 chickens at a Nimbin permaculture farm.
Reece Parke appeared via video-link from Junee prison at Lismore Local Court on Monday, while his co-accused, Bradley Presbury, also appeared via video-link from the Metropolitan Remand and Reception Centre in Sydney.
Both men were represented by solicitor Tracey Randall, who acted as an agent for Tom Ivey on Mr Presbury's behalf.
Parke, 22, and Presbury, 20, both initially faced two counts of torturing, beating and causing the death of an animal and one count of bestiality.
It is alleged the pair went to the Djanbung Gardens permaculture farm, on Cecil St, on the night of December 13, and inflicted the brutality and torture on 10 heritage chickens and 12 year-old Polly the pig.
The destruction from their violent rampage was found at 7.30am the following morning by workers who noticed the chickens with broken necks and other broken bones.
Then they found Polly's snout had allegedly been slashed and she was suffering internal injuries.
The men were arrested at Teven on December 22 and taken to Lismore police station where they were charged and refused bail.
At their last appearance in court on April 4, the charge of bestiality was withdrawn by the Director of Public Prosecutions.
Evidence as to why the charge was withdrawn is anticipated to be mentioned in the hearing as both men have pleaded not guilty to all charges.
On Monday, Ms Randall tendered a listing advice for a Local Court summary hearing on behalf of both men.
The listing advice contained the names of 10 witnesses, three of whom where police officers, who may be required to give evidence.
'It is a day, estimate,' Ms Randall said.
'These matters are all now police matters,' Magistrate David Heilpern asked?
'Yes, for summary hearing,' Ms Randall replied.
As the detective in charge of the investigation is on leave during July, Mr Heilpern, Ms Randall and prosecutor Mr Eppelston deliberated over a suitable hearing date.
After holding over the matter for 20 minutes, Mr Heilpern adjourned the men's matters for hearing until August 30.
Ms Randall also told the court Mr Parke wanted apply for bail this month.
'Could your honour list his matter for a bail review on May 15,' she said.
Both men will appear in person at court for the summary hearing.