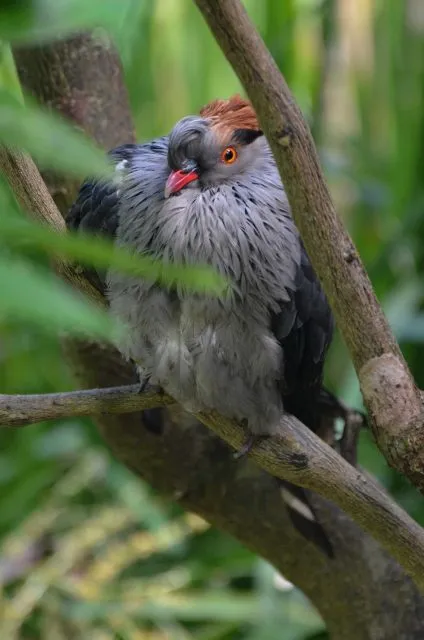 Story & image Mary Gardner
'Oh the bird's still alive, but it's hunched up and so very quiet' she said. We peered through the branches amazed to see this colourful bird, resting one wing awkwardly. By the next day it would be dead. Since then, I pieced together something about its life.
This Top Knot Pigeon (Lopholaimus antarcticus) was a member of the family Columbidae (doves and pigeons). Columbidae, living throughout Australia, are either seed eaters or fruit-eaters. Nine species are rainforest birds. Of these, three are larger birds: the Wompoo (Ptilinopus magnificus), White Headed Pigeon (Columba leucomela), and this Top Knot Pigeon. Able to eat larger fruits but not digest the seeds, these birds spread rainforest trees across the landscape.
Good tucker
Pigeons were important food for Bundjalung people and settlers also found them good eating. Top Knots were a particular favourite. Nicknamed Flocking Pigeons, they roamed in large gregarious groups. In 1848, researchers John and Elizabeth Gould reported the average flock numbered five thousand birds.
For decades Top Knots were an easy shot: no bag limit either! By the 1950s, a flock consisted of about a dozen birds. In 2015, a very rare sight was a group of about a hundred individuals, seen north of Lismore.
Not only was the sport hunting relentless but so was deforestation. A strange country emerged with new species of trees. Desperate and adaptable, Top Knots ate many of the odd fruits. They survived and in turn, they spread these new seeds. Some grew up quickly, creating a lifeline for them.
This was twice bad for the settler society. Trees of Camphor Laurel (Cinnamomum camphora) now grew up everywhere, closing out futures for natural regeneration of the forest. The camphor fruits made the flesh of Top Knots taste bitter, closing out this type of game hunting. Such losses were more grief for Indigeneous people.
Funny that Top Knots are classified by the IUCN as a 'species of least concern'. By 1990, their population in the northern rivers had increased from the 1970s but large flocks are not reappearing.
One reason is the seasonal migration pattern of Top Knots. They summer in higher elevations, where the rainforests are part of a system of protected parks. But in the cooler months, they always travel to the lowlands, where they are forced to rely on Camphor Laurel as well as Lantana (Lantana camara). Many of these are being poisoned and removed. Some botanists caution that doing this before rainforest replacement trees are mature enough to fruit will finally make the pigeons extinct.
In the United States, settler deforestation and hunting took down the tremendous flocks of Passenger Pigeons (Ectopistes migratorius). The birds were critical for the continuity of those forests. Researchers for biotechnological genetic rescue such as Ben Novak propose inserting the DNA from preserved passenger pigeons into the eggs of their living cousins the Band-Tailed Pigeons (Patagioenas fasciata).
Resurrection biologists
Meanwhile, in Mauritius, another pigeon relative, the Dodo (Raphus cucullatus) might have helped disperse the tough seeds of the Tambalacoque Tree (Sideroxylon grandiflorum). In Aotearoa New Zealand, forest Moas (Order Dinornithiformes) may have played similar roles. Resurrection biologists are being funded even now to transfer extinct DNA into the eggs of Nicobar Pigeons (Caloenas nicobarica) and Emus (Dromaius novaehollandiae).
Plant pigeon food
Back in the northern rivers, we need only to resurrect the habitat. We can simply plant pigeon-food trees, shrubs and vines in urban forests as well as rural reforestation.
Our plantings of Bottle Brushes (Callistemon species) and other nectar-bearing plants successfully support the likes of parrots and honey-eaters. How about planting pigeon food in corridors and patches from north to south as well as from the highlands to low, through our yards and parks and along our streets, rail lines and waterways?
Deforestation winner
In 2016, the Society for Conservation Biology Oceania identified eastern Australia as one of only eleven regions worldwide where deforestation continues unabated. It's also the only region in a 'developed' country. In New South Wales alone over 1998–2005, such clearing killed an estimated 100 million native birds, reptiles and mammals. The killing continues.
Exactly how this one bird died we will never know. But what if this eulogy spares the life of a palm or fig tree? What if it prompts a planner or landscaper or even you, dear reader, to plant some pigeon-food plants? Perhaps this one small creature's untimely death will not have been in vain.