David Lowe
With logging about to start in two badly burned forests on the NSW south coast, and burned logs already rolling in trucks through the north coast, a group of eminent international forest and climate experts has written an open letter to the parliament of Australia calling for an urgent end to native forest logging.
'Sadness at the losses from the fires sears our souls,' the letter begins. 'Worse might lie in wait.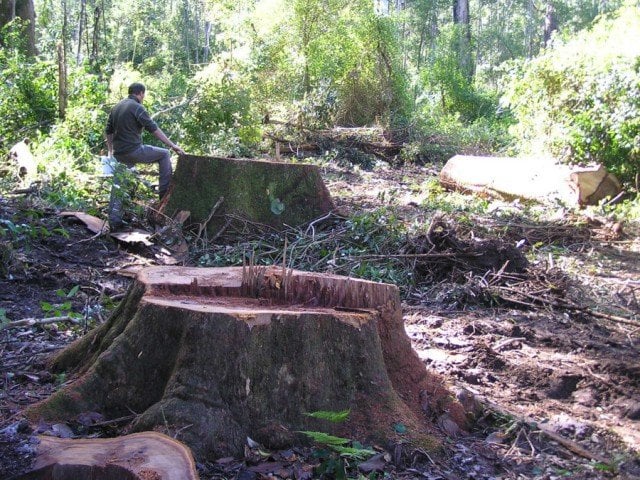 'We write to ask you to respond to the climate, fire, drought and biodiversity loss crises with an immediate nationwide cessation of all native forest logging.
'We need our forestry workers to be immediately redeployed to fire services support and national park management to help protect the forests, and us, from fire.
'Large, old-growth trees are important for carbon capture and storage and they keep on capturing carbon for their entire life. Logging increases fire hazard in the short term. Many native species rely on unlogged forests.'
Published by the Australia Institute, the 19 signatories to the open letter include Professor Tim Flannery (Melbourne Sustainable Society Institute, University of Melbourne), and senior academics from Canada, New Zealand, the USA, Hong Kong and Australia.
Trees are worth more standing
One of the signatories, Dr Jennifer Sanger, a forest ecologist at the University of Tasmania, says, 'In the current climate crisis, our trees are worth more standing.
'This fire season has decimated a lot of forests and what is left must be prioritised for animal habitat and carbon stores.
'To cut down even more native forest does not make any sense.'
The letter explains that timber needs can be met entirely from existing plantations (also a bigger forestry employer), with no pressing need to log native forests.
The signatories also remind the government that native forest logging is heavily subsidised by the taxpayer.
Leanne Minshull from the Australia Institute of Tasmania goes further. 'Rather than spending public money to benefit private businesses and worsen fire conditions,' she says, 'we should be ceasing commercial native forest logging altogether and working towards fire mitigation.'
Minshull continues: 'Logging essentially turns forests into kindling and dries out the understorey, while Australian old-growth forests, especially our wet eucalypt forests, burn less intensely and should be protected.'
These arguments are supported by bushfire behaviour around the Eden woodchip mill, which partially burned down in recent catastrophic bushfires on the far south coast despite decades of extensive logging in the surrounding area.
Other research also supports opposition to the 'more logging, less fires' theory of Australian forest management put forward by conservative politicians. 
Victorian research conducted after the 2009 Black Saturday fires showed that recently-logged Mountain Ash forests, especially those between the ages of seven and 36 years old, burned at a much higher intensity than older forests.
More supporting research, and the complete text of the letter is available from the Australia Institute website at www.tai.org.au.
The open letter from the scientists concludes: 'This is above politics – please show the leadership Australia desperately needs.'