In the second part of this two part series, Member for Ballina Tamara Smith discusses more of the issues that are important to her, and the Ballina community.
Echonetdaily asked how she feels about her decision to enter state politics, six years on. 'It is a total privilege,' said Ms Smith.
'It's a service position. I struggled a bit with that at the beginning, because we didn't think we would win. So, we were doing it like all Greens candidates; mostly you run with altruistic aims, to lift the profile of the issues.
'I think what's happened for me, and what's been good, is I wasn't a career politician. I'm a somewhat reluctant politician, and so keeping those issues to the fore is still what gets me up in the morning.
'It's that service that's important, and the fact that we just haven't got time to put up with the nonsense.'
Inspirational community
Originally a teacher, Tamara Smith also qualified as a solicitor, although she didn't enter practice. She is an Adjunct Fellow in the School of Law and Justice at SCU.
She sees being an MP as both a teaching and learning role.
For Ms Smith, it's primarily about helping people on a daily basis, and working with the community to stop things that are harming the environment.
'I love working with so many amazing people who are actually delivering better outcomes, lowering emissions, and all of the incredible regenerative agriculture stuff, and the artists. That's the inspiration,' she said.
'It feels to me like everyone wants a better life for us all. What's harder for me is maybe the very vested interests of big money in the area. But that's ok, because we don't meet the developers. We have a blanket rule. I do not meet with a developer. So the first question we ask someone is, "Have you got an active DA?"
'I'm also in a party that doesn't take donations from corporations, so I feel very supported in that,' she said.
'It allows me to focus on the things that matter, to the Greens anyway. But at the same time, we are here in an electorate office for anyone in the community.'
Gambling
One of the big issues in Ballina is poker machines. Earlier this year Tamara Smith met with the founders of local gambling reform group Kickin' the Punt.
'I'm so in awe of the work that Ben and Jasmine Hamilton have done,' she said. 'They're just phenomenal, and their latest documentary about the fella that died in Sydney, took his own life, was so powerful. The statistics are alarming.
'A couple of years ago I was doing memes about how much disposable income in this electorate was being used on poker machines, and it was very disturbing.
'I noticed that this year with the Nup to the Cup campaign that we've run, there wasn't a huge outcry, because another horse was euthanised.'
Echonetdaily asked Ms Smith if she meant there had been no criticism for her stance on pokies or horse racing. 'That's right, quite the opposite,' she said.
'People are very concerned about gambling addiction, and now with online gambling being so pervasive, there's nothing to slow down the impulse.
'And then of course when we see the predatory behaviours that Kickin' The Punt have revealed, and others, it's truly disturbing.
'But to be fair to the clubs here, they are aware of it and I haven't seen or heard about the appalling behaviours [of other clubs] happening locally.
'It's something we want to work out with the clubs. I hope there'll come a day when they go, there's no point. In a sense the growth of online means there's not a lot of point in poker machines,' said Ms Smith.
'It comes down to having resources. If someone's an addict, the sad part is that the resourcing for mental health issues or addiction here is very low.
'The Primary Health Network told me recently that in terms of mental health support, we've only got ten percent of what we need to meet demand.'
Residential Land Lease Communities
Tamara Smith has sixteen of these communities in her electorate, with an increasing number of residents coming to her and expressing concerns.
'The NSW Minister for Better Regulation and Innovation [Kevin Anderson] is reviewing the legislation and regulation of those residential communities, like Riverbend in West Ballina. We're focused on the behaviours and working with the Tenants' Union about the unscrupulous behaviours of some of those corporations that own them.'
Issues include unreasonable rent rises and 'very poor financials', with arrangements open to corruption and with vulnerable people living in some of these communities being exploited.
The problems appear to go way beyond the Northern Rivers, with over 300 of these residential land lease communities across NSW.
Ms Smith explained, 'It's not community title, it's usually people over 55, and they have a shared pool and a gym, so they're gated communities, but the owner-operators, the legislation that covers them is not like a strata or anything, it's really weird.
'The profit return for the operators is phenomenal, but there's no real recourse if something goes wrong. Individual residents have to go to NCAT [NSW Civil and Administrative Tribunal] individually.
'They might complain about a rate increase – they've bought their property but they still pay every year a rent – and there's no oversight of the operators' financials.
'Are they doing the maintenance that they're saying they're doing? I've been reading transcripts that show some of them are super dodgy.'
She says fear of retribution prevents many residents from speaking publicly, or going to the media. 'It's a particular kind of person, older, retired, and they're self-funded retirees, most of them, so they've just taken a massive hit, and they're terrified that if they anger the operator they'll keep putting the rates up,' said Ms Smith.
Koalas
Australia's most iconic animal has been in the news recently for all the wrong reasons, with the fate of the species getting caught up in a brawl between members of the Liberal and National parties in NSW.
Ms Smith said, 'We're on the record, I gave a speech and stared down the Nationals about that. It's very disappointing. If you're dealing with the extinction of a species, then that's when you call in the scientific experts, and ecologists, to say "how do we avoid that?"
'You don't get in a room with a whole bunch of politicians and argy-bargy and make a deal.
'The inconvenient truth is that the scientific path to curbing that extinction is one thing, but what the Nationals have done is said, "No no no we're not worried about that. We're just worried about our so-called base, and making sure that landowners don't have any extra red or green tape."
'So, very disappointing, and what's even worse is that the Koala State Environmental Protection Plan, which was looking okay, has been completely undercut.'
Tamara Smith says she isn't despondent, because while the refressive legislation got through the Legislative Assembly, it hasn't yet gone through the Legislative Council. 'So at the moment Cate Faehrmann, our Spokesperson for the Environment, is working very hard to try and get the numbers,' she said.
'It's still possible. We're in lockstep with Labor, and the independent in the upper house. If we can get Mark Latham, and people like that, we might be able to stop it, and then they will have to go back and make some changes.'
Ms Smith emphasised that, 'Before they raised that legislation, I didn't have a single farmer, not one farmer, coming to me with a concern about having to protect koalas. Not one.'
Sharks
From the cuddly to the toothy, and another species impacted far more by humans than the other way round. Tamara Smith has been trying to bring some sanity to the shark debate since becoming Ballina's local member.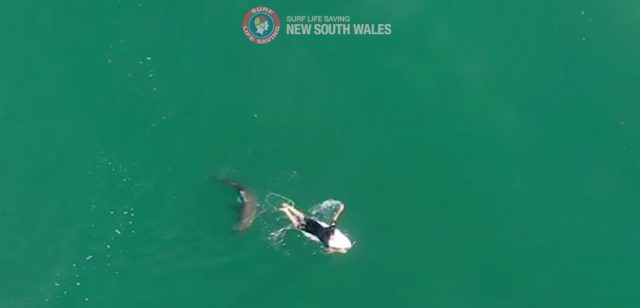 'We were at a really crucial moment back in 2016,' she remembers, 'because we had some tragic loss of life, we had increased shark bites, and I worked with No Shark Cull and donated from my own salary to help bring out the sharkspotters from South Africa.
'Then I helped fund again out of my own salary a feasibility study with Byron Shire Council, at Wategos Beach, with Sea Shepherd, for shark spotting, and drones.
'Then we had an amazing grassroots organisation in Ballina that came up from the ground, called Shark Watch. They were incredible. It was to date the most sophisticated volunteer-run qualified group I've ever seen,' said Ms Smith.
'You had qualified drone operators, you had scientists, it was unbelievable. And they tried more than half a dozen times to get funding, and no one would touch them. The government was just 100% committed to trialling nets and more lethal technology. So it was very disappointing.'
When Shark Watch left the scene, Ms Smith says, 'We really missed that opportunity and I still maintain that's what we need. We need eyes on the beach, drones in the sky and patrolled surfing beaches, because surfers are the ones that are slightly more at risk. That really hasn't happened yet.
'I know Surf Lifesaving NSW has got more drone technology, and that's welcome, but it's not people swimming between the flags that are the issue. It's surfers.
'If we had something like this then tourists, families that are worried, they could go on an app in the morning and see where the surf's up – you wouldn't gave patrols where there's no surf – and then see, okay it's a spotted beach, I'm happy to send my 14 year old son and his friends.
'The majority of surfers in my experience don't care either way, they know they're surfing in a wilderness, but wouldn't it be nice if we had something that gave people a little bit of extra support? Eyes on the beach, and real-time warnings.'
She says people in the community have done 'amazing stuff, in terms of apps' which show the way ahead. There are also other technological solutions coming, such as the sonar shark shield.
Until then, many marine animals continue to be killed, completely unnecessarily, and attacks are continuing at netted beaches.
'We just don't support the nets, because they're not working,' said Ms Smith. 'You can't say you're going to be guided by science and then ignore the science. Sadly the Liberals and Nationals keep doing that over and over.'
Strength of community
Echonetdaily asked Tamara Smith if there was anything surprising she's learned about the Ballina community, since becoming their representative. 'I didn't realise how may volunteers there are in this community,' she said.
'I know now that we've got one of the highest rates of volunteerism in the country, and it is just phenomenal, from the Rural Fire Service, SES, Red Cross, but then right across to the Hot Meal Centre, which ran on the smell of an oily rag with no government assistance for twenty years!
'All of those volunteers that just give up their time; Community Transport, Meals on Wheels, and then all of your Rotarys and Scopes and all the wonderful things that they do.
'I would never have seen that unless I was in this role, so that's extraordinarily life-affirming, that there's so many people willing to do something for someone else, and it's not motivated by money.'
With more of Tamara Smith's speeches coming to YouTube, it's easy to follow what's happening in Parliament without going to Sydney.
You can also keep in touch with your local member via her website, on Facebook, or visiting her electoral office at 1/7 Moon Street Ballina. Her office phone number is (02) 6686 7522, or email [email protected]
Part one of this two part series about Tamara Smith is here.