Mungo Wentworth MacCallum: December 21, 1941 – December 9, 2020
This is a personal tribute by David Lovejoy. For detailed accounts of Mungo's life, see the obituaries in the mainstream press.
With immaculate timing and a great work ethic until the end, Mungo has passed away a few days after announcing he would write no more. Here at The Echo we still cannot quite believe that he has gone.
From shortly after the newspaper's founding until just a week ago, Mungo produced for us a political column that was well-informed, often surprisingly clairvoyant and always written with elegance and wit.
Above all, his columns were unambiguously on the side of the angels; he spent the first half of his life learning everything there is to know about the Australian political system and the men and women who operate within it, and he loathed politicians of whatever party who pervert and corrupt it.
Mungo was a friend to The Echo when as a fledgling publication it needed friends. In the beginning he let us republish columns he wrote for national papers, because we could never pay what a political journalist of his standing deserved and normally received. Later he worked out how to write an original column for The Echo's tiny stipend by syndicating it later in the week to other outlets.
He also taught many of the older Echo drudges how to write. This was not just by example: he literally taught us the rules for producing clear and simple prose by devising a set of axioms condensed from George Orwell's writings. The last axiom was to abandon all rules rather than write anything that lacked grace.
The loss to the newspaper is great, but our personal loss is greater. Mungo and his wife Jenny Garrett made legions of friends when they retired from Canberra and settled in Ocean Shores over thirty years ago. In a café or pub you could usually track where Mungo was enjoying himself by the sound of animated and amusing talk, punctuated by his own distinctive laugh-laugh-laughter.
At the newspaper I would see Mungo once a week, when he still filed his copy on paper and in person. After Jenny converted him to Mac and email I used to see him at social events, Gecko cricket matches and staff booze-ups, which were still plentiful in the good old days until our frailties caught up with us. Thereafter a weekly coffee with friends sufficed to keep us up to date.
Discussions with Mungo were often serious affairs and you could learn a lot en passant if you encouraged him to talk. If a factual point needed settling it was very rarely necessary in Mungo's company to search the internet for it. His knowledge of history, literature and science was phenomenal, and so was the memory that provided access to it.
Perhaps this was natural to a member of one of the last pre-digital generations (he still used a manual typewriter until late in the twentieth century). Although he spent more of his university time on carousing and politics than formal study, Mungo's wide-ranging education was undertaken and encouraged in the company of similarly brilliant minds, friends like Clive James, Les Murray, Germaine Greer, Bruce Beresford and Robert Hughes.
Growing up as the nephew of the stridently reactionary Liberal MP William Charles Wentworth IV gave him ample opportunity to examine right-wing ideas at first hand, and at a young age he made the choice to reject them and support the Australian Labor Party, as the only conscionable alternative to conservative selfishness.
He could sometimes appear aloof, and he could be fiercely dismissive of fools and scoundrels. A blue-blood Wentworth background is hard to overcome, even when you choose left-wing politics with all your heart. Mungo's comrade and cherished leader Gough Whitlam described him as a 'tall, bearded descendant of lunatic aristocrats', but beneath the beard and patrician manner there was a man of warm and compassionate disposition.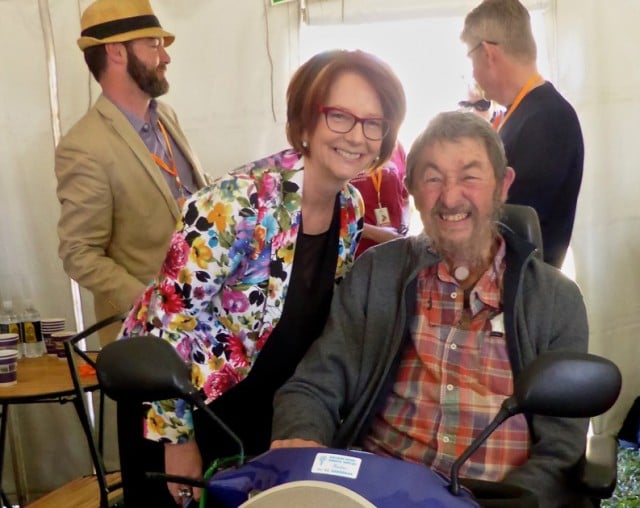 Rather than seek a political career, for which his stubborn intellectual honesty disqualified him, Mungo elected to become a journalist, and when he retired from covering federal parliament his was one of the most recognisable names and faces in the Canberra press gallery.
His fame scarcely diminished over the years, for in September 2014 a false report of his passing spread across Twitter, causing a wave of grief for a much-loved figure. Like Mark Twain, Mungo was amused at the exaggerated reports of his death and, I think, touched by how genuinely relieved people were when the news was corrected.
The real health problems behind this false rumour presented a cruel test of character. After surgery to remove his larynx, Mungo the mellifluous, who delighted in the play of words, was marooned in silence. Now his friends had to converse on politics without his input, no doubt their talk full of error and misconception, unless he made the mighty effort to croak a word or two from his oesophageal tube. Those words were never of complaint or impatience; throughout his long final illness he maintained a stoic calm, and while he had lost his voice he never lost his probing analytical mind: the columns he continued to write were first-rate until the end.
One side effect of losing his radio and television work after the laryngectomy was the increased time he had to devote to books and the creation of crosswords. In the last period of his life he completed a revised edition of his book on Australian prime ministers, The Good, the Bad and the Unlikely, bringing it up to the sorry present, and also composed a stockpile of cryptic crosswords so that his puzzle fans can still be teased for months to come.
Much as I treasure memories of Mungo I know they are only a fraction of his long and adventurous life. The Echo and the Byron Shire community were lucky to have him spend the last part of it with them.
Mungo MacCallum is survived by his partner Jenny Garrett, daughters Diana and Gail, and step-daughters Adrienne and Gillian.
♦ Mungo's farewell ceremony will be live-streamed here from 2pm on Tuesday, 15 December 2020.
♦ The Echo will be putting together a tribute page for Mungo if you have thoughts you would like to be included please send them to [email protected].