This week Echonetdaily caught up with two enthusiastic members of Ballina Coastcare to find out more about their regeneration efforts along the coastal path at Sharpes Beach.
Roy Flavel is the coordinator of the Sunday group, which meets once a month.
'We have a group of people that gather here and work on cleaning up weeds, and planting new native vegetation in the coastal track between Sharpes Beach and all the way down to the river mouth, at Lighthouse Beach,' said Mr Flavel.
The Coastcare group are all volunteers, motivated by their connection with the beautiful Ballina environment and a desire to regenerate the natural areas behind the beaches.
A love for the area
The Ballina group has been around for thirty years, and Roy Flavel has been involved with Coastcare for six years.
'I just have a real love for this area,' he said. ' I live nearby and I moved here from the Gold Coast many years ago, and I thought beaches weren't supposed to have trees, just dunes and grass. Then I came here and realised that actually no, that's not the way it's supposed to be.'
'Once I did some research, I discovered it was all human effort that had preserved this, not something that happened naturally in an area that's heavily built up.'
Mr Flavel says that when he realised hard work was necessary to preserve and enhance the natural beach environment, he wanted to be part of that.
Cathy Byrne has been on the Ballina Coastcare Committee for two years, and helps coordinate the school kids who come along to help out. She originally got involved via her mother, who was a long term member.
Ms Byrne said that as well as the Sunday group there's a weekday group that meets three days a week, for volunteers who have more spare time.
New members needed
Roy Flavel explained that the group was fairly small at the moment, 'but we're hoping to build it up, we've got some pretty big plans for this year. 'We need a lot of new volunteers, new blood to help us out with our plans,' he said.
'A lot of people don't realise what goes on here, and there's a huge amount of goodwill from people in the community who want to get involved but don't know how to,' said Mr Flavel.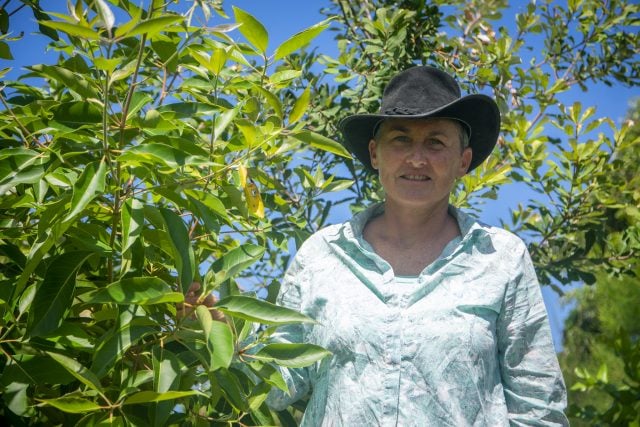 Cathy Byrne told Echonetdaily, 'Landcare just released a survey studying why people volunteer and why they don't.
'The main reason why they don't is they were never invited to join. So this is a classic opportunity: you are invited to join!
'And if you walk past and say "you're doing a great job", we will try and say "come and join us", because it takes a lot of actual person-power, if you're not using chemicals especially, to get rid of the weeds and keep the plants alive. It's a serious job, this is a big garden,' said Ms Byrne.
Roy Flavel says there are plenty of benefits from being a Ballina Coastcare volunteer, including exercise, the knowledge you're making a positive difference, and community camaraderie.
'This is also a great option for people who feel like they're stuck indoors with nothing to do because things are shut down from COVID,' said Mr Flavel. 'Everyone can work in their own area, we're a COVID-friendly group.'
Natives and weeds
Ballina Coastcare is planting a large range of species near Sharpes Beach, including fast-growing coastal banksias and tuckeroo.
While bitou bush is no longer the problem that it once was, Roy Flavel said, 'there's a never-ending supply of weeds, to get rid of. They choke the natives and prevent them taking hold.'
Some of the worst offenders are lantana, corky passionfruit and ground asparagus.
The weeds come on the wind, from people's gardens and from farmland, spread by animals, and there are new ones appearing every year.
'One that's only come into this area recently is coral creeper, which is a garden plant, you can buy it in nurseries and people put it in their front yards,' said Mr Flavel. 'That kind of thing spreads into our area eventually.
'Another one is a very common and well-loved hedge plant around Ballina, murraya, and winter senna spreads fast when it gets away.'
Cathy Byrne said, 'Even some of the native species, if they're turning into monoculture, if there aren't other trees growing, that can be a bit problematic, so that's part of what we look out for. The wattle here can sometimes take over.'
Elbow grease favoured
Ballina Coastcare tends not to use high-tech solutions on the weeds.
'We try to avoid using chemicals wherever possible,' said Mr Flavel. 'Mostly we do hand-weeding, so if you love energetic work you definitely belong in our group! We do a lot of getting in there and pulling things out and hacking away. Depending on your personality, some people love that.'
So far the group has been working around Sharpes Creek for two years.
'There was nothing here but weeds when we started,' said Roy Flavel. 'When we first came in it was mostly tobacco tree, lantana, a lot of low level farmers friends and corky passionfruit, asparagus fern. Now the area is really transformed.'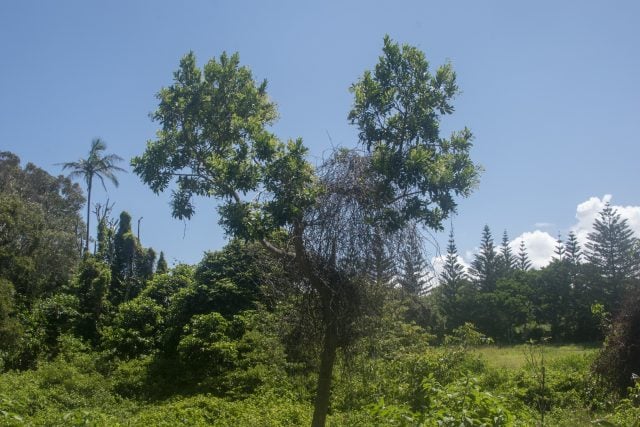 Ms Byrne said, 'Some of the trees that you can see were actually previously covered in vine, and the trees were rescued by cutting off all of the vines.
'In some cases you couldn't even see the tree. They're struggling back to life after getting a bit of help.'
Council assistance
Ballina Shire Council has been a great help to Ballina Coastcare, supplying experts who advise on what to plant where ('we never plant just one species'), and providing practical assistance.
Cathy Byrne said, 'They supply the trees, the wallaby guard, the stakes, mulch. They also fill up the water tanks. They're really pretty great.
'What they're getting from us is the labour. To provide what this is, which is a beautiful natural walkway, without our labour they would struggle, but in partnership and collaboration it works really well,' she said.
There are clear benefits from Ballina Coastcare's work to tourism and biodiversity, and also for the social well-being of locals and tourists.
'This is a beautiful natural space,' said Ms Byrne, 'and it's improving and expanding all the time. Near the pathway it's still a bit weedy, but over time once the canopy establishes this will be a great spot.'
There are also benefits to local wildlife. 'Our focus is mainly the plants, but we've certainly seen quite a few animals out and about,' said Mr Flavel. 'We love the brush turkeys because they spread seeds and scatter things around, turn the soil over, they're our good friends.'
Many hands make light work
Ballina Coastcare's next big project is a large weedy area adjoining Sharpe's Creek.
'We've got a lot of work ahead of us,' said Mr Flavel. 'All of this bar the occasional tree has to go, and we want to build it back up with the same native vegetation we've got over there.
'It's a creek area and it's below the old farm, so it's got run-off. It's been cleared. Clearing is the worst thing you can do to any natural environment. Once the sunlight comes in it disrupts the types of plants that grow there, and the weeds always grow more quickly and take over.
'So we have to slowly try to bring it back to what we want. That's not an easy thing to do because the natives still struggle,' he said.
'So there's a lot of long term management to look after what we've planted as well, it's not just coming in one day.'
Roy Flavel is optimistic about the impact of the new estates springing up nearby.
'Hopefully those new suburbs will bring people who have a love for this area,' he said. 'As people move in here they'll realise how precious this environment is. We're hoping that people will see what's here and want to join in to try and protect it.
'To get this work done, we need as many people as want to come and do it.'
Help your local area, save the world?
Cathy Byrne said, 'Over the thirty years the groups have been working there's wonderful documentation about the transformation from horrible bitou bush and prickly pear along Main Beach, which is where one of the groups started, to now, where it's a beautiful walkway of native trees and wallabies and bush turkeys.
'Have a look just off the wall on Main Beach. That's purely the result of the work from the groups that formed Coastcare,' she said.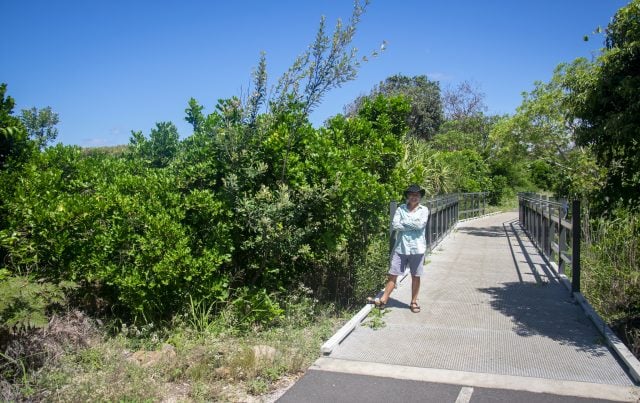 As well as the satisfaction of transforming natural environments for the better, Ms Byrne says there's a bigger picture involved with what they do.
'Yeah well climate change for one,' she said. 'One of the key things we can all do is plant trees. They store carbon, and this is what Coastcare does.
'We plant trees and protect trees. So, if you want actually do something to help with climate change, why not do this?'
Ms Byrne says useful, practical activity is a great alternative to feeling helpless, and everyone can do something to help in their own back yard.
'Yes you can do something in what is literally Ballina's back yard, and it's a beautiful spot. It makes you realise that over time, year on year, when the kids come back and see what they've planted, there's really some satisfaction in that.'
Ballina Coastcare has regular student helpers, including whole classes and extra-keen young people doing the Duke of Edinburgh Award.
'They're fantastic,' said Ms Byrne. 'It's really great to see that commitment from young people.'
Anyone can do it
Roy Flavel emphasised that volunteers don't have to be young, or fit, or experienced, to be able to contribute.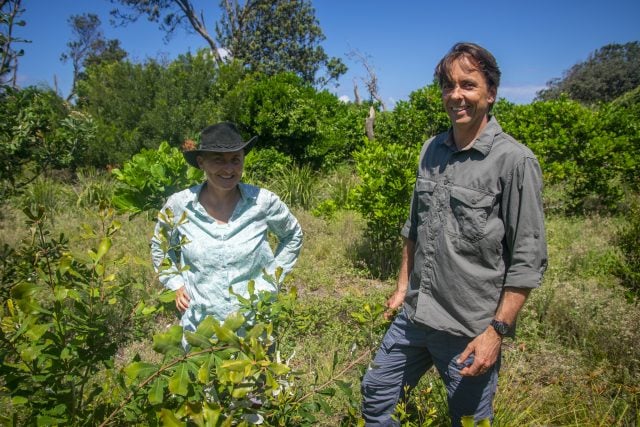 'You don't need any experience at all,' he said.
'Anyone can come and join, we're very forgiving. Everyone's new or has been new at some stage, we're all  here to do what we can and have fun. People just need sensible clothes, long sleeves, shoes, hat, sunscreen.
'You can be useful straight away. We've got tools. We've got gloves, we've got all the equipment. We've got morning tea provided, and we're doing all the COVID safety things. Come and join us!'
The next Sunday date for Ballina Coastcare is 28 February at Sharpes Beach.
There's also Clean Up Australia Day at Shaws Bay on Sunday 7 March, and the regular weekday groups every Monday, Tuesday and Wednesday.
The best way for interested people to get in touch with Ballina Coastcare is via their website: www.ballinacoastcare.org or you can email: [email protected]
See the gallery below for before and after pictures of the Sharpes Creek site in progress: